---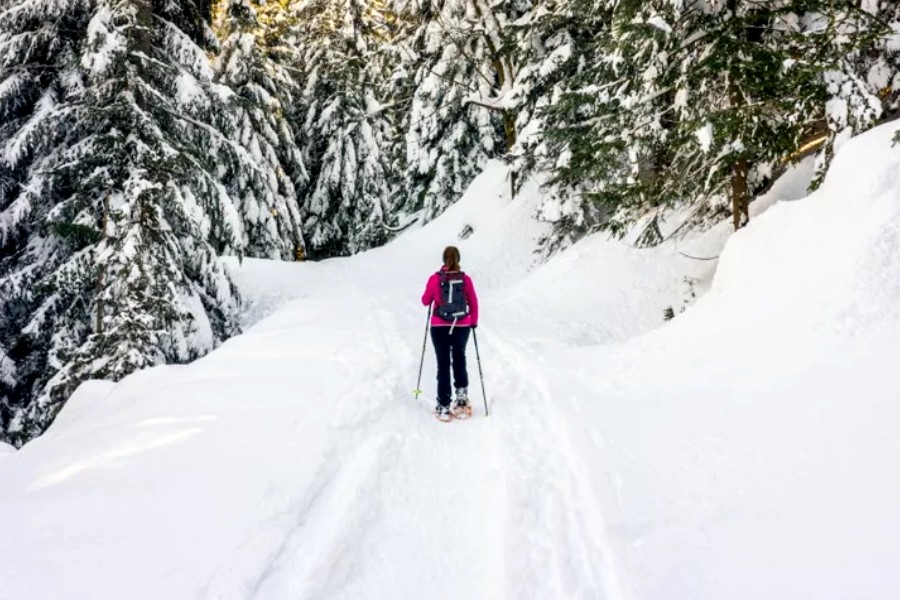 Love finds its perfect setting in the snowy landscapes of Europe. A romantic ski getaway here offers a unique blend of adventure and intimacy that's truly enchanting.
Envision the exhilaration of skiing in unison, culminating in a post-skiing gathering by a fire. The refreshing mountain air enlivens your spirits, while the snow-covered terrain provides a breathtaking setting for your romantic tale. Whether savoring traditional Alpine fare in a snug chalet, unwinding in a hot tub beneath the Austrian night sky, or snuggling up in a comfortable cabin in the Pyrenees, these European ski resorts will forge indelible memories of love and snow, offering an unparalleled romantic getaway.
Arosa, Switzerland
Arosa Ski Center is the perfect place for couples to get away from the hustle and bustle of the city. It's tucked away in the Swiss Alps and is easy to get to from places like Zurich and Chur, but what makes it so special is all the romantic amenities it has to offer. From chalets that offer stunning mountain views to cosy fireside dinners, there's something romantic to be found in every room. What sets Arosa apart is its peaceful and secluded atmosphere, and its stunning natural beauty. Not only do you get world-class skiing, but you'll also be able to take romantic walks by the lakes and enjoy some unforgettable starlit nights.
Cortina d'Ampezzo, Italy
Located in the Dolomites of Northern Italy, the Cortina d'Ampezzo Ski Center is conveniently accessible from Venice and Innsbruck, as well as other nearby areas due to the ski transfer service by Erna Low. What distinguishes this ski centre is its reputation for exuding a captivating alpine village charm, offering a range of boutique shops, and providing warm, welcoming mountain lodges that collectively create an alluring atmosphere for couples seeking a romantic getaway. The town itself weaves a unique tapestry of Italian sophistication and Tyrolean charm, fostering an undeniably romantic ambiance. Its notable attributes include its UNESCO World Heritage Site status, earned for its exceptional natural beauty and the breathtaking panoramic vistas visible from its ski slopes. Here, couples can savour intimate dining experiences, explore the picturesque town, and immerse themselves in the tranquil Dolomite landscapes, rendering Cortina d'Ampezzo Ski Center an impeccable choice for a romantic alpine retreat.
Kitzbühel, Austria
Kitzbühel Ski Center enjoys a superb location in the Austrian Alps, within easy reach of cities like Salzburg and Innsbruck. This delightful town, characterized by its medieval thoroughfares and picturesque architecture, provides an idyllic backdrop for romantic escapades. Couples can enjoy intimate candlelit dinners at high-end restaurants and snuggle up by the fireplace in luxurious mountain lodges, all while Kitzbühel's reputation for the challenging Hahnenkamm race, held on the Streif slope, adds an exciting element to its romantic atmosphere. The place, is also delectable food and dining experiences, therefore you shouldn't miss the opportunity to sample local specialities like Tyrolean dumplings, cheese fondue, and game dishes prepared with locally sourced ingredients, paired with local wines or Austrian beers like Gösser and Stiegl.
Megève, France
For our final recommendation, we've chosen the most famous country in the world when it comes to romance: France! Megève ski center is one of the most romantic ski resorts in the world. An enchanting Alpine village with cobbled streets, cosy chalets and high-end boutiques, conveniently accessible from Geneva and Lyon. From quiet fireside meals to exquisite spa treatments, Megève has everything you need for a romantic trip.  Its distinguishing features include the preservation of its classic Savoyard charm, which makes it an idyllic environment for romantic strolls.
Photo credit: Source. This content is part of the HWM Partnership.
---