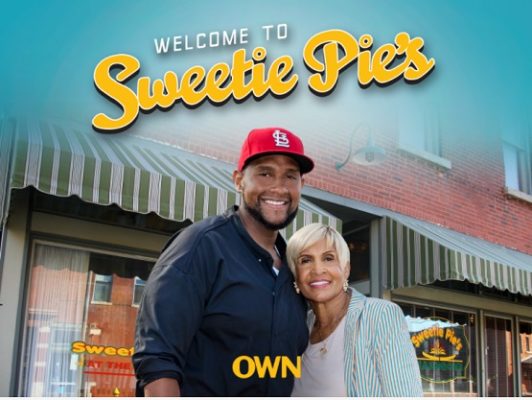 OWN's long-running, NAACP Image Award-winning docu-series "Welcome to Sweetie Pie's" featuring soul food entrepreneur Miss Robbie Montgomery her son Tim Norman and their exuberant family returns to OWN: Oprah Winfrey Network on OWN Saturday, November 25, 2017, at 9 p.m. ET/PT for its fifth season. Produced by Craig Piligian's Pilgrim Media Group, the series follows the fun-loving, musical Montgomery family through their highs and lows as they work to expand their soul food empire.
On an all-new season full of equal parts family fun and jaw-dropping drama, Miss Robbie and Tim attempt to mend their mother/son relationship by dividing the family business. Tim heads to Houston to rebound by opening up a new, full-service restaurant, while continuing his relationship with reality star Jennifer Williams – who puts on the pressure to get engaged. Charles and Chloe leave Los Angeles and strap on their cowboy boots to follow Tim to the Lone Star State, while he also brings Monique down from St. Louis to manage the bar and live entertainment. Just as the Houston restaurant seems to find its groove, Hurricane Harvey hits, shutting its doors and scattering this work family across the country.
Not to be outdone, Miss Robbie thinks she's keeping it simple by pursuing her dream of owning a classic burger joint while continuing to run Upper Crust, perform for her fans and spend time with her growing grandson, TJ. But as her 77th birthday approaches, the Montgomery family's matriarch contemplates her legacy as she seriously considers retirement.
"Welcome to Sweetie Pie's" is produced by Pilgrim Media Group. Executive producers are Craig Piligian, Melodie Calvert, Robbie Montgomery, Tim Norman, Jeff Keane, Tim Breitbach and Steve Luebbert.
Related Articles
---