---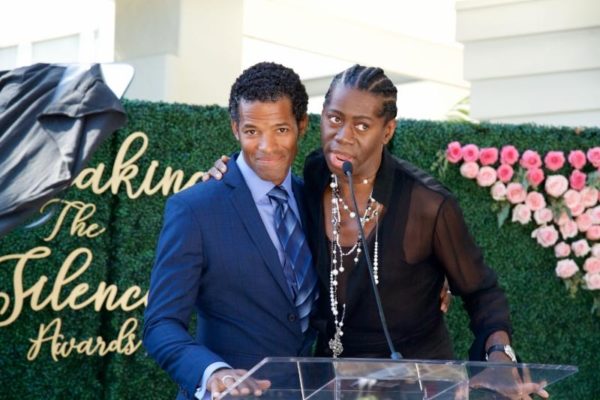 OWN's Benjamin Patterson, Frank Ocean, Meagan Goode, Miss Jay Alexander and many other stars come out with a Harlem state of mind of support to shine a light on the LGBT community and LGBT allies in Santa Monica, CA.
On Sunday, September 24, 2017, to help raise funds for the I Love Me Foundation's #Backpack10 Campaign program. The second annual Breaking the Silence Awards was held at the luxury beachfront property at the Fairmont Miramar Hotel. The Sunday afternoon luncheon raised thousands of dollars for the Foundation. Former West Hollywood Mayor Abbe Land, Williams' Institute Founding Executive Director, Brad Sears, Pulse Shooting Massacre Survivor. The events was attended by Kelly Osbourne, Laith Ashley, Leeza Gibbons, Hayden Byerly, Meagan Good, Laura Govan, Perez Hilton, Jacob Tobia, Zeke Thomas and many others. Angel Colons, Celebrity DJ Zeke Thomas, and OUT Magazine Managing Editor, R. Kurt Osenlund were honored at the semi-formal luncheon, which also featured special live performances by Frank Ocean, Laith Ashley, Chris Woods and Sophie Beem.
Board Vice-Chairman & Realtor, Yawar Charlie opened the evening by thanking the event's sponsors, and introduced founding Executive Director, Robert Harrell, who spoke about I Love Me Foundation's mission to end LGBT homelessness and reduce the numbers of LGBT sex workers by 2020.
"We all have a reason to break the silence," said Robert Harrell, executive producer of the BTSA. "#BreakingTheSilence is a sustained movement that impacts millions of lives. We honor the personal stories that motivate individuals to speak up, and that highlight the urgent need to provide inclusive and affirmative services to GLBT survivors of sexual trauma who so desperately need them."
Former Mayor of West Hollywood, Abbe Land was presented the 2017 Ally for Equality Award in recognition of her using your voice to stand up for LGBT youth​ issues​ ​by ​speaking out against bullyi​ng​ and​ equality for all Americans. Williams' Institute of UCLA Founding Executive Director, Brad Sears was presented with the 2017 James Baldwin Vanguard Awards in recognition of his profound effect in​ the​ lives of countless ​LGBT persons through his leadership of​ rigorous, independent research on sexual orientation, gender identity law and public policy. OUT Magazine Editor, R. Kurt Osenlund was presented the 2017 Outstanding LGBT Leader award in recognition his outstanding leadership contributions in the world of journalism in addressing the challenges, triumphs and stories ​of​ the LGBT community​.​ Pulse Nightclub Massacre Survivor, Angel Colon was recognized with the 2017 Barack H. Obama Purple Heart Award, A special recognition for your audacity of hope in the face of one of the greatest american tragedies under the Obama Administration​. Forever #OrlandoStrong. And the final award recipient Celebrity DJ Zeke Thomas was presented the 2017 Breaking the Silence Award in recognition of giving a voice to the voiceless to break the stigma of males survivors of sexual abuse.
Additional guests included Senator Ben Allen, Prop 8 Plantiff Couple- Paul Katami & Jeff Zarrillo, TV Personality Laura Govan, Trans Activist Jacob Tobia, LA Times Queer Journalist, Tre'vell Anderson, comedian Sampson McCormick, KTLA News Producer, Marcus Wilson-Smith & husband Chris Wilson-Smith, TEDx speaker Kristy Spagoon and filmmaker/producer Nneka Onuorah.
ILMFDN is a major force in the development of innovative and more effective services such as the #Back10Campaign which were designed to provide BackPacks with 10 essential survival items to GLBT and non-gender confirming youth & young adults who are underserved or experiencing homelessness. The I Love Me Foundation 2017-18 goal is to distribute ​at least 1,500​ ​backpacks across LA County in partnership with various LGBT organizations, City of Santa Monica, LA City Hall, Compton City Hall, and the West Hollywood Sheriff's Office
The luncheon's live auction, led by comedian Sampson McCormick, featured an array of exotic destination getaways to Costa de Sol, Spain, St. Maarten, Netherlands Antilles, and Los Cabos, Mexico.
For more information on Breaking the Silence Awards, visit www.btsawards.com #btsawards
For more information about the I Love Me Foundation, visit www.i-loveme.org
Photo credit: OWN's Benjamin Patterson and Jay "Ms.Jay" Alexander.
No related posts found...
---