---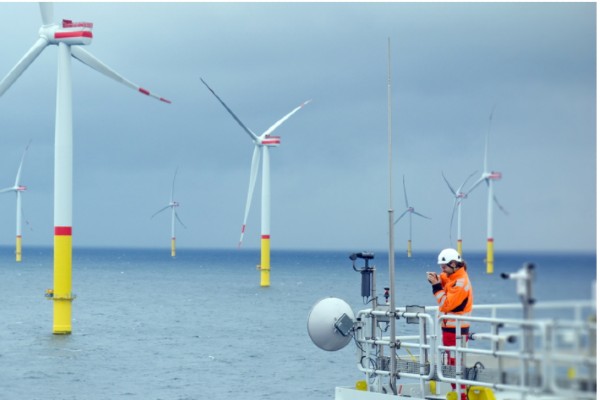 Mayor de Blasio and New York City Economic Development Corporation (NYCEDC) today announced a 15-year.
Also, $191 million Offshore Wind Vision (OSW) plan to make New York City a leading destination for the offshore wind industry. The plan also ensures the city meets nation-leading climate goals of 100-percent clean electricity by 2040 and carbon neutrality by 2050.
The $191 million offshore wind investment will put New York City on path to:
Create over 13,000 jobs and generate $1.3 billion in average annual investment
Ensure 40% of job and investment benefits are directed toward women, minorities, and environmental justice communities
Reduce 34.5 million tons of CO2 – the equivalent of removing nearly 500,000 cars from roadways for 15 years.
"New York City is stepping up to confront the climate crisis with bold action," said Mayor Bill de Blasio. "Investing in our offshore wind industry isn't only a win for our planet, it also means thousands of new jobs and affordable, clean power for New Yorkers. This plan will have a dramatic impact on our fight against climate change and will help set us on the path towards a clean energy future."
"When we talk about a green economy we are really talking about reliance on renewable energy and the jobs of the future coming together. We are proud to bring this vision to New York – to help meet our long-term sustainability goals and grow a new industry, centering equity as no other global destination has done before," said New York City Economic Development Corporation President and CEO Rachel Loeb. "We thank the Mayor and all of our partners for joining us in this bold vision for a green future."
New York City will make commitments focused on three core areas: sites and infrastructure, business and workforce, and research and innovation. The city will work to develop best-in-class infrastructure that will support the construction and operation of offshore wind farms. The plan outlines how the city will expand its manufacturing sector to build, stage, and install wind turbines, and ensure they can be serviced and powered locally.
The plan also commits the city to develop public-private partnerships with communities to create good-paying, green jobs in disadvantaged neighborhoods historically impacted by climate injustice. The city will focus on targeted investments to develop workforce training and support businesses that seek to create a diverse talent pool in offshore wind. The plan further aims to support Minority/Women-owned Business Enterprises (MWBEs) and other local companies in accessing over $70 billion expected to be created by the offshore wind industry.
Lastly, the city will work to promote research and innovation in offshore wind so new technologies and approaches are created in New York City. NYCEDC will work with the offshore wind industry and partners to launch an accelerator that will allow New York-based startups to build out the next generation of offshore wind technologies to support worldwide growth and advancement in the field.
"This forward-looking plan to grow the Offshore Wind Industry sets New York City up to reduce emissions while creating good green jobs," said United States Senate Majority Leader Charles E. Schumer. "The Mayor has long understood the way transforming our energy system will drive our economy to new heights. I am thankful to him for continuing to provide bold leadership on this vital issue."
"New York must retool our economy for a green energy future while adding real manufacturing jobs," said Congressman Jerry Nadler. "And today's announcements of a 15-year Offshore Wind Vision Plan is NYC leading the way for a sustainable future."
The OSW Vision Plan looks ahead to attract additional federal, state, and private investments to drive industry growth to make the long-term vision a reality. To help ensure progress is made, NYCEDC will establish an Offshore Wind Industry Advisory Council led by co-chairs Elizabeth Yeampierre, Executive Director of UPROSE, and KC Sahl, Northeast Energy Market Leader at VHB, a civil engineering firm active in the offshore wind industry. The council will be made up of additional community, business and nonprofit leaders with relevant expertise and experience.
"The commitment to a new OSW facility in NYC is the result of Sunset Park's two-decade struggle for environmental justice and the "green reindustrialization" of our waterfront. The struggle now is for a just transition, ensuring from day 1 our people are both at the table and working in this industry," said NYC OSW Industry Advisory Council Co-Chair, Elizabeth Yeampierre.
"For decades, offshore wind developers, supply chain manufacturers, consultants, and environmental justice organizations have dedicated themselves to a clean energy future, while creating economic opportunities for all communities. The New York City Offshore Wind Advisory Council will work to align these efforts to best serve the future of New York City. I am honored to leverage the past 15 years of my career devoted to offshore wind, to serve the objectives of this Council. I'm confident that my co-chair and I will work on behalf of all New Yorkers, especially those who have been most disenfranchised by the unintended consequences of previous generations' energy infrastructure development, to grow the green energy innovation and economic development sector," said NYC OSW Industry Advisory Council Co-Chair KC Sahl.
"The risks of climate change present real and present danger for our city, but there are also real opportunities for NYC businesses and MWBEs in particular," said Maggie Austin, Senior Advisor and Director of the Mayor's Office of Minority and Women-Owned Business Enterprises. "This 15-year, $191 million investment in Offshore Wind will make NYC a leader in the sector while creating good-paying sustainable jobs and reducing our dependency on fossil fuel."
"Offshore wind power can create a windfall for New York City's economy, and put us on a path to meet our climate goals. We have the infrastructure in place to create wind manufacturing hubs right here in Brooklyn, such as South Brooklyn Marine Terminal, the Brooklyn Navy Yard, and the Red Hook Container Terminal. With demand growing across the Eastern seaboard, now is the time to invest in this industry and make our city a national leader in wind power. We must invest in education to create pipelines to these jobs, funding new wind energy programs at CTE high schools and CUNY campuses. In addition, we should create a specialized green jobs program in partnership with employers, labor leaders, and industry experts to identify and train talent from low-income areas and communities of color to fill these jobs. Building the offshore wind industry from scratch has the potential to make our city more sustainable, more equitable, and more prosperous — we must seize the opportunity before it blows away," said Brooklyn Borough President Eric Adams.
"Hurricane Ida reminded us that we must take immediate action to curb the effects of climate change," said Manhattan Borough President Gale A. Brewer. "New York City has to transition quickly to clean, renewable energy sources, and I am pleased to see the Mayor's latest commitment to offshore wind. Manhattan is home to some of the world's greatest institutions and innovators in sustainability and urban technology, and we look forward to providing the research and talent to create a greener, safer future powered by offshore wind."
"With the rise in extreme weather, and the damage we have seen from recent storms, it is clear that New York City must take action when it comes to climate change now. I commend Mayor Bill de Blasio and New York City Economic Development Corporation on this bold, comprehensive Offshore Wind Vision plan, that will ensure our city leads the way in building towards a sustainable future," said Bronx Borough President Ruben Diaz Jr.
"Staten Island can be a major component of New York's commitment to becoming the leader in the off-shore wind industry," said Staten Island Borough President James S. Oddo. "Our Arthur Kill Terminal (AKT) would provide unencumbered access to the offshore wind lease areas. Moreover, AKT would draw other manufacturers of smaller components to Staten Island and New York City to create even more jobs. This is an economic identity game changer for our borough, and I applaud the de Blasio Administration's efforts to make New York a leader in this field. Sustainable energy and unprecedented job creation are a winning combination for Staten Island, our city, and our state."
"Climate change is upon us, and as Queens knows all too well, transitioning away from fossil fuels and toward clean, renewable forms of energy is critical to the sustainability and resiliency of our borough and our city," said Queens Borough President Donovan Richards, Jr. "This massive investment in wind energy and green job creation must be a model for cities and states across the country to follow, and we look forward to making even more investments like these in the years to come."
"Not only will the Wind Vision Plan provide a new foundation for sustainable energy, but it will also create green jobs for our city. As New York City continues to pioneer the expansion of sustainable energy, we will continue to benefit our residents as they help us make our city a greener place," said Assembly Member Charles D. Fall.
"I applaud the Mayor's bold action to transform how our city is powered with a massive investment in renewable and clean wind energy," said Council Member Paul Vallone, Chair of the Economic Development Committee. "We must work to combat climate change on all fronts to keep our home a safe and sustainable place to live for generations to come."
"Climate change is the single most significant threat to our City's long-term survival. We knew it when Hurricane Sandy ravaged our communities in 2012, and we certainly know it today. The science agrees, and research indicates that if we continue on this path without significant clean energy solutions, we risk furthering irreversible climate damage," said Council Member Carlina Rivera. "I congratulate the Mayor and NYCEDC on the unveiling of this bold vision plan to build the offshore wind energy industry in New York City. This is exactly the sort of future-focused investment we need to ensure our City leads in the transition to sustainable energy sources."
"I commend the Mayor's initiative to promote the development of offshore wind projects," said Council Member Deborah Rose, a member of the City Council's Committee on Resiliency and Waterfronts. "This 15-year plan stands as an innovative strategy to elevate New York City to a leadership role in the offshore wind industry. I'll add that the Mayor's commitment to this important alternative energy source is desperately needed as our nation confronts global warming and climate change."
"We are very excited of the prospect of being at the forefront of this critical industry in NYC. The College is uniquely situated and positioned to be an integral partner in this work," said CUNY Kingsborough Community College President Claudia Schrader.
"We are excited to see New York City's strong commitment to building a robust, equitable offshore wind industry and supply chain," said Ross Gould, Vice President for Supply Chain Development at the Business Network for Offshore Wind. "Offshore wind is a once-in-a-generation opportunity that can create jobs and provide significant economic benefits for communities throughout the city and state. The Offshore Wind Vision plan sets New York City on a purposeful path toward the best use of its waterfront assets and to position the city as a real leader in the offshore wind industry."
"Now is exactly the right time for New York City to release its vision for the offshore wind industry and to invest in this new industry. New York needs clean electricity to power its future, and the offshore wind industry is on the cusp of great growth. Our industry looks forward to working with New York City to help bring new jobs and community reinvestment to New York neighborhoods as this industry takes root. Renewable electricity is the key to climate action," said Anne Reynolds, Executive Director of the Alliance for Clean Energy New York.
"Abundant wind and an abundant workforce, coupled with the urgency of ending the combustion of fossil fuels, make the City's announcement a welcome and smart decision. We applaud the de Blasio Administration for this move in fighting the climate crisis, and its recognition of the wind industry as central to its future economy.  The administration's commitment to building New York City's role as a tech center for the wind industry is critical for attracting investment and fostering innovation in the push for a new energy economy," said Cortney Koenig Worrall, President and CEO of Waterfront Alliance.
"We are thrilled to serve New York City's Offshore Wind industry, which will provide high-wage job opportunities for New Yorkers," said RADM Michael Alfultis, President of SUNY Maritime College. "These jobs begin with essential training, and SUNY Maritime College is poised to prepare the workforce through its Offshore Wind Workforce Development Project. Nearly 5,000 New York jobs could be created by 2035 through regional offshore wind deployment, and SUNY Maritime College has the capacity to provide training and certify hundreds of workers yearly. Through the support of our local Representatives Alexandria Ocasio-Cortez and Thomas Suozzi, and their Community Project funding, this unique program was made possible."
"By powering NYC homes and businesses with renewable energy, the city will reduce the threat of climate change and make the air safer to breathe. Offshore wind is an obvious choice for the city. It's right here next to where we all live and work. Having clean electricity near where people live makes it easier to get rid of dirty fossil fuel plants, which are often located in disadvantaged communities. And we can capture the jobs building and maintaining this clean power," said Nathanael Greene, Senior Renewable Energy Advocate for Natural Resources Defense Council (NRDC).
To read the full vision plan, click here.
---