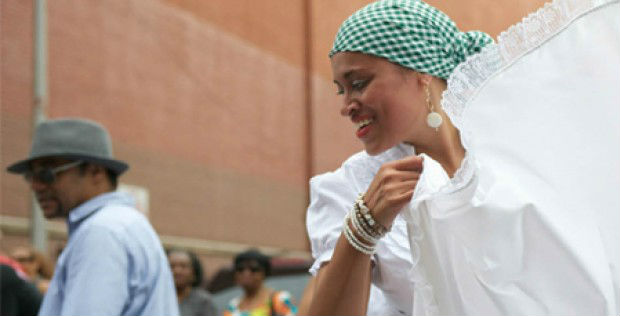 The Festival of Santiago Apostol commonly known as the Loiza Festival del Barrio is planned for July 24th to July 26th.
As always we anticipate the participation of local and international performance groups of Bomba and Plena!
For more information about becoming a vendor, contact Melody Capote / 212-307-7420, Ext. 3004
WHEN: July 24th to July 26, 2015 | 11AM- 8PM all days
WHERE: E 105th St. Between Park and Lexington, New York 10035
ADMISSION: FREE!
PROGRAM
Friday, July 24th
Taino Towers Day: El Barrio Fuerte…  !Basta Ya!
Fun & games for our Children 
FREE!
12PM-4PM
A day of fun and games, jump rope, hop scotch, mask making, storytelling, performances, characters & more. Day and Summer programs welcome!
4PM-8PM
Music by
5 en Plena
---
---
Salsa Music and Dance by Swing y Sabor
Performances by local community talent
Saturday, July 25th
FREE!
Special installation of La Casita/La'Kay on-site with artists Adrian "Viajero" Roman, Manny Vega, Sophia Dawson and direct from Puerto Rico, David Zayas and Damaris Cruz
Music by
Dj Geko Jones
Palladium Mambo All Stars
!BOMBA YO!
Johnny Olivo & Herencia de Plena
Jose Mangual & Son Boricua
!Retumba!
Sunday, July 26th
FREE!
PROCESSIONAL BEGINS at 12:30PM at Iglesia Catolica de la Santa Agonía (3rd Ave. & 100th St.) with musician Frankie Vasquez as Padrino & Olga Rosa as La Madrina
Music by:
Danza Fiesta
Legacy Woman
Milteri Tucker y Bombazo Dance Company
Tipica '73
Evelyn Jimenez y Orgullo Taino
Family Affair Mambo Dance team
Caribbean Cultural Center African Diaspora Institute, 1825 Park Av. Suite 602 New York, NY 10035, Email – info@cccadi.org, http://cccadi.org/tag/loiza/
No related posts found...
---