---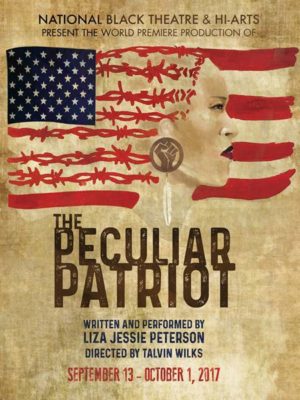 Dr. Barbara Ann Teer's National Black Theatre (NBT) has joined forces with Hi-ARTS  for the world premiere of The Peculiar Patriot. The one-woman show, written and performed by Liza Jessie Peterson and directed by Talvin Wilks, is a scathing portrait of mass incarceration gleaned from Peterson's nearly two decades of work in prisons in New York City. The multimedia performance, which kicks off NBT's 49th season, "Black to the Future," will preview from September 13 to September 16, open on September 17 and run through October 1.
The Alchemy Of Black Joy! At The National Black Theatre In HarlemNational Black Theatre (NBT) is kicking off its 48th Season on Wednesday, September 7, with "The Alc…Aug 30 2016harlemworldmag.com
The Peculiar Patriot confronts the complex and critical issue of mass incarceration. With more than 2.5 million people behind bars, America is the world's leading prison superpower. The Peculiar Patriot examines the human impact and inhuman machinery of the prison industrial complex and shines a glaring light on the racial disparities that feed the draconian system. The play follows protagonist Betsy LaQuanda Ross, a self-proclaimed peculiar patriot, as she makes regular visits to penitentiaries to boost the morale of her incarcerated friends and family, navigating love amid barbed wire.. As she shares neighborhood updates and gossip and reminisces about family, Betsy delivers a shrewd indictment of the criminal justice system in her own authentic and inimitable style, with a heavy dose of humor to boot.
One Night Only #BlackGirlMagic: A Celebration At National Black Theatre In Harlem#BlackGirlMagic: A Celebration, this is a one-night special theatrical event directed by Candis Jone…Mar 20 2017harlemworldmag.com
"Mass incarceration is slavery remixed. As soon as you see the handcuffs go ka-klink, you'll hear the cash register go cha-ching. It is unconscionable that there is a profit motive for building prison beds and making sure they're filled with bodies disproportionately Black and brown," said Peterson. "This is America's most urgent human rights crisis happening right before our very eyes, and I am compelled as a concerned citizen artist to bring urgent attention to the issue."
The writer-actress-activist was early in sounding the alarm on the mass incarceration crisis, having first developed the play in 2003. She has performed excerpts from it in more than 35 penitentiaries across the country, and opened for Angela Davis at a recent Columbia University conference on mass incarceration. Peterson was recently featured in the Oscar-nominated documentary The 13th.
Opening For National Black Theatre's 'Kill Move Paradise' In HarlemOpening Night for "Kill Move Paradise," by award-winning playwright James Ijames, a world premiere c…May 27 2017harlemworldmag.com
"Consciously or unconsciously, we have bought into the tropes that Black men are this country's singular prey and Black women's pain and duty exist solely as an extension of his oppression. Not only is this stereotype inaccurate, it is also dangerous and highly misogynistic, perpetuating the patriarchy," said National Black Theatre CEO Sade Lythcott. "This season we will continue to tackle the dismantling of America's prison industrial complex, but from the perspective of the Black woman in an effort to heal our women, communities and the nation at large."
"Liza Jessie Peterson's impactful performance gives the audience numerous points of entry to understand the impact of the criminal justice system in a highly nuanced way. In a wider sense, The Peculiar Patriot sparks an engaged dialogue on the intersection of race, class, gender and power," said Hi-ARTS Executive Director Raymond Codrington. "In the current time, where new forms of activism are emerging, this piece is extremely relevant as it draws our attention to the role of the arts in social justice movements. Hi-ARTS is glad to partner with the National Black Theatre to bring this work the attention it deserves."
Scenic and lighting design is by Maruti Evans, projections are by Katherine Freer and sound design is by Luqman Brown.
Previews are at 7:30 p.m. on Wednesday, September 13, through Saturday, September 16; preview tickets are $20. The production officially opens on Sunday, September 17, with an Opening Night Gala that includes a 4 p.m. show followed by a reception. Performances will run Sundays at 4 p.m.; Mondays, Thursdays, Fridays and Saturdays at 7:30 p.m.; with a Saturday matinee at 2 p.m. Tickets are $35 general admission with the following exceptions: The Opening Night Gala ticket is $50 and the final performance is $40. A discounted ticket price of $25 is available for groups of 10 or more, senior citizens, students, active military members and veterans. Tickets can be purchased online at www.nationalblacktheatre.org, by calling NBT directly at (212) 722-3800 or at NBT's box office, open from 1 to 6 p.m., Tuesday through Sunday. National Black Theatre is located at 2031 Fifth Avenue between 125th and 126th streets in Harlem. (Take the 2, 3, 4, 5 or 6 subway to 125th Street.)
Follow NBT on Facebook (@NationalBlackTheatre) and Twitter/Instagram (@NatBlackTheatre). Follow Hi-ARTS on Facebook, Instagram, and Twitter (@hiartsnyc).
Related articles
Related Articles
---