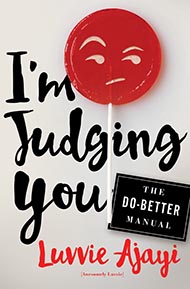 With over 500,000 readers a month at her enormously popular blog, AwesomelyLuvvie.com, Luvvie Ajayi is a go-to source for smart takes on pop culture. I'm Judging You: The Do-Better Manual is her debut book of humorous essays that dissect our cultural obsessions and calls out bad behavior in our increasingly digital lives. This afternoon delight will feature the sharp wit and astute observations of Ajayi joined by Francheska Medina, founder of the website/blog HeyFranHey.com.
@SchomburgCenter #ImJudgingYou
Wednesday, September 14 at 2:00 PM
Watch on livestream. 
Free! Register 
Related Articles
---