---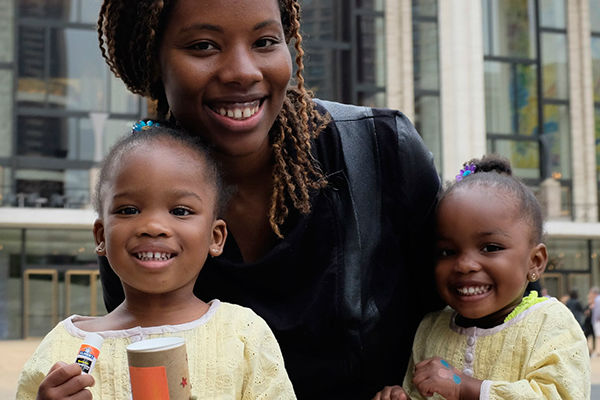 Lincoln Center invites families and children of all ages to explore the arts at its second annual "Spring Fling," a fun-filled day of free events on Saturday, May 14 from 11:00 am – 2:00 pm, hosted and presented by LC Kids. This year's celebration includes performances, crafts, and activities on Josie Robertson Plaza and Hearst Plaza, and at the David Rubenstein Atrium, including a headlining performance by The Verve Pipe.
The Lincoln Center campus will be bustling with free activities throughout the day at "Spring Fling," including performances by Jazzmeia Horn (presented by Jazz at Lincoln Center), and a string quartet from the Chamber Music Society of Lincoln Center hosted by Bruce Adolphe. There will be a special headlining performance at 1:00 pm by the celebrated rock band The Verve Pipe, known for their hit song "The Freshman" and more recently for two hit albums for children.From 11:00 am through 2:00 pm, there will be a host of outdoor events, including a craft activity from the Children's Museum of Manhattan, Instrument Tryouts presented by the New York Philharmonic (preceding that day's Young People's Concert, Once Upon a Time:"Story and Song"), a scavenger hunt for children to explore the Lincoln Center campus, chalk drawing, LC Kids giveaways and prizes, access to the "Magic Flute" exhibition with magical costumes at the New York Public Library for the Performing Arts, photo opportunities with professional ballerinas from American Ballet Theatre, and more from partners such as The Juilliard School, as well as information about further children- and family-focused programming at Lincoln Center. Additionally, the Laurie M. Tisch Illumination Lawn, in Hearst Plaza, will also be open to all.
Events inside the David Rubenstein Atrium include a free LC Kids Storytime at the Atrium event, presented in collaboration with Little, Brown Books for Young Readers, with New York Times bestselling author, Todd Parr, reading from several of his titles, including his newest book, TEACHERS ROCK!, a celebration of the countless ways teachers change the world, and a free screening of 20 imaginative short films by children, presented by the Film Society of Lincoln Center's Kids program.
Those that register as new free members to LC Kids are automatically entered for a free chance to meet The Verve Pipe. Membership details follow in the release. More information about Spring Fling is available at kids.lincolncenter.org/events/spring-fling.
Lincoln Center's "Spring Fling" is hosted by LC Kids, Lincoln Center's membership program which welcomes families to Lincoln Center and presents top-quality performances and events to engage children in the arts. More than 20,000 people attended LC Kids first season of events and programming, including the first "Spring Fling" last May, the LC Trick-or-Treat at Halloween, and the Winter Warm-Up in February.
Free memberships to LC Kids are available, in addition to options starting at $125 which offer access to pre-sales and additional opportunities for family-friendly programs at Lincoln Center. Further information about events and membership is available at kids.lincolncenter.org, which includes campus-wide information about family-friendly performances and practical information about coming to Lincoln Center with a child.
Photo credit: David Flores
---