---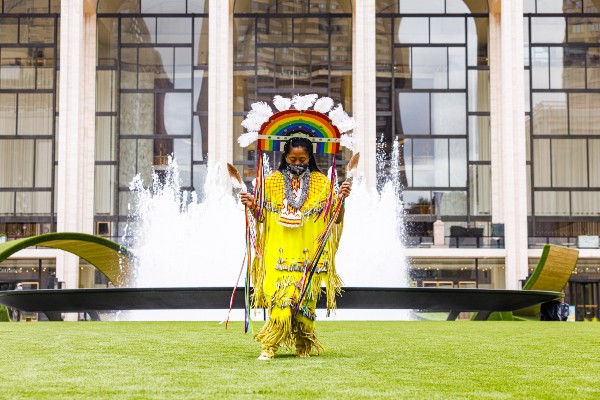 Lincoln Center for the Performing Arts today announced new artistic commissions, creative community, and civic collaborations, and more this coming June 2021 at Restart Stages.
The new outdoor performing arts center constructed on the Lincoln Center campus.
As New York emerges from this pandemic, Lincoln Center is making 10 outdoor performance and rehearsal spaces and civic venues available to artists and arts organizations across its campus and the five boroughs, aimed at helping kickstart the performing arts sector and contribute to the revival of New York City.
"It is incredible to have audiences and artists back in-person at Lincoln Center. So much of the human connection we've been missing is beginning to return and it's heartening to be a part of this with so many New Yorkers," said Henry Timms, President and CEO of Lincoln Center for the Performing Arts. "The arts are core to ourselves and our communities. We are grateful and humbled by everyone who makes, shares, and experiences the arts."
Restart Stages at Lincoln Center is made possible through the generous support of the Lincoln Center Board of Directors and the Stavros Niarchos Foundation (SNF) as part of the SNF-Lincoln Center Agora Initiative, a collaboration bringing new approaches in cultural engagement to public spaces.
In line with Lincoln Center's ongoing commitment to reflect the artists and audiences that makeup New York City, June will bring back the lighting of Lincoln Center's iconic fountain in a rainbow design and the flying of the Pride flag in honor of the histories, struggles, and contributions of the LGBTQIA+ communities.
The Pride celebration will also include a week of artistic programming, including two new theater works as part of the Criminal Queerness Festival, which supports the development and production of new works by international and immigrant theater-makers experiencing censorship and criminalization around the world.
Additional celebratory Pride concerts and performances include Taylor Mac, a Lincoln Center commission by Staceyann Chin, Treya Lam, and Migguel Anggelo.
Several Restart Stages events will commemorate Juneteenth, including the Lincoln Center commission I Dream a Dream That Dreams Back at Me: A Juneteenth Celebration.
Conceived and curated by multi-hyphenate artist Carl Hancock Rux, the site-specific experience will unfold in four parts across the Lincoln Center campus and feature vocalists Nona Hendryx, Marcelle Davies-Lashley and Kimberly Nichole performing original music by Vernon Reid and Nona Hendryx, with lyrics by Lynn Nottage. Specially made paper costumes are being created by designer Dianne Smith for the event.
For children and families, Concerts for Kids will present Coming Together, a celebration of Black culture through music, dance, and poetry.
Free tickets to June's Restart Stages events will be made available through the TodayTix Lottery, the Official Ticketing Partner of Restart Stages. The TodayTix lottery will open for entries two weeks before the performance and close three days prior to the performance at 12:59 p.m. EDT.
Attendees who secure tickets will be required to follow safety protocols. For more information visit TodayTix.com or download the TodayTix app.*
Throughout the month of June, audiences can access free tickets to multi-genre musical performances, dance, theater, family programming, and more, created by Lincoln Center, its world-class resident organizations, cultural and community arts partners, and guest curators from across the five boroughs.
New Yorkers may also come across surprise Pop-Up performances in full swing on The GREEN and across campus and spend a few reflective moments with a book at the Outdoor Reading Room, created by the New York Public Library for the Performing Arts.
Select Restart Stages events will be live-streamed on Lincoln Center and partner organization digital platforms, increasing access nationally and internationally, well beyond those able to travel to the physical campus.
In line with Lincoln Center's ongoing commitment to reflect the artists and audiences that makeup New York City, Lincoln Center is continuing its commitment to civic and community service to Restart Stages.
In June, the David Rubenstein Atrium will serve as a designated primary election polling place, in partnership with the Board of Elections and one of the City's new mobile vaccination buses will serve New Yorkers alongside the Campus.
Lincoln Center will be partnering with the New York Blood Center for a blood drive on June 8 to help address the critical shortage in NYC.
Additionally, more food distributions in partnership with Food Bank For New York City will take place throughout the coming months.
All offerings occur outdoors with health and safety protocols in place for artists, audiences, and staff. Designed with expert advice from medical and public health professionals, a variety of safety protocols will be in place, following recommended guidelines as the public health situation evolves—including, but not limited to, testing of artists and production staff, required face coverings, social distancing, and regular cleaning of the spaces.
Restart Stages launched on World Health Day, April 7, 2021 with a special performance for healthcare workers. It has continued with pop-up performances by ensembles from The Juilliard School, Passion Fruit Dance Company/Tatiana Desardouin in collaboration with Works & Process, the Frank Sinatra School of the Arts, and puppeteer Basil Twist.
A new art installation, titled "We Belong Here" by Brooklyn-based multidisciplinary artist, Amanda Phingbodhipakkiya is currently on view across campus. Building upon the "I Still Believe in Our City" art campaign she created as artist-in-residence with the New York City Commission on Human Rights, the installations offer Asian Americans and Pacific Islanders a respite from grief, a moment of peace, and a sense of pride and hope amidst the brutal attacks and harassment their community has endured.
The transatlantic exhibition, Faces of the Hero, a partnership with the Stavros Niarchos Foundation Cultural Center (SNFCC) will be on view beginning in July, as will the new commission You Are Here, conceived by choreographer Andrea Miller.
Restart Stages is being developed in coordination with NY PopsUp, part of Governor Cuomo's New York Arts Revival, in a partnership to help extend the reach of the initiative far beyond Lincoln Center's campus.
Since the pandemic began, Lincoln Center for the Performing Arts has driven efforts to bring the power of the arts to New Yorkers outdoors and digitally—from Love From Lincoln Center concerts for individual essential workers to works of art that elevate the voices and lived experiences of people of color in America, such as Carrie Mae Weems' installation Resist COVID/Take 6!, Davóne Tines' Vigil, and digital commissions like The Baptism by Carl Hancock Rux. Future international collaborations with the Stavros Niarchos Cultural Center in Athens (SNFCC) will bring new approaches to cultural engagement in both cities.
These are just the beginning of a reorientation towards prioritizing openness, access, and inclusive excellence—elevating talent from every corner of the globe and fostering a sense of radical welcome on the campus.
Additional programmatic details, including upcoming events for July, will be announced in the coming weeks. All seating for Restart Stages is located on accessible routes and can be removed to make space for mobility devices.
For all Restart Stages family programs, social narratives describing entry and seating through images will be available. These are designed for neurodiverse families preparing for new experiences.
Captioning will be available via streaming on personal phones or tablets for the Voices of a People's History performance on June 3, 2021.
Live audio description will be available on June 24, 2021 during «when we write with ashes», and ASL interpretation will be available for the June 25, 2021 performance of This is Not a Memorized Script, This is a Well-Rehearsed Story.
*No purchase is necessary to enter the TodayTix Lottery and reserve free tickets for these June performances. The prize value of tickets is $0. The odds of winning tickets depend on the number of eligible entries received.
The TodayTix Lottery is open to legal residents of the 50 United States and D.C., age 18 or over. Complete official rules, prize description, and giveaway entry information will be available on the TodayTix website.
Photo credit: The GREEN © Sachyn Mital, courtesy of Lincoln Center.
---