---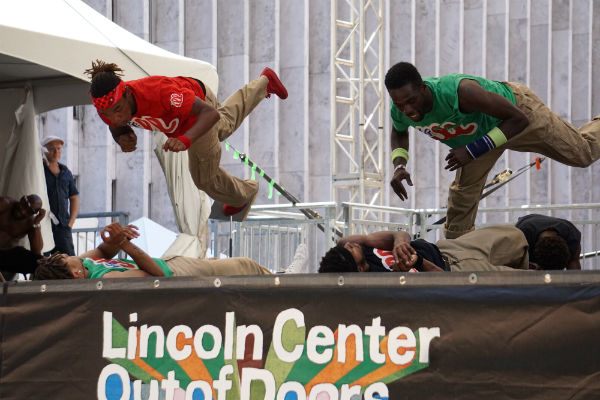 Lincoln Center today announced its annual Out of Doors season of free music and dance, invigorating Damrosch Park and the Lincoln Center campus from July 24 to August 12, 2018. One of the country's longest-running free outdoor festivals, now in its 48th edition, Out of Doors intertwines diverse social and cultural dialogues with multi-genre music programming, family events, dance, and spoken word by artists from New York City, across the United States, and beyond in this year's lineup.
"Out of Doors celebrates beautiful art forms and cultures from around the world with free performances—creating a space where new ideas and perspectives can be shared and explored by all," said Jill Sternheimer, Director of Public Programming at Lincoln Center. "We invite the entire New York community to experience world-class performers, twists on classic works of music and film, established dance ensembles and artists, and rising talent new to the Lincoln Center campus."
Opening the 2018 season on July 24 is Wu-Tang Clan founder, composer, and filmmaker RZA with an epic audio-visual film experience—a live re-score of the 1978 Shaw Brothers' martial arts classic The 36th Chamber of Shaolin, using Wu-Tang's incredible discography and beyond. The movie's story of oppressed Chinese villagers and the rule of a ruthless authority has long resonated with RZA, and influenced the carefully crafted philosophy of one of hip-hop's seminal rap groups.
Prolific old-school R&B musician and producer, revered for his Grammy-nominated albums and collaborations with artists like Solange, D'Angelo, and The Roots, Raphael Saadiq showcases his deep catalog of treasures and vintage sounds at the Damrosch Park Bandshell. Opening the night is Tamar-kali: PyschoChamber Ensemble, a string sextet and voice project from multi-instrumentalist and Mudbound film composer. As part of the venue (le) poisson rouge's 10th-anniversary celebration, LPR X presents the 1970s Afrofuturist sci-fi film Space Is the Place with a unique live score from Sun Ra Arkestra; Lean on Me: José James Celebrates Bill Withers combines James's contemporary jazz and R&B sound with the pure, soulful melodies that catapulted Withers into the Rock and Roll Hall of Fame; and jazz pianist and composer Samora Pinderhughes performs The Transformations Suite, painting a musical picture of the past and current state of social injustice in the U.S. and beyond.
Leonard Bernstein's revolutionary West Side Story score is reimagined steps from the original filming locations, and in the maestro's centennial year, with the Bobby Sanabria Multiverse Big Band taking modern jazz, funk, rock, and traditional Dominican, Brazilian, and Afro-Puerto Rican rhythms to the timeless masterpiece. Hal Willner's Amarcord Nino Rota ("I Remember Nino Rota") makes its New York City premiere, taking the sounds of Italian film composer Nino Rota—best known for The Godfather Part I and II, and numerous Federico Fellini film scores—to new musical heights with creative, multi-genre arrangements.
Last summer, NPR Music and Lincoln Center radically changed how we talk about the history of popular music with the publication of the 150 Greatest Albums Made By Women list and the Out of Doors live show. This year, NPR's Turning the Tables Live: 21st-Century Edition shifts focus toward a new generation of artists claiming center stage. To celebrate, we present a night of music and conversation with Grammy nominated, multiplatinum recording artist and singer-songwriter Carly Rae Jepsen, visionary Chicago R&B artist and poet Jamila Woods, Americana supergroup I'm With Her, and more.
Selena for Sanctuary celebrates the legacy of Tejano music's brightest star, Selena Quintanilla-Pérez, and the generation of young artists inspired by her songs and presence as a Latinx icon in popular culture. Rising Latinx performers headline this special night of tribute, with Selena's famous melodies interpreted by Chilean singer-songwriter Mon Laferte; dreamy SoCal indie-pop wunderkind Cuco; fierce, magnetic vocalist and musician Nina Diaz; soulful, alternative R&B artist Omar Apollo; and accomplished songwriter and creative August Eve. Brownout's Adrian Quesada , formerly of Grammy Award–winning ensemble Grupo Fantasma, assembles a special house band to accompany this talented group of guest vocalists.
A variety of dance is presented this season, with repertoire from the Dance Theatre of Harlem, kicking off its 50th-anniversary season, and Edinburgh-based touring company Janis Claxton Dance offering POP-UP Duets (fragments of love) to unsuspecting passersby across the Lincoln Center campus—fleeting, emotional, and intimate performances from August 1 to 5. On Heritage Sunday, Hearst Plaza hosts Made in NYC: Celebrating the 50th Anniversary of the Center for Traditional Music and Dance. Captivating performances from an eclectic group of dancers and musicians includes Grammy-nominated clarinetist and mandolinist Andy Statman, Irish-American supergroup Cherish the Ladies, Afro-Colombian musical ensemble Grupo Rebolu, and West African dancer, drummer, and singer Sidiki Conde and Tokounou Dance Company.
Peter Wolf, best known as lead singer and songwriter of the J. Geils Band, brings his high-energy, front man antics and mix of rock, blues, and soul to the Bandshell stage.
OkayAfrica's Mzansi Heat & Naija Beats brings Nigerian Afropop superstar Yemi Alade, as well as multiplatinum Afropop-house producer DJ Maphorisa, and NYC local DJ Tunez with his seamless fusion of old and new school Afrobeats. Iranian pop will be in full force in Damrosch Park with a lineup of three unique performances: legendary singer-songwriter and musician Faramarz Aslani, setting classical Persian poetry and original lyrics to pop melodies; KIOSK, the innovative champions of Iranian rock, blues, and folk; and Habibi, the Brooklyn-based girl group praised for its psych-rock guitars, Detroit garage style, and smooth lyrics.
On Family Day, the Mark Morris Dance Group leads a free, all-ages and abilities dance class highlighting excerpts from the group's Love Song Waltzes, also performed as a part of Mostly Mozart Festival. With performances at the 2014 Super Bowl, the Times Square NYE celebration, and an appearance in Academy Award–winning movie Birdman, the Marching Cobras after-school drumline and dance team take over Josie Robertson Plaza for an energetic afternoon. Soul Science Lab closes the Family Day activities on Hearst Plaza with their explosive energy and positive messages, blended with hip-hop, jazz, funk, and showmanship to match.
La Casita provides a platform to a powerful group of artists and activists with performances of poems, music, and stories—at Lincoln Center on August 4 and Teatro Pregones in the Bronx on August 5, 2018.
Additional artists, including the full lineup for the Roots of American Music and Americanafest NYC weekend of August 11–12, will be announced at a later date.
All events are FREE, require no tickets, and take place on Lincoln Center's campus between Broadway and Amsterdam Avenue, from West 62nd Street to West 65th Street (except where noted). Click here for more information and program updates.
No related posts found...
---