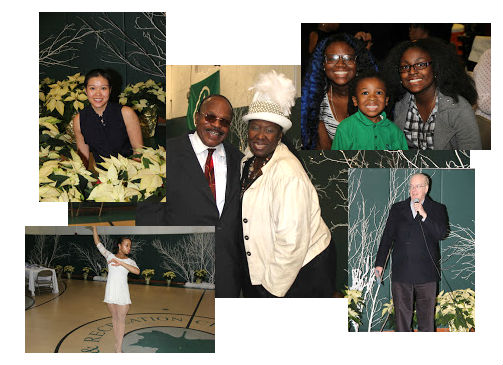 On Thursday, December 10, 2015, the Jackie Robinson Park Conservancy, Inc., Harlem Congregations for Community Improvement, Inc. (HCCI), and the City of New York (NYC) Department of Parks & Recreation united to present the 18th Annual Lights of Hope Tree Lighting Ceremony at the Jackie Robinson Park and Recreation Center.

Each year, this community-run affair offer delicious food, festivities and fun drawing a diverse crowd of neighbors, friends and community leaders and this year did not disappoint! Ballerina Chantel Hill gave a moving performance; Harlem based J Rose Catering provided a delicious meal; while, DJ Paul Mitchell spun a classic mix of jazz, hip hop and rhythm and blues music please residents of all ages! In addition, local event planner Samantha Su, 38, of Sterling Design Events and Planning donated a stunning winter wonderland themed décor. Su has lived in Harlem for five years said she was excited to participate, "I live in the area, and my studio is on 145th Street. So, I was happy to contribute. And this is for a great cause!"
"It was entertaining! And I like that there are a lot of different ages here,"
Six-year-old Jalil Giles attended with his sisters Destiny and Alyssa Gilchrist, ages 16 and 14. They live on 145th Street and received a flyer about the program. According to Jalil the best part of the festivities was the dancing and the eating. "We really enjoyed dancing, getting together with everyone and learning what's happening in the community and what goes into making events like this happen," said Destiny. "It was entertaining! And I like that there are a lot of different ages here," added Alyssa.
Valerie Right, 71, agreed "I've lived here since 1980" she said. "This is a nice, comfortable event." When asked about the changes she's noticed over the past 36 years she smiled and added "The rent is too high!"
Jackie Robinson Park Conservancy President Sonya Simmons, the driving force behind this event, was thankful for the spirit of umoja (unity) that made the evening a success. "I was ill and I had to rely on the community to make this wonderful night come to fruition," she said. "And I wouldn't have it any other way. The purpose of the Jackie Robinson Park Conservancy is to bring the community together to preserve the park, and enhance the neighborhood. The tree lighting is a perfect example of what we can achieve when we combine efforts. We are grateful for the support of partners like the elected officials, sponsors and founding partner, HCCI."
HCCI has developed more than 3000 units of housing in Harlem, founded the conservancy as part of its plan to revitalize the once blighted Jackie Robinson Park. "We've supported the conservancy for 18 years, and we look forward this event each year," said Derek Broomes, President & CEO of HCCI. "The Lights of Hope tree lighting ceremony is a wonderful testament to the impact concerned residents can make on a neighborhood."
Related: Derek E. Broomes, President And CEO of HCCI On The Danny Tisdale Show Harlem World Radio
Lights of Hope brings the Harlem community together in celebration of common goals—lighting the way to brighter futures. Each light represents the commitment and dreams of residents, individuals, businesses and corporations who believe in the hope and unity of Harlem. This year was sponsored by Artimus, The Richman Group, C&C Apartment Management LLC, and Prestige Management, Inc. and the NYC Parks Department.  Manhattan Borough Parks Commissioner William Castro, as did Earnestine Temple-Bell of Assemblyman Herman Denny Farrell's office.
Learn more at www.JackieRobinsonConservancy.org.
Learn more at www.hcci.org.
Photo credit (l to r, top to bottom): 1) Samantha Su – Samantha Su of Sterling Design Events and Planning.2) Ballerina – Ballerina Chantel Hill moved the crowd. 3) Broomes & Simmons – Derek E. Broomes, President of HCCI and Sonya Simmons, President, Jackie Robinson Park Conservancy. 4) Gilchrist Kids – Destiny, 16, and Alyssa Gilchrist, 14, enjoy the festivities with their little brother Jalil Giles, 6. Simons, Temple, Broomes – HCCI VP of Corporate Relations, Carlisa Brown Simons; Ernestine Bell Temple, Chief of Staff, of Assemblyman Herman Denny Farrell; and Derek E. Broomes, President & CEO of HCCI. 
Related Articles
---
VIDEO
---
"Dr. Harry Delany is a renowned Harlem born and raised surgeon, the son of the great jurist and civil rights leader, Hubert Delany...." This monthly post is made in partnership with Harlem Cultural Archives.