---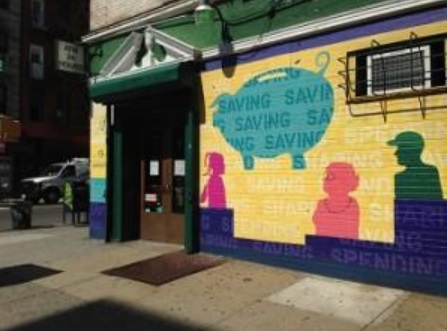 By Eartha Watts-Hicks
Let me tell you a little story about a wonderful little bank. And yes, I am biased on this one.
The Lower East Side People's Federal Credit Union (LESPFCU). This bank servicing those who live or work in lower Manhattan was one of a handful, offering startup grants to minority small business owners (me included), financial wellness workshops, credit building assistance, secured cards, scholarships, free tax preparation, and was also part of the SAVENYC program that matched ($500) deposits of those who saved a portion of their tax refunds. And these programs are mere only the tip of the iceberg.
Well Hun-ties, on December 5th, 2017, the LESPFCU just filed a lawsuit against Donald Trump and his appointee Michael Mulvaney. The lawsuit challenges President Trump's recent, illegal takeover of the federal Consumer Financial Protection Bureau (CFPB), in which he installed his at-will White House employee, Michael Mulvaney, to be Acting Director of the CFPB. The CFPB protects millions of Americans from unfair, deceptive, and abusive practices in the financial marketplace. Mr. Mulvaney has called the CFPB a "sad, sick joke."
"We support the CFPB as a protector of our low-income members' financial rights, and fear that the appointment of an Acting Director beholden to the White House could result in upheaval and ultimate dissolution of this critical agency," said Linda Levy, CEO of the Credit Union. "Having experienced the devastation that the 2008 mortgage crisis wreaked on our low-income members, we need the CFPB to protect communities targeted by financial predators."
"President Trump's attempt to install a White House official as the acting head of what is supposed to be an INDEPENDENT AGENCY is deeply disturbing and should concern everyone," said Debra Greenberger, a partner at ECBA, and counsel for the Credit Union.
"This is a naked, illegal power grab by Donald Trump to destroy an agency that helps and protects millions of ordinary Americans," said Ilann M. Maazel, a partner at ECBA, and lead counsel for the Credit Union. "The law requires Leandra English to be CFPB's Acting Director."
It was the law firm of Emery Celli Brinckerhoff & Abady LLP (ECBA) filed the lawsuit in Manhattan Federal Courton on behalf of the Lower East Side People's Federal Credit Union against Donald Trump and Michael Mulvaney.
The Credit Union is a not-for-profit, federally-regulated financial cooperative owned by its approximately 8,500 members and dedicated to providing high-quality financial services and community development investments in low income, immigrant and other underserved communities.This non-profit financial cooperative was launched in 1986 and has since promoted economic justice and opportunity in NYC neighborhoods.
The Lower East Side People's Federal Credit Union (LESPFCU) has 3 branch locations, including East Harlem:
Lower East Side Branch, 37 Avenue B. New York, NY 10009-7441, Email: lespfcu@lespfcu.org, Phone: (212) 529-8197. Fax: (212) 529-8368
East Harlem Branch, 237 E 104th Street, New York, NY 10029, Phone: (212) 828-6061
North Shore Branch, 2 St Paul's Avenue, Staten Island, NY 10301, Phone: (718) 554-4544
Link to Press Release HERE
Related Articles
---