---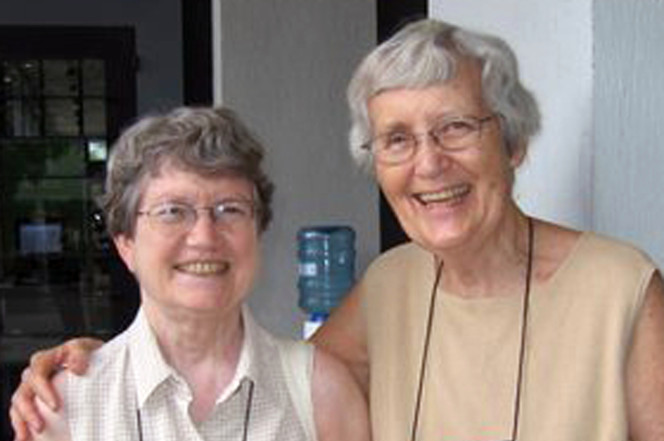 A lesbian pastor's widow is battling the Presbyterian Church for refusing to pay her pension.
Letty M. Russell, a Harvard-trained author who became one of the first ordained women ministers in the United States and one of the first female teachers at the Yale Divinity School, served as pastor of the Presbyterian Church of the Ascension in East Harlem from 1959 to 1971, says her widow, Shannon Clarkson.
Russell collected a $600 monthly pension for seven years while she was alive and designated Clarkson, her partner of 32 years, as her beneficiary.
But when the 77-year-old Russell died of cancer in 2007, the Presbyterian Church's pension board quickly cut Clarkson off.
"Had Letty Russell been a man and had she not been a lesbian, Shannon Clarkson would have received pension benefits," Clarkson charges in a Manhattan Federal Court lawsuit.
The board denied Clarkson the pension even after the Presbyterian Church chose to recognize same-sex unions in 2013.
"I think it's a matter of justice," Clarkson said. "If you don't recognize people for who they are, you're not treating people as children of God. It seems like it's an unjust position."
The trail-blazing Russell was known as "one of the leading feminist Christian theologians in the world," according to court papers.
"She was very energetic," Clarkson said. "She was a sailor. And if she said she would do something, she did it."
Even her entrance into Harvard in the 1950s, where she was one of the first women to earn a bachelor's degree in theology, was a challenge, Clarkson recalled.
"The dean said, 'Well, we don't take women,'" Clarkson said.
Russell pointed out that the dean's own wife was part of the school. Her moxie earned her a spot, and she went on to earn her doctorate at Union Theological Seminary in New York.
Russell and Clarkson met at a conference in North Carolina, and lived together in Guilford, Conn., from 1975 until Russell's death. Connecticut legally recognized the civil union in 2005.
Clarkson, who also initially struggled to be recognized as a surviving spouse by the Social Security Administration, is ready to fight.
"I'm not just doing it for me, I'm doing it because I think it's the wrong decision," she said.
The pension board did not return a message.
Via source
Related Articles
---