---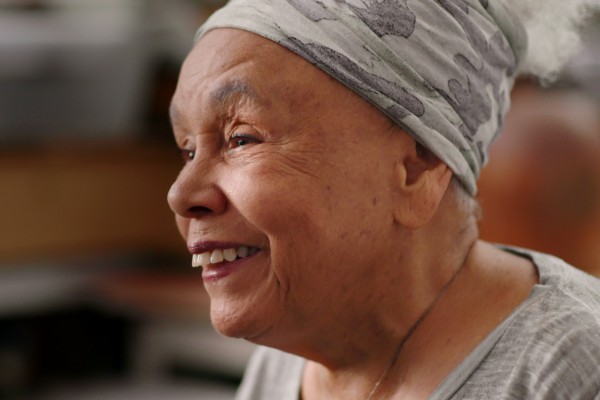 We love Betye Saar's work and her daughter Alison's "Harriet Tubman," memorial sculpture in Harlem.
So it was great to hear about Betye Saar: Taking Care of Business, airing as part of AfroPoP:The Ultimate Cultural Exchange.
Season 13 of AfroPoP: The Ultimate Cultural Exchange continues this month with its fourth episode, a shorts collection presenting an eclectic view of contemporary stories from the African Diaspora.
Exploring modern art, human rights, and politics, the AfroPoP shorts program premiere on Monday, April 26 at 8 p.m. ET on WORLD Channel and worldchannel.org with films from Christine Turner, Michèle Stephenson and Amir George.
The episode opens with Turner's Betye Saar: Taking Care of Business, a look at the trailblazing Los Angeles-based Black visual artist.
In her 90s and still actively creating art, through interviews with Saar and archival footage, the documentary explores her acclaimed method of using collage, assemblage, and more to make pieces — including her famous "The Liberation of Aunt Jemima" work — addressing Black culture, racism, feminism, empowerment and more since the 1960s.
Later in the episode, AfroPoP examines racism and xenophobia in the Dominican Republic with Elena from filmmaker Michèle Stephenson.
An intimate look at Elena Lorac, a young woman of Haitian descent raised in the Dominican Republic working tirelessly to combat anti-Haitian laws in the island nation.
As her parents, who have worked the sugarcane plantations on the island their entire lives, and other Haitians face possible deportation as a result of new government policy, Elena struggles to obtain her own identification papers and also works with social justice groups to increase voting access and legal rights for Dominicans of Haitian descent, efforts made harder by the government at every turn.
The evening closes with Man of the People from director Amir George. Through a mix of sound and archival footage, Man of the People relates the story of political leader Harold Washington, his path to victory to become the first Black mayor of Chicago, and his mysterious death.
Presented by Black Public Media and WORLD Channel, new episodes of AfroPoP: The Ultimate Cultural Exchange premiere each Monday through May 3, 2021.
All episodes will be available for streaming at worldchannel.org and on the PBS app starting at the time of their TV premiere.
Photo credit: 1) Betye Saar Taking Care of Business, LACMA. 2) Video.
---