---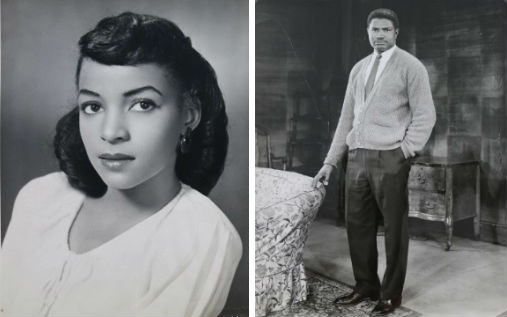 In keeping with The Dwyer Cultural Center's (DCC) distinction of showcasing Harlem's history, on Saturday, April 20th, 2019, DCC will host a ceremonial unveiling of Ruby Dee Place and Ossie Davis Way (the northeast corner of 123rd and Saint Nicholas Avenue).
DCC, located at 258 St Nicholas Ave in Manhattan, will open its gallery to the public from 11am-2pm to view an exhibit dedicated to the late actors and activists Ruby Dee and Ossie Davis. On display will be numerous story boards related to the work of Ruby Dee, Ossie Davis and countless others who focused on the empowerment of artists of color. The public will also have the opportunity to participate in a community mosaic mural organized by Art Force 5. The official ceremonial street naming(s) will take place at 2:15 pm.
Cliff Frazier, founder of DCC along with long-time friends Ruby Dee and Ossie Davis developed groundbreaking programs to benefit people of color working in a myriad of disciplines within the arts. "Three years ago, our Executive Director, Minerva Diaz came to me with an idea about the street naming(s) to honor my dear friends. And after a long and tedious process it's done!" said Frazier.
Ossie and Ruby have deep roots in Harlem. In the 1970s, Ruby and Ossie were instrumental in the development of the Community Film Workshop Council (CFWC), Third World Cinema (TWC) and the Institute of New Cinema Artists (INCA) along with Cliff Frazier and many other notables like Sidney Poitier and Harry Belafonte.
Both Ruby and Ossie had a long relationship with The Schomburg Center for Research in Black Culture. Ruby grew up near Striver's Row and began her career at the American Negro Theatre, then located at the 135th Street Branch, now at The Schomburg Center. As a young man, Ossie spent a great deal of time at The Schomburg studying as book purchases were often a hardship. The Dee-Davis archives can be found at The Schomburg.
"We are very humbled by this recognition not only of our parents' contribution to the arts, but also to their unwavering commitment to Harlem, the people, and to the Civil Rights Movement. We thank The Dwyer Center, Councilman Perkins, the staff at District 9 and Community Board 10, and everyone who worked to get this done, stated the Dee-Davis children (Nora Davis Day, Guy Davis and Dr. Hasna Muhammad)."
This celebration will honor the legacy of Ruby Dee, Ossie Davis and Cliff Frazier who worked unselfishly to create change!
Photo credit: Ruby Dee Place and Ossie Davis via Wikipedia.
---