---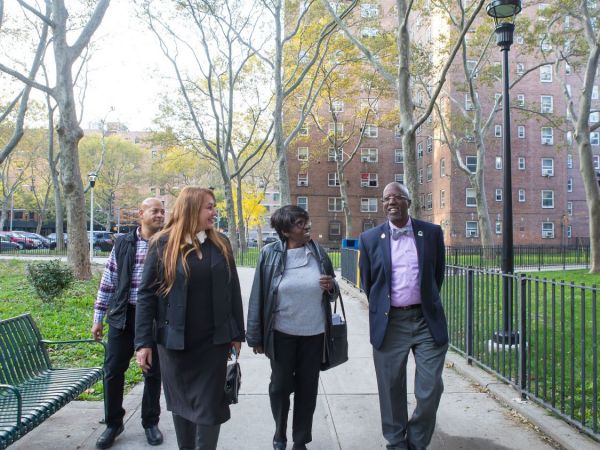 The New York City Housing Authority celebrated the completion of a $2.5 million project to upgrade the lighting system at Harlem's Saint Nicholas Houses.
NYCHA officials and Saint Nicholas Houses staff toured the development's grounds Wednesday, where 273 state-of-the-art LED lights were just installed. The lights will automatically switch on when it becomes dark outside and will light up the entire premisses of the development, including common areas such as playgrounds and parking lots.
The lighting installation was funded by a 2014 initiative passed by Mayor Bill de Blasio — the Action Plan for Neighborhood Safety — designed to improve safety at 15 NYCHA developments through various projects and initiatives. This year a similar project was completed at the Polo Grounds Houses in Harlem, where 341 LED light fixtures were installed.
"As we work to enhance safety across NYCHA, state-of-the-art lighting is leading the way by brightening our neighborhoods," Shola Olatoye said, NYCHA chair and CEO, said in a statement. "NYCHA is proud to announce the completion of another permanent lighting installation that will strengthen the Saint Nicholas community and improve quality of life for residents by giving them the sense of security that all New Yorkers deserve."
This year crime is down 8.3 percent at the Saint Nicholas Houses, according to a NYCHA press release. For the second year in a row there have been no murders at the development and the number of rapes has dropped from two to zero, according to the release.
In addition to physical improvements such as LED lighting, the Mayor's Action Plan funds programs that provide job counseling, and legal and social services for the victims of domestic violence, elder abuse and sex trafficking at the Saint Nicholas Houses.
The next improvement coming to the Saint Nicholas Houses will be the installation of Closed-circuit television surveillance cameras within the development.
"Today, I am pleased to see Mayor Bill de Blasio make a commitment to the residents of New York City Housing Authority's Saint Nicholas Houses with a $2.5 million safety-lighting installation project," Council Member Inez Dickens said in a statement.
"This effort, coupled with my long-standing investment in security cameras for Saint Nicholas Houses, will enable many who call this community home to have a sense of added protection as they about their travels at night. Only by working together can we truly have the type of city that respects all its residents."
Via source
Related Articles
---