---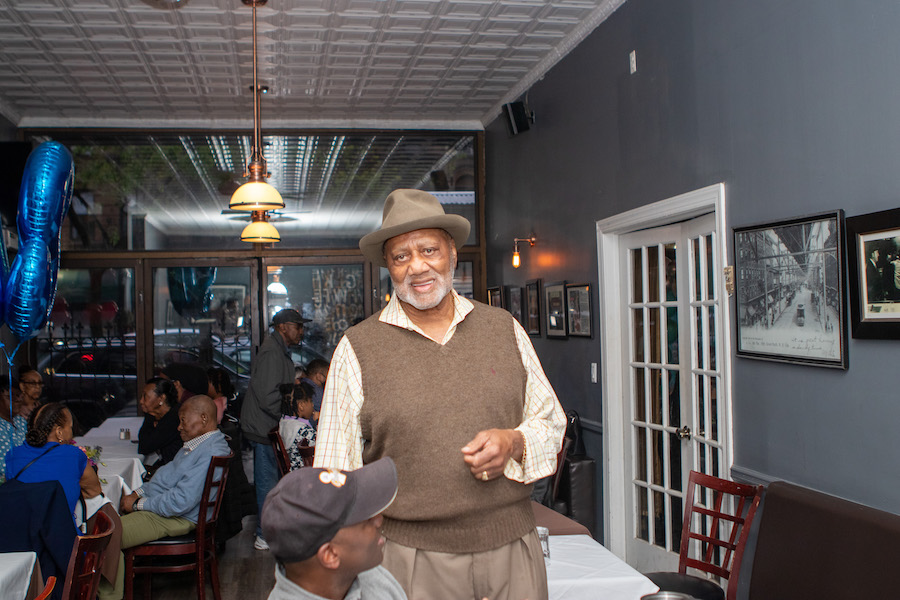 By Eartha Watts Hicks
Londel's Soul Food Restaurant in Harlem at 2620 Frederick Douglass Boulevard is an elegant showplace where the surrounding community savors the delectable menu of down-home Southern cuisine.
With Harlem's legendary and iconic patrons prominently displayed on the walls, Londel's service is consistent, regardless of who's in the room, a who's who of celebrities, or even when the most celebrated person there is you. This standard speaks to the tenacity of the staff and the deft planning of owner Londel Davis, who launched this establishment in 1995.
Harlem World Magazine had an opportunity to converse with the restauranteur, Londel
Davis. Our midday conversation offered some insight into what has cemented this establishment as one of the best places in Harlem to dine and vibe.
Harlem World Magazine: When did you officially launch?
Londel Davis: January of 1995.
HWM: How did you get started? And what organizations did you turn to for help, resources, and support?
LD: The best resource I had was a young lady from my church, and we were members of Abyssinian Baptist Church here in Harlem. Back then, Abyssinian had just started ADC, the Abyssinian Development Corporation. Cameron Phillips was one of the founders of ADC, and she introduced me to Imani Bennett. She referred Ms. Bennett to me because I was starting out. I had money, but I told her I was having financial difficulties. She had connections with a bank and was instrumental in helping me to put a business plan and a package together. I had some funds but didn't realize how much it took. I didn't know the expense of staff, getting the permits, and construction. It was challenging. It didn't start like this. It was going to be a little greasy spoon.
HWM: What made you change plans?
LD: There was a fellow who owned a liquor store on the corner. His name was Harvey. He was a friend of mine. When I started construction, he kept coming up with excellent suggestions for the place, like picture windows. And he was saying things like, "Well, you've got to have high ceilings!" It evolved. I knew this place would be something special, about three-quarters of the way through construction, especially back then. I had the picture windows that opened onto the sidewalk, a red awning, and a grass carpet. It was 1995. We stopped traffic because people couldn't believe this was on 140th Street. Back then, 140th Street, the block I grew up in, was characterized as the worst block in America because of the crime. There was the drug war and the violent behavior of the neighborhood to contend with. People were getting killed and shot up, and stabbed. It wasn't the Harlem we have now. I didn't want Londel's to be another greasy spoon with a couple of cooks in the kitchen. It evolved into fine dining.
HWM: Who was your first chef?
LD: Our first chef was Kenneth Heatley. When I was looking for a chef, my neighbor told me we had a chef in the building. So, we introduced ourselves to one another. At the time, Kenneth worked for the Helmsley Palace. He was the banquet chef at the Helmsley Palace, a luxury hotel in lower Manhattan. He did parties and banquets. That was his specialty. He loved the idea, and he also had some excellent suggestions. When it was time for us to do the staffing, he had the staff come from the hotel and work here part-time, which was a godsend. Because they'd all known each other, they knew how to work together, and it turned out fine.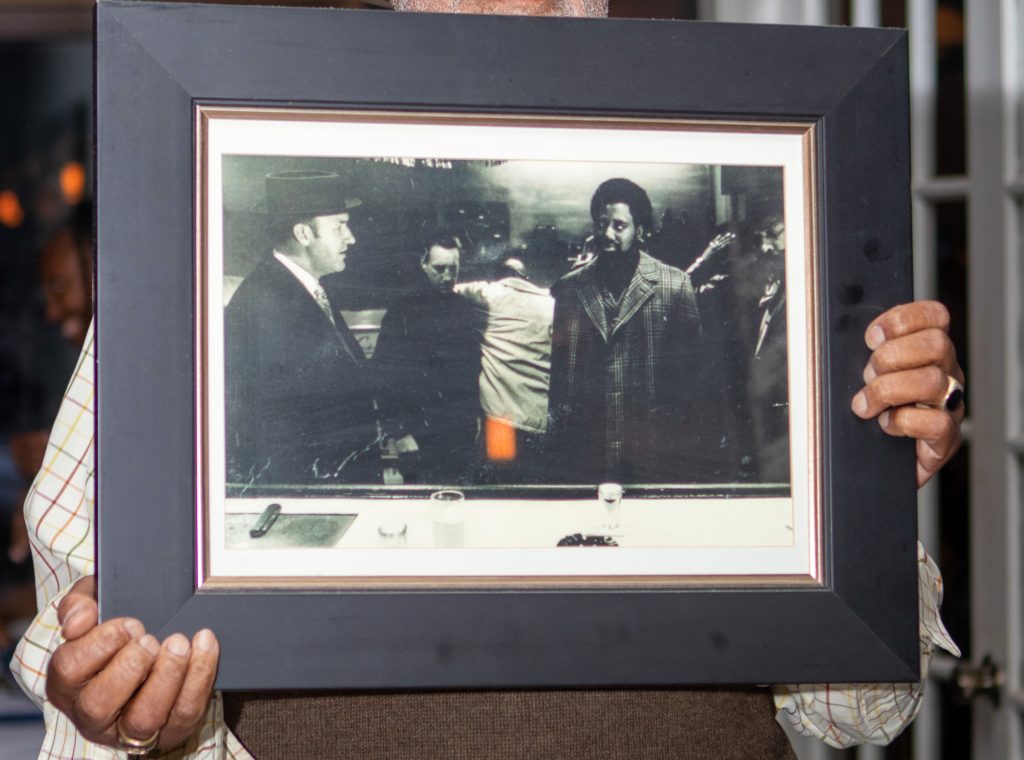 HWM: How is that! Why do you think it worked out so well?
LD: I'm a man of faith, and I always say, "There, by the grace of God, go I!" Because it just doesn't make sense! It had got to be about God because I was a chubby little something. I was bright. I went to the public school across the street. If somebody would have told me this is what I would be doing fifty years later. . . It's just amazing.
HWM: What experience did you have before all this?
LD: I've always worked. I was a police officer for twelve and a half years. I was part of a special unit. We dealt with street crimes, guns, and all that stuff. And then, one night, we got information on a location down on 111th Street and 7th Avenue. We went down in plain clothes to take that spot out, but we were ambushed. My partner was killed, and I was wounded. So, I retired early. I started my first little restaurant on 135th Street, a little takeout place. My nephew and I started that up. My kids and nephews used to come in on Saturdays to clean up and work behind the counters, non-salaried. They were teenagers. They didn't like it, but they had no choice. They were all living with me. My four nephews and two sons are identical twins. They came in on Fridays and Saturdays. It was a good experience for them. Plus, I was taking care of them. They were living in my home.
By the time I opened Londel's, they were all adults. When we first started, it was very formal. Everyone wore black and white. And eventually, everyone wore bowties, which became part of my trademark. It set the standard here, uptown, for things to come. Not only the ambiance but also the food. We took pride in the presentation and taste. I wanted everything to be pleasing to the eye and pleasing to the pallet, or rather pleasing to the eye before it ever reaches the stomach.
HWM: What do you feel has given this place such longevity?
LD: Another very important piece of the equation was the service. I used to visit some restaurants in Black neighborhoods, and the service would be terrible. We had a fellow that was working here for about a year. He would jump over chairs to get to the white customers because he thought the white customers would tip him better. I had to pull him aside and explain to him. The people in the projects are just as celebratory. I wanted to ensure the service was the same for people in the project as it was for noted people and celebrities. There should be no difference. People are just people. Our presentation and good service—that's what's kept us here. The community embraced us. This restaurant is their special place. They regard this place as if it belongs to them. Of all the things I've done, that's what I am most proud of. If I have had an impact on this community, that was the point.
When I was coming up, all the number bankers had big cars. They were the biggest employers in Harlem, the Black number bankers. When I was coming up, the business owners were German, Italian, and European, and they would hire kids in the neighborhood. I worked in the grocery store for three days a week after school. I put the bottles in their respective cases, which was my job. My cousin worked for Shapiro's. It was a furniture store owned by a Jewish man. Black entrepreneurs were the number bankers. That's how things were back then.
HWM: What have been some of your challenges?
LD: I've redone the place and remodeled it several times over the years. We had two lounges. We had this one and another on 115th Street. They fail because they never had the experience to take over. And during the pandemic, we shut down. And when we opened back up, I told people we were taking temperatures and checking vaccination cards, or they couldn't come in. I, personally, got forty people vaccinated at Harlem Hospital. I've been blessed. And I believe if God blesses you, it's not just for your pockets. We were raised to be punctual in attendance. We learned the king's English and how to look and speak for a job interview. I raised my kids. I'm going to stay on you. What's disturbing is that it takes a village to raise a child, but nowadays, these children are raising one another because their parents have baggage. The first thing you have to do is educate yourself. I graduated from John Jay College of Criminal Justice in 1977. In my day, school was a job.
HWM: What are some of your threats, then versus now?
LD: Nowadays, running this business feels more challenging than being a police officer. It's
constantly dealing with people, having to write everything down, and tour groups from Europe. We had over 7000 tourists from France, Europe, and Belgium last year. During covid, we shut down. The biggest obstacle was maintaining the caliber, the staffing, and the food quality. It has to make money. I own the building. Chicken has gotten expensive because of bird flu and eggs. Ukraine was the biggest producer of green. So, the war in Ukraine affects my pockets.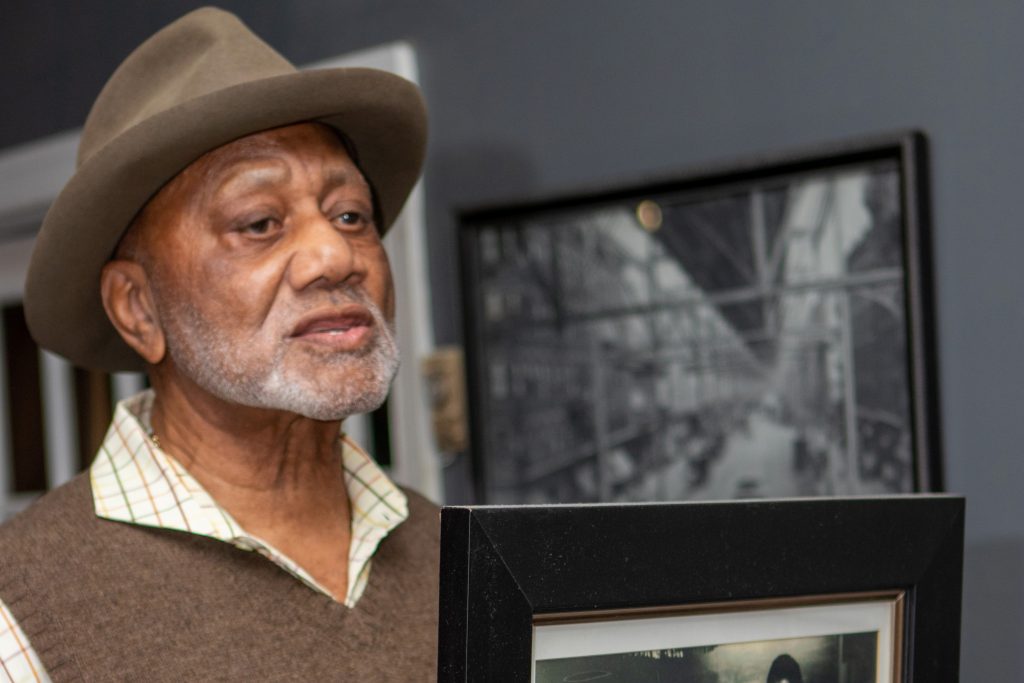 "I hope children in this neighborhood see that and believe they can do the same thing. I'm trying to give back, and when I get to the gates, they'll look at the scroll and won't be checking to see how much money I've made. Was I a positive role model? Did I give a good handshake? A handshake means something then and now. Look people in the eye. Be a good neighbor."
I've been told since I'm a restauranteur that I shouldn't be so outspoken about politics. First and foremost, I'm a Negro born in 1946. If they called you Black back then, those were fighting words. I'm a grassroots person. Bill Clinton was here. Barack Obama will be here one day. What I have done here is exceptional and significant. I hope children in this neighborhood see that and believe they can do the same thing. I'm trying to give back, and when I get to the gates, they'll look at the scroll and won't be checking to see how much money I've made. Was I a positive role model? Did I give a good handshake? A handshake means something then and now. Look people in the eye. Be a good neighbor. But, Londel's Restaurant is a business.
At the end of the day, it's dollars and cents that count.
HWM: Thank you.
LD: Thank you.
---
Eartha Watts Hicks
Eartha Watts Hicks is Harlem World Magazine's contributing Book Editor. She is the award-winning author of Love Changes, a member of the Harlem Writers Guild, and a NYCHA/NAACP ambassador for literacy. For more information, visit www.linktr.ee/Earthatone.
Photo credit: 1-3) Noir Photography Studios @NoirPhotographyStudios, www.instagram.com/noirphotographystudios 
---