---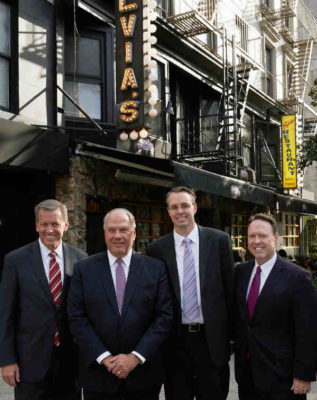 Deseret News reports that Elder Ronald A. Rasband exited the Church's prominent 33,000-square-foot meetinghouse located in the heart of Harlem, New York, on Sunday, October 22, 2017, and walked one block down the street. There he looked in the windows of the iconic Sylvia's Restaurant where, two decades earlier, the first LDS branch met in Harlem.
Recalling the birth of the Church in the historic northern Manhattan community, Elder Rasband, a member of the Quorum of the Twelve Apostles who served as a full-time missionary and then mission president in New York, thought: "This is what it is all about."
"A piece of my heart and a piece of my testimony exists here in Harlem," said Elder Rasband, who was in Harlem to participate in the 20th anniversary celebration of the Church in the community.
It was while Elder Rasband was serving as president of the New York New York North Mission from 1996 to 1999 that it became apparent that members and missionaries needed a place to meet in Harlem. Congregations from numerous denominations were gathering on nearly every corner in Harlem; Latter-day Saint converts also wanted to worship in their community.
"We were having a very difficult time finding a place to lease," said Elder Rasband. Then Van Woods, an LDS convert, offered Elder Rasband and the Church his famous soul food restaurant.
Thinking of all the storefront churches in New York City, Elder Rasband thought, "Why can't we meet in a restaurant on Sunday mornings?"
Church leaders formed the Manhattan 9th Branch, better known as the "Harlem Branch," in 1997. Members met in the iconic Sylvia's Restaurant. As the Church was welcomed into the prominent business, the way the community perceived the Church changed, recalled Elder Rasband.
Church membership thrived in Harlem, and the Latter-day Saints soon outgrew Sylvia's. Construction on the first Church-built meetinghouse in Harlem began several days before the dedication of the Manhattan New York Temple in 2004. Today the 5-floor meetinghouse on Lenox Avenue and 128th Street stands in the heart of Harlem. Three wards meet in the building.
Elder Rasband said he knew as a mission president that great things were in store for Harlem.
Speaking to members at the meeting on Sunday, Elder Rasband quoted Proverbs 29, "where there is no vision the people perish."
"The Harlem Branch, now three wards, is an example of people having vision," he told the members. "Look what has now happened in Harlem. Dream big."
The opportunity to participate in the meeting was a great privilege for Elder Rasband, who only a few weeks ago spoke in general conference on the topic, "By Divine Design."
Although Elder Rasband received his assignment to participate in a stake conference in New Jersey many months ago, he did not learn of the Harlem event — promoted on social media by his former missionaries — until much later.
"It was like Heavenly Father knew I would be there six months ago when I was assigned to go to East Brunswick, New Jersey," he said. "And I was able to go to Harlem Sunday afternoon and participate and give them all my love and the Lord's love. It was one of those special, almost choreographed-in-heaven, opportunities."
Looking over the congregation, he realized "where there was nothing 20 years ago, there are now thriving congregations that contribute to the community and host community events in their beautiful building. It is a community church now — an important part of Harlem," he said.
Bishop Micah J. Day of the Harlem 1st Ward, who served a full-time mission in New York under the leadership of Elder Rasband, said Harlem has "a vibrant spiritual element."
He said local leaders organized the program Sunday to help members, many of whom are new to Harlem, understand the rich history of the area. "I really wanted to give the members an understanding of their pioneer heritage and the pioneer heritage of Harlem and the roots that are here," he said. Harlem "is a very special place in the patchwork of Zion. …
"How blessed I am to be serving in a place — to have an opportunity to continue to serve my mission president 20 years later, to carry on his legacy, to build upon the inspiration he had 20 years ago."
Bishop Day was with Elder Rasband as they left the Church's Harlem meetinghouse and walked one block to Sylvia's.
He listened as Elder Rasband "harkened back to his experiences as a missionary," he said. "I got the feeling as if we were back on the mission again. He had this spring in his step. You could tell he felt the power of the place — and the experiences he had there."
Photo credit: Elder Randall Bennett, General Authority Seventy; Elder Rasband of the Quorum of the Twelve Apostles; Harlem 1st Ward Bishop Micah J. Day; Elder David L. Buckner, Area Seventy, stand in front of Sylvia's Restaurant in Harlem, N.Y. on Oct. 22, 2017.
Related Articles
---