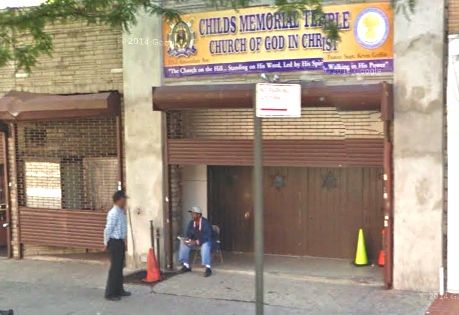 A historic Harlem church – and one-time synagogue – is closing its doors for good to make way for new construction, The New York Times reports. Soon there won't even be any doors: the crumbling 95-year-old building at Amsterdam and 147th Street is already being demolished. The 600-seater, which originally opened its doors as the Bluebird Theater in 1921, went through several theatrical – and religious – reinventions through the years, before finally becoming the Childs Memorial Temple Church of God in Christ.
Along the way, it went through a stage as a synagogue — the NYC Department of Buildings classifies the structure as "M9-CHURCH, SYNAGOGUE". But other than its Star of David glass windows, little remains of the Jewish history. The building will no doubt be best remembered as the site of Malcolm X's eulogy on February 27, 1965.
Gunned down almost a week earlier, the civil rights leader's followers had a hard time of finding a place to hold the funeral. At the risk of bomb threats, Bishop Alvin A. Childs stepped up and the Faith Temple Church of God in Christ, as it was known at the time, housed the Muslim service in peace.
The building's final congregation – which currently worships at a West 148th Street storefront space – will return to a new two-story church to be built on the site once the historical building is demolished, incorporating pieces of its predecessor.
Via JP Updates
Related Articles
---