---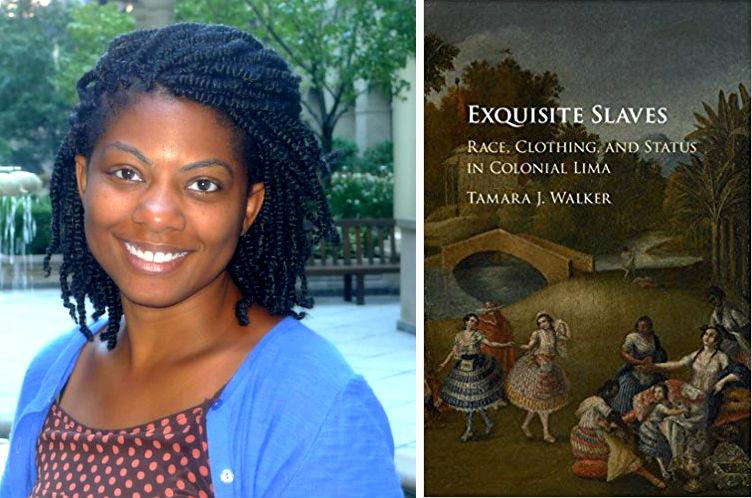 The Lapidus Center for the Historical Analysis of Transatlantic Slavery at the Schomburg Center for Research in Black Culture is delighted to announce Dr. Tamara J. Walker as the 2018 Harriet Tubman Book Prize winner for her book Exquisite Slaves: Race, Clothing, and Status in Colonial Lima (Cambridge University Press). The Harriet Tubman Book Prize of $7,500 is awarded to the best nonfiction book published in the United States on the slave trade, slavery, and anti-slavery in the Atlantic World.
A jury of prominent historians including Drs. Laurent Dubois, Barbara Krauthamer, and Manisha Sinha selected the winner from a set of finalists chosen by a committee of thirteen librarians and scholars from across the United States. In Exquisite Slaves, the jury found:
"an engaging analysis of enslaved people's self-fashioning that reveals the complex dynamics of colonial race and gender formations. Walker's nuanced attention to the meanings of dress and style considers the manner in which free and enslaved people of African descent expressed themselves as well as circumvented and challenged colonial boundaries of race and legal status. Drawing on a wide range of sources, Walker's book adds new insights and methodologies that broaden our understandings of the ways in which women and men of African descent navigated legal regimes of slavery to exercise their creativity, ingenuity, and agency."

"I am so grateful to the prize committee for this tremendous honor," said Dr. Walker, an Assistant Professor of History at the University of Toronto. "My goal has always been to recognize enslaved men and women's dignity and selfhood, as a way of honoring the legacy of Harriet Tubman herself. To receive an award in her name makes me prouder than words can ever say."

"I am thoroughly impressed by Dr. Walker's Exquisite Slaves," said Michelle Commander, Associate Director and Curator of the Lapidus Center. "Her book is an interdisciplinary feat—it is a rigorously argued and elegantly written historical examination of the ways that enslaved people self-fashioned via Peruvian sartorial culture. What an exciting addition to studies of race and slavery in colonial Latin America. Congratulations to Dr. Walker on the well-deserved honor."
The Harriet Tubman Prize will be presented to Dr. Tamara J. Walker on January 24, 2019, at the Schomburg Center for Research in Black Culture.
For more information on the Lapidus Center, visit www.LapidusCenter.org.
Get the five-star book here at Amazon.
---