---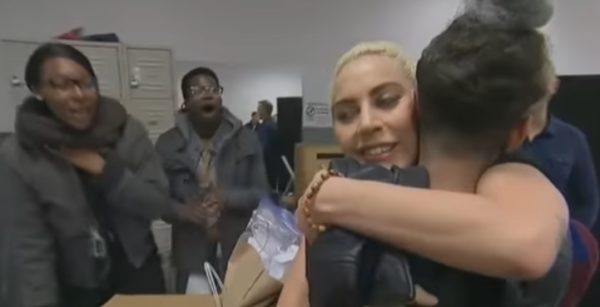 Lady Gaga's new album Joanne was hailed as the singer's most personal work to date upon its release in October; now, the "Million Reasons" singer has given fans an even deeper glimpse into her life during a powerful segment on NBC's Today. 
On Monday morning, the talk show premiered a short video showing the Oscar-nominated singer-songwriter visiting the Ali Forney Center, a Harlem, New York homeless shelter for LGBT youth, with gifts and inspirational words in tow.
"I've been searching for ways to help myself, and I found that kindness is the best way," she said, arriving at the Harlem-based organization with bags filled with clothes, makeup, and other holiday gifts for the teens waiting inside, later revealing one of her "deepest secrets" as a means to help the center's youth population cope with their own struggles. "I told the kids today, 'I suffer from PTSD.' I've never told anyone that before. So, here we are. But, the kindness that's been shown to me by doctors as well as my family, and my friends – it's really saved my life."
"These children are not just homeless or in need. Many of them are trauma survivors. They've been rejected in some type of way," she said as one of the shelter's residents told her listening to her third album Born This Way helped him get through a difficult period in his life after his parents rejected him for being gay.
Ahead of singing an a capella cover of Nat King Cole's "Smile," Gaga continued: "Meditation helps me to calm down. I don't have the same kinds of issues that you have, but I have a mental illness, and I struggle with that mental illness every day. I need my mantra to help keep me relaxed. You are brave. You are courageous."
Following her performance on the season 13 semi-final of The X Factor in the U.K., Gaga tweeted a message of thanks to the Ali Forney Center for hosting her visit.
"… thank you for sharing your stories, trauma & pain with me & the world today," she wrote. "Your kindness is contagious."
As part of Today's #ShareKindness campaign, Gaga's own Born This Way Foundation – co-founded with her mother, Cynthia Germanotta, in 2011 as a non-profit aimed at raising awareness about mental health – also partnered with the program's ongoing Share Kindness Experience, located at 30 Rock in New York City, where visitors can perform various acts of kindness, from decorating a lunch bag for a child in need or writing a kind letter.
Watch Gaga's full, emotional visit to the Ali Forney Center below.
---