---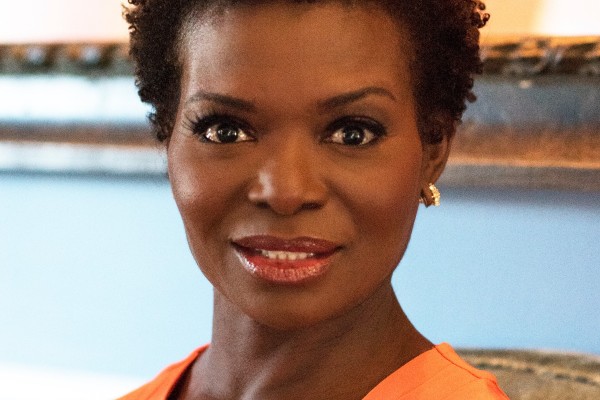 By Linda Armstrong
LaChanze is a lady that everyone will remember gave a voice, dignity, beauty and power to the character of Celie, in the musical, "The Color Purple" on Broadway, as she originated the role. A role, in the Alice Walker-inspired musical, which earned her a Tony Award. Sitting in the audience one could feel chills as her mezzo-soprano voice engulfed us all. When LaChanze played August in Lynn Nottage's, "A Secret Life of Bees," she succeeded in brilliantly demonstrating the layers of this complex character and again, her voice was stunning, as she conveyed all the struggles that her character dealt with. Her interpretation, in fact, was so spectacular that it earned her the AUDELCO Award for Leading Actress in a Musical. LaChanze, in 2018, delivered a stunning performance as Donna Summer in "The Donna Summer Musical" on Broadway. Yes, she sang the songs with energy, delight and joy, but she also allowed the audience to see Summer as much more than just a famous Disco singer. Her in-depth performance and intricate delivery of this character made the audience go wild every performance. That performance earned her a Drama Desk Award for Outstanding Actress in a Musical and a Drama League Award for Distinguished Performance. Throughout her career LaChanze has always portrayed female heroines and succeeded in conveying their struggles, fears, dreams and hopes. She has always allowed the audience to connect with the character on a deep level. It is no wonder that Roundabout Theatre is getting ready to star LaChanze as Wiletta, in Alice Childress play "Trouble In Mind" at the American Airlines Theatre at 227 W 42nd St. previewing October 29, with an official opening on November 18. LaChanze is definitely the actress to trust with this role. A role that never got to Broadway before now. Childress wrote the play in 1957 and there was talk of it going to Broadway, but that talk ended when Childress wouldn't agree to compromises in the script. Now and at this time in New York, this play is finally getting a chance to make it onto the Great White Way.
This play has many firsts associated with it. It's first time on Broadway, it is the first time LaChanze has starred on Broadway in a play and it is her first time being directed by a Black male on Broadway—Charles Randolph Wright.
This is such an unbelievable time in this country and city. We are just coming out of the pandemic and there has been so much civil unrest due to the murder of George Floyd and so many others by the police. There is a reckoning that has happened in this country and everyone has been moved, including the theatre community. Everyone is looking for equity for Blacks in all lines of work, especially Broadway Theatre. The irony about this play happening right now, is that "Trouble In Mind" is actually a play written by Childress about a Black actress struggles with the racism in Broadway Theatre. How appropriate is that, that this play should find it's way to the Great White Way? Especially this theatre season, when it is also joined by six other plays by Black writers.
Everything about the timing and having the opportunity to do this work of a strong, Black woman and working with a strong Black male director, is definitely recognized and appreciated by LaChanze. "Initially this piece was directed by Alice Childress, so I feel that she wrote the play, she directed–I feel like there's a lot of Alice in this role, in this character Willetta. So, I'm honored because I feel like I am portraying some of Ms. Childress' deep seated concerns about being an actor in this industry and I'm just excited about being able to bring that to life again. I really am challenged about making it as authentic to the time as possible. I've been doing a lot of reading about the time and the great migration to figure how she got to Virginia, which is where she's originally from in the play and how she came to New York during the period of the Harlem Renaissance and what the state of mind was for Black actors at that time during the '30's and the '50's. I've really been digging deep to make this as authentic and as true to Ms. Childress' words as possible."
LaChanze is a history buff interested in African American women. This truly started when she was in her 20's and read "When and Where I Enter" by Paula Gittens. "She describes Black women as being the bottom of the totem pole and everyone else standing on top. It's the kind of book that changed my life and my prospective on where Black women are in the world and the dimension of Black women and despite the fact that the world sees us at the bottom, we are still able to rise and have Oprah Winfrey's and dynamic powerful women throughout history. We are still able to do that and I am interested in tapping into what makes us tick and revealing it. So, I just love going into Black women's stories and revealing it because we don't get that opportunity often. People see us and they paint us with a broad stroke and they don't know our story–they don't even care. And for me as an actor, it's important for me to make you care. To make you see my vulnerability, to make you see my humanity. So, I really dig deep with my characters," LaChanze shared. "Wiletta is written in this very centered and ambitious way. But I know how difficult it was for Alice Childress to make a Black woman the center of a story in 1955. The reason, it's never been on Broadway, is because they wanted to make the White female protagonists the center of the story and Childress said, 'no'. That kind of courage and commitment to the truth of our stories, makes me want to go deeper and make it even more accessible for audiences today," LaChanze remarked.
It appears that this role was made for LaChanze. Considering whether she identifies with the character the actress was candid as she explained. "I completely identify with everything because Wiletta is a woman in her 50s, I'm a woman in my 50s. She was doing musicals, I imagine when I make my own bio of her, that she did a stint on the chittlin' circuit, because she's not educated. I imagine what that must have been like for her to have to go to all these different towns and then land in New York in Harlem and be a musical performer. In the play she is not a musical performer, she is an actor and I imagine being that it's the first time, the story has so many ups and downs and why it's so good. That's my story. I've never been the lead of a play on Broadway, so my own personal excitement and nervousness about doing this, I have my own challenges. I'm challenged by what it's going to do for me, but I'm also stimulated by the opportunity, because I've done plays off Broadway, out of town, I've just never done lead on Broadway. So that adds a certain level of scrutiny that makes me as an artist, want to show up batting a thousand."
The times seem to be changing on Broadway, LaChanze was elated to recognize that. "The fact that the play hasn't been produced in 66 years, right there is evidence that we're changing. It's evidence that we are finally ready and I really believe that it has a lot to do with the social unrest of last year while we were in the pandemic, while we were in quarantine. We all had to sit home and watch the horror of Breanna Taylor and George Floyd being murdered. I think the world had to sit and pay attention. The world watched it. So we had international, social unrest and I think the theatre community was deeply affected and wanted to make a change and that's why I think there are seven shows opening on Broadway that are Black stories. I think that had a lot to do with us sitting down for a year and seeing how inequitable it is for us."
Related: The Broadway Premiere Of Trouble In Mind Starring LaChanze And A First Look Portrait Of The Fabulous Cast.
LaChanze feels pure excitement to do Childress' play and be directed by Wright. There is a certain feeling she's experiencing that she has never had before. She declared, "I am so grateful! As an actor our job is to study behavior and recreate it. And oftentimes as a Black actor,–like I was telling everybody–this is the first time I've ever worked with a Black director on Broadway—it's crazy. All the shows you have seen me do have been directed by White men, except for Once on this Island and that was a White woman. So, every show except for this one, I've had to cold-switch. I've had to make sure that if I didn't feel comfortable in a scene, or it wasn't an authentic way that I would speak, I've had to address someone that was not in my culture and trying to explain to them, why it wouldn't happen and often times they were just like, no, that's what I want it to be. So I feel completely supported in 'Trouble In Mind' because it was written by a dynamic Black female playwright in the '50s. Could you imagine where Alice would be in 2021? Could you imagine the type of ferocious voice she would be if she had that kind of power and that kind of voice in the '50s. She would be a formidable force and to know that I would have that kind of support and the ability to just do it and then to have a director who's going to watch me, that's also in my culture and make sure that I am representing my own authentic self as an actor with this character. So, I'm fully supported. I can fly! I can do what I want. I can go places and take risks and I don't have to worry about certain things that I've had to worry about in my career. I can just stand up and do the job. I am so pumped about telling stories with Charles–that he gets me, I get him. We can laugh about things that I can't laugh about with certain directors. I'm thrilled to have that opportunity." LaChanze will be joined by on stage by Tony Award winner Chuck Cooper, Jessica Frances Dukes, Michael Zegen, Danielle Campbell, Brandon Micheal Hall, Simon Jones, Alex Mickiewicz and Don Stephenson.
LaChanze, the oldest of seven children, was born and raised in St. Augustine, Florida. She moved to New York with her mother when she was 12 years old and saw a glimpse of her first Broadway show in a TV commercial. After asking her mother to take her and walking into the theatre, she realized "I have found my people." LaChanze was a Drama major for two years at Morgan State University, a HBCU and transferred to University of the Arts in Philadelphia. The actress has succeeded in all genres—theatre, TV and flim. In addition to preparing for her leading role as Wiletta, LaChanze has been busy this past year, as a founding member of Black Theatre United, which just created a New Deal for Broadway to ensure equity and inclusion for Blacks when it comes to every facet of Broadway Theatre. Blacks are to be included in the hiring of every job from on stage, to behind stage, even to the vendors that partner with the shows. It is truly a revolutionary concept, whose time has finally come!
"Trouble In Mind" is an example of the dynamic, inclusive and groundbreaking productions that Roundabout Theatre will produce this season. "Caroline, Or Change," will also hit Broadway at Studio 54. The Jeanine Tesori and Tony Kushner musical will star Sharon D. Clarke in the lead role, with direction by Michael Longhurst and choreography by Ann Yee. The production will begin previews on October 8 and open on October 27. Also coming to Broadway will be "Birthday Candles" by Noah Haidle, starring Debra Messing with direction by Vivienne Benesch. It will play at the American Airlines Theatre and begin performances March 18, 2022. Roundabout also offers Off-Broadway fare. "…what the end will be," by Mansa Ra, will play at the Laura Pels Theatre in the Harold & Miriam Steinberg Center for Theatre. Directed by Margot Bordelon, it will open April 2022. Ra has also been commissioned to write a second play for Broadway. "Exception To The Rule," by Dave Harris, with direction by Miranda Haymon, will play at the Black Box Theatre in the Harold & Miriam Steinberg Center for Theatre. It will open April 2022. "The Wanderers" by Anna Ziegler and directed by Barry Edelstein will play July 2022 at the Laura Pels Theatre in the Harold & Miriam Steingberg Center for Theatre and "1776", the beloved musical, will play Fall 2022, directed by Jeffrey L. Page and Diane Paulus, it will be on Broadway at the American Airlines Theatre.
During this time of Black Lives Matter, the Roundabout Theatre is boldly demonstrating that Black plays matter as well–Black stories matter. This, it is doing with The Refocus Project. This multi-year project seeks to recognize and revitalize plays from marginalized groups. The first series of Refocus was play readings, presented in association with Black Theatre United. The 20th Century Black playwrights recognized were Alice Childress, Zora Neale Hurston; Samm-Art Williams, Shirley Graham Du Bois, and Angelina Weld Grimke. Roundabout Theatre hits all bases as it strives to present classic and new works and it does so at several locations including on Broadway at the American Airlines Theatre, Studio 54 and the Stephen Sondheim Theatre and Off-Broadway at Harold and Miriam Steinberg Center for Theatre at the Laura Pels Theatre and Black Box Theatre.
Find out more at our site www.roundabouttheatre.org. Follow ROUNDABOUT THEATRE COMPANY on Twitter, Instagram, and on Facebook.
Tickets
Tickets for Trouble in Mind are on sale by calling 212.719.1300, online at roundabouttheatre.org, in person at a Roundabout box office. Ticket prices range from $39-$149. For groups of 10 or more please call 212-719-9393 x 365 or email groupsales@roundabouttheatre.org.
---