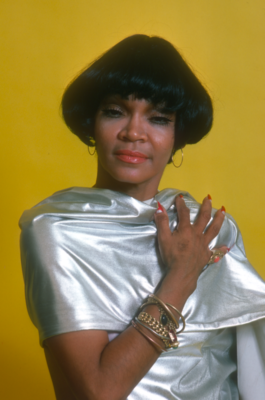 Celebrated Cuban-born singer La Lupe, whose infectious sound helped lay the foundation for Latin music in America, will be honored during a tribute at Aaron Davis Hall on Friday, June 9, 2017, at 7:30 p.m EST. The performer helped introduce a new kind of Latina singer to global audiences through her voice, her style and her magnetic stage presence – her pride in being Cuban and of African descent front and center. Already a star in the Spanish-speaking world when she moved to New York in the early 1960s, La Lupe helped popularize the New York City Latin sound and was as central to that music scene as Tito Puente and Celia Cruz, two of her contemporaries and collaborators. Now, in recognition of her imprint on the world music scene and to bring her voice to new generations, the City College Center for the Arts (CCCA), Pregones Theater/Puerto Rican Traveling Theater and the Caribbean Cultural Center have united to pay homage to the singer with an event that features Caridad de La Luz ("La Bruja"), Nina Rodriguez, Calma Carmona and special guest Johnny "Dandy" Rodriguez, a mambo legend and member of the Tito Puente Orchestra.
Born in Santiago de Cuba, Cuba, in 1939, Guadalupe Victoria Yoli Raymond studied to become a teacher at the University of Havana but soon decided to focus on her musical ambitions, performing throughout Havana, initially as part of a musical group with her first husband and later as a solo act. Her style — a rare mixture of the seductive and the ethereal — catapulted her to a career in New York City. The premiere Latina singer in New York throughout the 1960s and '70s, she frequently performed with music titans such as Tito Puente and released several hit records including "They Call Me La Lupe" (1966) and "Queen of Latin Soul" (1968). While she often drew comparisons to performers such as Eartha Kitt and Janis Joplin, through her voice and song she was quick to remind critics and audiences alike that there was only one La Lupe.
Here she is decide for yourself:
"This celebration of La Lupe and her music is long overdue and I'm so pleased we are partnering with two organizations that had relationships with this incredible legend," said CCCA Managing Director Gregory Shanck. Leading up to the concert, additional events will honor the singer. These include a screening of the documentary "La Lupe: Queen of Latin Soul" at the Caribbean Cultural Center on Thursday, June 1, 2017, at 7:30 p.m. (lalupequeenoflatinsoulfilm.eventbrite.com) and a panel discussion entitled "Demystifying a Diva: The Truth Behind the Myth of La Lupe" at Pregones Theater on Tuesday, June 6, at 7 p.m. (lalupepanel.eventbrite.com).
Tickets for the concert on Friday, June 9, are $25 in advance and $30 at the door and can be purchased online at www.citycollegecenterforthearts.org or by calling the box office at (212) 650-6900. Patrons wishing to buy tickets in person before the June 9 concert date may visit Aaron Davis Hall Tuesday through Friday from 12 noon to 6 p.m. Aaron Davis Hall is located on the campus of the City College of New York, at West 135th Street and Convent Avenue (129 Convent Avenue).
City College Center for the Arts can be followed on Twitter at @ccnyarts. For more information on the "La Diva — La Lupe!" concert and other events at Aaron Davis Hall, visit citycollegecenterforthearts.org.
Related Articles