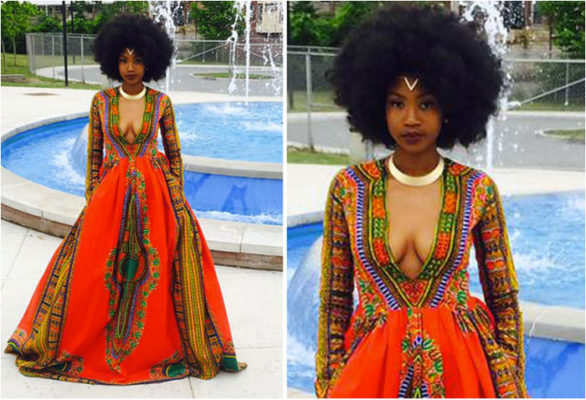 Kyemah McEntyre, "the girl who broke the internet" will be showcasing her Very First collection for NYFW at the Harlem Fashion Week Runway Show on February 12, 2017 at the Museum of the City of New York on 5th Ave across from Central Park. Harlem Fashion Week is the brainchild of Harlem mother/daughter fashionista team Tandra Birkett and Yvonne Jewnell, owners of Yvonne Jewnell New York, LLC, a cutting-edge women's wear company. "We are so excited that Kyemah will be joining us this season", says Tandra Birkett, executive producer of Harlem Fashion Week. "It has been the goal of our company since its inception to create opportunities for designers on the rise!"
Yvonne Jewnell, who is the creative director of HFW and the lead designer of Yvonne Jewnell New York LLC, recruited Kye to be in the show, "I never forgot the creative vibrancy of that Dashiki print prom gown, I knew that I wanted to feature Kye in our next show." It's also cool that Kye is currently a student at Parsons, the top rated fashion design college in the country and Yvonne is also an alumni of Parsons. "Its like family", says Yvonne Jewnell.
Kyemah burst onto the scene in June 2015 and became an overnight sensation when her senior prom dress broke the internet, with 60,000 followers and over 250,000 shares in only a few days. Kyemah is setting trends as she was the BET's 2016 recipient of the Next in Class for Fashion award where she sported a breath taking hand-painted canvas gown. During this same year she designed and wore two other canvas couture pieces, one at the Black Girls Rock, and another at VH1's Hip Hop Honors Award Show. She was also the YMA Fashion Scholarship recipient and appeared on Project Runway Jr. and Melissa Perry Show. Some of the magazines and news paper outlets: NY Times, Newsday, USA Today, Latina, Seventeen, Glamour, Allure, Vogue and Teen Vogue.
In a short time, Kyemah has proven to be one of the most innovative and talented artist-designers of this millennium.
She caught the attention of actress/singer Naturi Naughton who called on Kyemah to design a dress for the 2015 BET Awards. The Power actress was the talk of the Red Carpet in the stunningly form-fitting African inspired dress.
Kyemah also designed a dress for the legendary model and TV personality, Tyra Banks after she sent encouraging words to the young designer via Instagram. Tyra surprised Kyemah and wore the design on an Episode of ABC's FABLife.
Harlem Fashion Week is pleased to give Kyemah the opportunity to show her first complete collection for the Fall/Winter 2017 New York Fashion Week season. We are confident that Kye's collection will be an explosion of creativity that will not disappoint!
For more information: Info@harlemfw.com
Related Articles