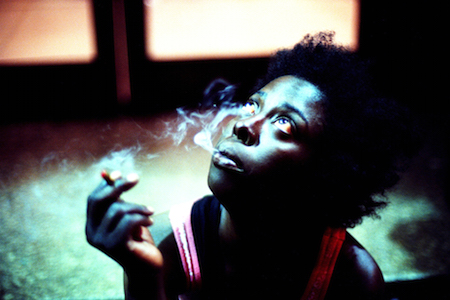 Khalik Allah's FIELD NIGGAS, shot entirely at night on the corner of 125th and Lexington Avenue in Harlem, captures the mental, physical and spiritual struggles of the neighborhood's most exhausted and oppressed inhabitants.
Photographed by Allah himself, FIELD NIGGAS spotlights its subjects in stunningly composed, dignified portraits that are hypnotically woven with street images. The non-synch audio track consists of conversations with and among those faces: dreams, regrets, arguments, affection, observations, opinions. Shot in July of 2014, with the heinous death of Eric Garner by an NYPD officer occurring mid-production, FIELD NIGGAS is a breakthrough non-fiction film that serves as an ardent call to rise above social constructs.FIELD NIGGAS screened at True/False, Maryland and Sarasota Film Festivals in 2015. The film's title comes from Malcolm X's seminal lecture "Message to the Grassroots."
The film opens on Friday, October 16 at the Made in NY Media Center, 30 John St, Brooklyn, NY 11201, (212) 465-8200, nymediacenter.com/
Related Articles
---
VIDEO
---
"Dr. Harry Delany is a renowned Harlem born and raised surgeon, the son of the great jurist and civil rights leader, Hubert Delany...." This monthly post is made in partnership with Harlem Cultural Archives.