---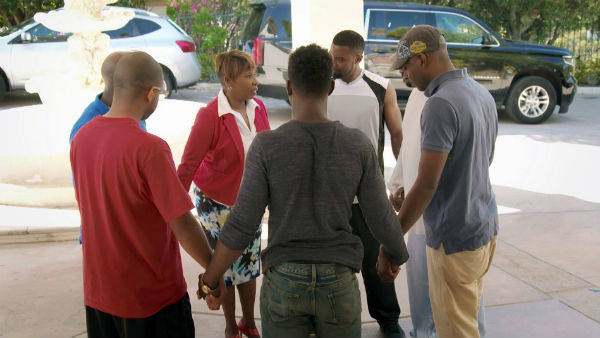 Finding ways to de-stress oneself or someone else is always a challenge, in the episodes from Iyanla Vanzant's new show Iyanla House of Healing, the participants and Iyanla's goal is to address those challenges.
Here are some notes from an upcoming episode on Saturday, October 29 (9 p.m. – 10 p.m. ET/PT) show:
Episode: House of Healing: Fix a Black Man's Heart, Part 1
Iyanla invites six men into a House of Healing to help fix the black man's heart. Among the men seeking guidance are Boyz II Men's Michael McCary, singer-songwriter Kevin McCall, and socialite Lira Galore's father Terrance.  Preacher and motivational speaker Devon Franklin visits the house to help identify tools for healing. Part 1 of 3.
In a three-part, multi-week episode of OWN's award-winning series "Iyanla: Fix My Life," spiritual life coach Iyanla Vanzant returns to the "House of Healing" with six African-American men struggling with broken spirits and broken hearts. The men—which include a man attempting to build a life for himself after numerous stints in jail to a former singer who struggles with feelings of abandonment to a father looking to mend a relationship with his famous socialite daughter—are struggling with their identities due to the effects of feeling criminalized, dehumanized and victimized by society. 
Kevin McCall has long struggled to express his anger constructively, having always been encouraged by his father to "win" physical fights. Now, in an emotional one-on-one session with Iyanla, Kevin opens up about what he wishes his father understood about him all those years ago: "I wasn't a wimp. I was just a good person."
Michael McCary of Boyz II Men Fame Sums Up His Feelings of Ex-Bandmates, Iyanla: Fix My Life, OWN
Many people know him as Mike Bass of Boyz II Men, but this 44-year-old singer has joined Iyanla's "House of Healing" to address who he is as Michael McCary, the person, not the performer. 
The big issue Michael must confront is his sense of abandonment, which he experienced in 2003 when he and Boyz II Men parted ways. Here, Michael opens up about the "betrayal" and "broken bond" with which he has been struggling.
From the man on the street to the celebrity or socialite from Harlem to Hollywood finding ways to address your stress is about being your best.
---