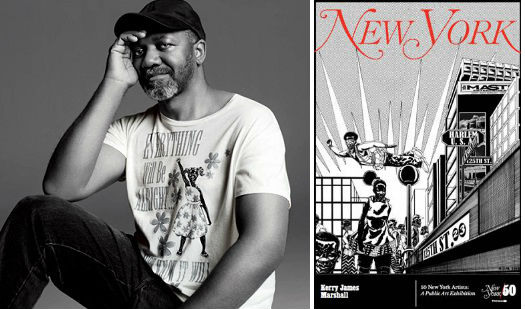 A huge 8-foot by 12-foot creation designed by esteemed artist Kerry James Marshall was installed today inside the main entrance of Port Authority Bus Terminal at 40th Street and 8th Avenue, Manhattan. Marshall's work is a specially designed cover of New York magazine.
Hundreds of smaller, 12"x18" poster reproductions of the work will be handed out to visitors, free of charge, next to the artwork inside Port Authority Bus Terminal and also on the corner of 125th Street and Lenox Avenue, the intersection depicted in the work, beginning at 4:00 p.m.
Marshall's design is the latest installation of "50 New York Covers: A Public Art Project" which features New York magazine covers designed by 50 renowned artists, each depicting what the city looks like to them. The covers will be publicly displayed in a variety of formats and sizes in neighborhoods throughout all five boroughs of New York City. The project will culminate with a gallery exhibition of all 50 covers this fall.
For more information about New York magazine's 50th anniversary celebration, "50 New York Covers: A Public Art Project," or Kerry James Marshall's installation at Port Authority Bus Terminal, follow @nymag on Instagram and join the conversation using #nymag50, #50coversproject, and #PABTART.
For more information about New York Magazine go to nymag.com
Related Articles
---