---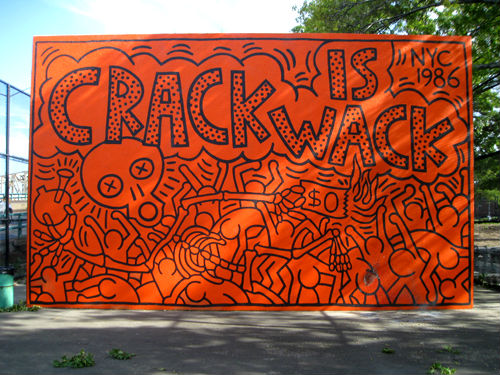 One of East Harlem's most recognizable murals will be restored to its original glory more than 30 years after it was painted, according to reports.
Artist Louise Hunnicutt began work recently to restore Keith Haring's "Crack is Wack" mural at a handball court near East 128th Street and the Harlem River Drive, amNew York first reported. Hunnicutt's work is being supported by the Keith Haring Foundation and will undo past restorations that cover Haring's original painting while repairing 30 years of wear-and-tear, according to the report.
The artist and her assistant are preserving Haring's original design by creating stencils of the lettering and characters depicted in the mural, according to an Architectural Digest report. These figures will then be re-painted over the mural's bright orange background, according to the report.
"You can call it a restoration, but we're bringing it back to what it looked like originally," Hunnicutt told Architectural Digest.
Photo via Wikipedia
---