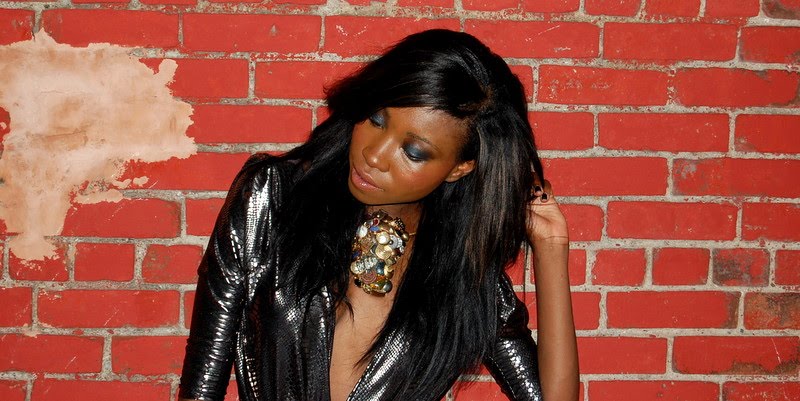 By Kass
I recently had the opportunity to visit the amazing Harlem showroom of CEO, founder and designer Marie Jean-Baptiste of her business RUE 107 brand right before Fashion Week 2012 in NYC.
The designers reflects on her journey from Haiti to Harlem, Nudes and Black, and what singers Tess and Nicki Minaj have in common.
Kass: Hi Marie, how are you?
Marie: I'm well, Kass. Thank you for coming.
Kass: It's my pleasure! So, let's start off with you telling us about your background?
Marie: My family and I relocated from Haiti to the U.S. fourteen years ago. Having dreams of pursuing a fashion design career, I applied to FIT was rejected due to lack of artistic skills. I went on to complete a nursing program and three years of a registered nursing program before deciding to quit health care to pursue fashion full-time. I spent three years studying under my fashion mentor Lemington Ridley.
Kass: What does RUE 107 come from?
Marie: The brand RUE 107 is French and means "Room 107". The name was inspired by a vision came to me while working as a nurse, around the same time of the Haiti quake. I was attempting to talk to my mom about our family abroad when a patient bell began going off erratically while I was sitting across from room 107.
Kass: What inspires you?
Marie: My inspiration comes from many sources. Having worked in nursing, I found anatomy has helped me with patternmaking and symmetry. I am also inspired by colors, fabrics, and designs that move me. I actually don't follow trends in the effort of creating unique fashion forward pieces.
Kass: What are some of your core design elements?
---
---
Marie: I would have to say my core design elements include: Color, Fit, Finishing, Quality, Presentation and Contrast and collision. I really love simplicity. Given the current state of the economy, I feel it is time to get back to basics. My current collection makes use of lots of Nudes and Black.
Kass: Has your life experience inspired your designs?
Marie: My motto is "I have nothing to lose and everything to gain". When I arrived to this country I was malnourished. When you start with nothing, you have everything to gain in pursuing your goals.
Kass: Who is the RUE 107 target customer?
Marie: The RUE 107 customer is 18-34 yrs. old; she wants to stand out and likes attention. I feel wardrobe is a way to stand out. RUE 107 is for the girl that is not looking for something super safe.
Kass: What's your favorite piece from your collection?
Marie: I just completed a costume piece for singer/ songwriter Tess who wore the outfit during her recent performance at the Afro Punk Fest. The piece is a black and white checkered body suit with an edge.
Also, my other favorite piece is the nude and black leggings I designed which are very similar to the RUE 107 leggings Nicki Minaj (above) wore a couple of weeks ago.
Kass: Where do you see the brand in the next 2 years? 5 years?
Marie: I foresee RUE 107 evolving and expanding into more retail stores. I also love costume design and would like to expand the brand and develop a costume department.
Kass: How will your style mesh with future styling trends?
Marie: As an entrepreneur first- I come from an intuitive space; I don't follow trends, but am more than open to hiring a designer to assist in developing the best collection for the RUE 107 brand. I believe in shaking things up as needed.
Kass: In relation to your design style, which do you prefer: Classic or Edgy?
Marie: I'd say Classic.
Kass: Why?
Marie: I believe everything edgy derives from something classic.
Kass: Fun or Daring?
Marie: (She smiles). I would say fun. RUE 107 is all about embracing your fun side. From colors, to lines, to shapes to silhouettes, I want. Don't forget to check us out at rue107.tumblr.com/ and rue107.com.
Kass: Thank you so much for your time! I have enjoyed leaning more about RUE 107.
Mari: Thank you, Kass!
Related Articles
VIDEO
---
Harlem Cultural Archives is a donor and foundation-supported Historical Society, Its mission is to create, maintain and grow a remotely accessible, online, interactive repository of audio-visual materials documenting Harlem's remarkable and varied multicultural legacies, including its storied past as well as its continuing contributions to the City and State of New York, the nation, and the world.
Support Harlem Cultural Archives
and
click here to get more Harlem History
, Thank you.