---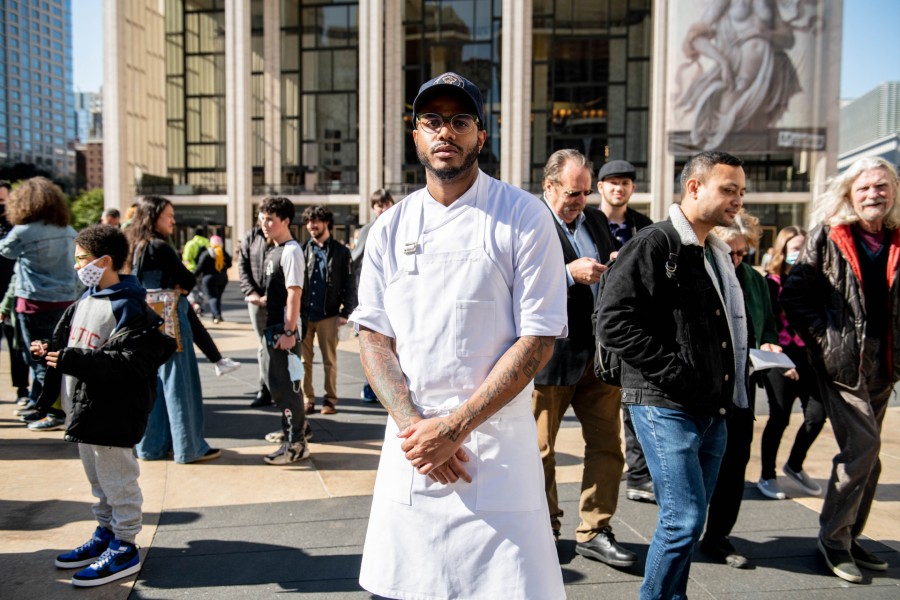 James Beard Foundation Award-winning chef and author Kwame Onwuachi and team opens Tatiana at Lincoln Center, in New York City.
The teams includes Chef de Cuisine Kamat Newman, General Manager Bradley Knebel and Complex Director Mouhamadou Diop are proud to debut Tatiana , at 10 Lincoln Center Plaza, New York, NY, now open in the legendary David Geffen Hall among Lincoln Center's renowned performing arts venues.
To breathe life into the space, Onwuachi closely collaborated with New York-based architecture firm Modellus Novus (MN) and he co-designed his staff's uniforms with Tanya Amini of Lady and Butler to complement the restaurant's modern interiors.
"Opening Tatiana at Lincoln Center is a longtime dream come true for me," says Onwuachi. "Having grown up in the Bronx, I know this area has long represented arts and culture. We're drawing on the city's vibrant 1980s music and art scenes and paying homage to the often-overlooked places which shaped the city's fabric and creative culture."
Named after his sister, Onwuachi's menu features dishes and ingredients that connect with his upbringing and are informed by his extensive professional experience. Guests can savor dishes inspired by Onwuachi's childhood, such as Truffled Chopped Cheese Buns with dry-aged ribeye, smoked mozzarella, and taleggio; Egusi Soup Dumplings stuffed with black sea bass and served with Nigerian red stew and pickled pearl onions; Braised Oxtails served with rice and peas, Thumbelina carrot and chayote squash; Short Rib Pastrami Suya featuring a wagyu short rib, caraway coco bread, and melted red cabbage; Black Bean Hummus topped with berbere-spiced lamb with sweet pickled sultana and m'semen; Salmon Creole with gumbo panade, roasted okra, peekytoe crab; Take-Out Mushrooms with scallion pancake, plum sauce, and pickled ginger, and more.
Dessert includes a Rainbow Cookie Panna Cotta with dukkah almonds, rainbow jam, and Callebaut chocolate; and a Glazed Honeybun dressed in powdered donut ice cream and starflower. In addition to the a la carte offerings, Tatiana also offers a three-course pre-theater menu for those also enjoying entertainment within Lincoln Center.
Beverage industry veterans Don Lee (Death & Company, PDT, Momofuku Group, Cocktail Kingdom, Existing Conditions) and Amy Racine (Sons & Daughters, JF Restaurants, EDITION Hotels, North Fork Table & Inn, IRIS, La Marchande) have created a robust cocktail and wine program that reflects Onwuachi's vision of honoring his roots. The inventive cocktail menu highlights ingredients from Onwuachi's childhood integrated into cocktails recognizable to New Yorkers of all walks of life, including the LC Negroni, which adds the beloved Caribbean Sorrel to a classic blend of Ford's Gin, Campari, Aperol and is finished off with Lustau East India Sherry; the Crunch Punch with Remy VSOP, Mt Gay Eclipse, Pineapple, and Captain Crunch Cereal Milk; a POG Nutcracker with Appleton Reserve, Passionfruit, Orange, Guava that pays homage to the classic 90s fruit punch and an NYC mixed drink often covertly purchased from street vendors; Espresso Coquito with Bacardi Ocho, Mr. Black, Caramelized Coconut, Milk, Spices, and more.
Under MN's creative vision, the restaurant's design takes inspiration from the spirit of the New York City of Onwuachi's formative years growing up in the South Bronx in the 1990s. From menu to design, Tatiana reflects the cultural vibrancy of the city's emerging Hip Hop and art scenes, while also paying homage to the loss of San Juan Hill, a once-thriving Black and Brown neighborhood that was razed in the 1950s to make way for the development of the Lincoln Center. The design of the restaurant celebrates Onwuachi's admiration for a complex and contradictory era and city that formed his own identity, while creating an enduring part of that city's present and future, one that exudes a spirit of outspoken self-expression and hustler's grit. 
Walking through the restaurant, guests are embraced by a graphite glazed tile that wraps the interior walls. Inspired by the visual effects of oil-stained wet streets in the sun, the tiles possess a subtle iridescence that changes color as one walks along the restaurant's floor. The space's two structural columns, which stand in the center of the dining room, are clad in a similarly-hued chromate-treated steel, evoking a refined industrial aesthetic and harkening to Onwuachi's childhood playing around fire hydrants on a hot summer day. Nestled in the heart of the space, the kitchen is open to view from both the restaurant's interior and the outdoor plazas, revealing the work — and faces — of the talent creating and serving the restaurant's menu.
To balance this city-inflected material palette, the restaurant's interior furnishings feature customized smoked oak and leather chairs sourced from Denmark, velvet upholstered banquettes in designs inspired by park benches, tables topped alternatively in oiled walnut or emphatically hued marble that echoes the colors of the nearby columns, tiles, and the gray-blue granite bar counter. In a nod to a young, Black chef-to-be staring at the sky with his daydreams intact, three massive cloud-like lighting pendants float through the main dining room, enveloping the restaurant in a gentle, warm light.
"The design of Tatiana dovetails with Lincoln Center's own forward-looking mission to diversify and extend its patronage for its world-renowned program of performing arts," said Preeti Sriratana, Partner/Managing Director, Modellus Novus. "Working hand-in-hand with Chef Kwame, as well as the team at Tod Williams Billie Tsien Architects overseeing the holistic David Geffen Hall renovation, we created a welcoming and celebratory atmosphere for the many, a space that takes traditionally industrial or 'ugly' materials and delights in revealing their beauty, an environment where people from every corner of our city can feel at home. It has been an immense privilege to play a part in this project, with partners pushing their respective fields to new frontiers, and we can't wait for New Yorkers to enliven the restaurant and make Tatiana their own."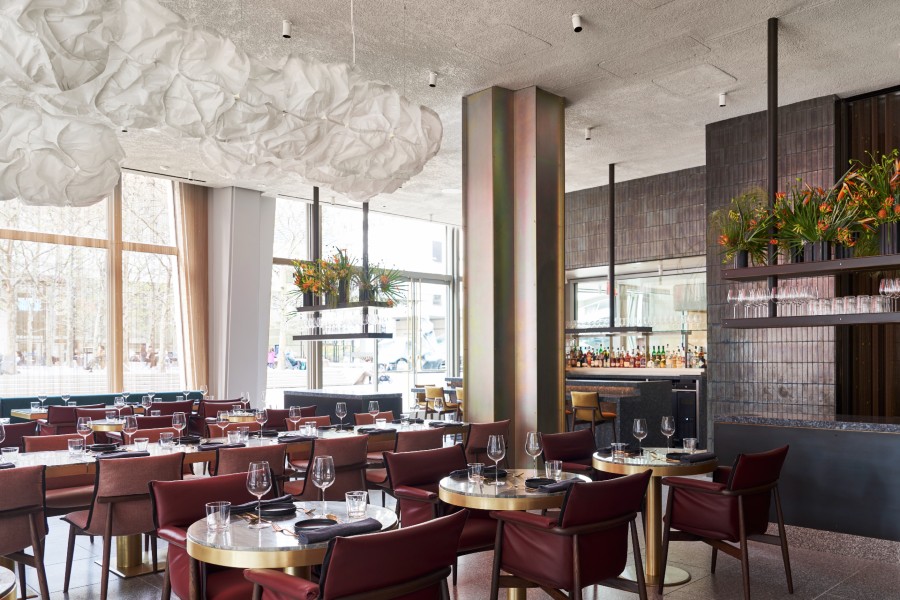 When co-designing the uniforms for Tatiana with Lady and Butler, Onwuachi's vision was to marry form and function. The aprons resemble a chic oversized belt with a side pocket and a hidden pen pocket that fuses utility with a structured architectural design. In addition, the refreshed version of chef jackets has a double-breasted crossover closure with hidden snaps, Mandarin collar designed to form a deep V, and elbow-length sleeves with a functional and eloquent notch that allows for the arm to bend and flex.
"Chef Kwame has a deep understanding of fashion and came equipped with inspirations, references and a clear vision, making the collaboration incredibly seamless," Amini says. "He felt strongly that there should be a certain level of uniformity throughout, encouraging a feeling of equality amongst the staff: no job is more important than the other and the collective team as a whole contributes to the overall success of the restaurant."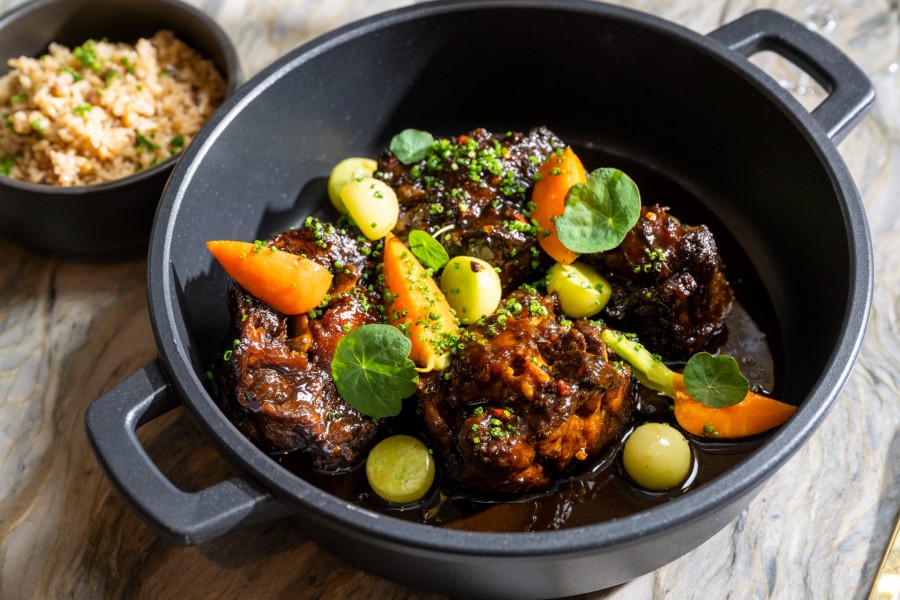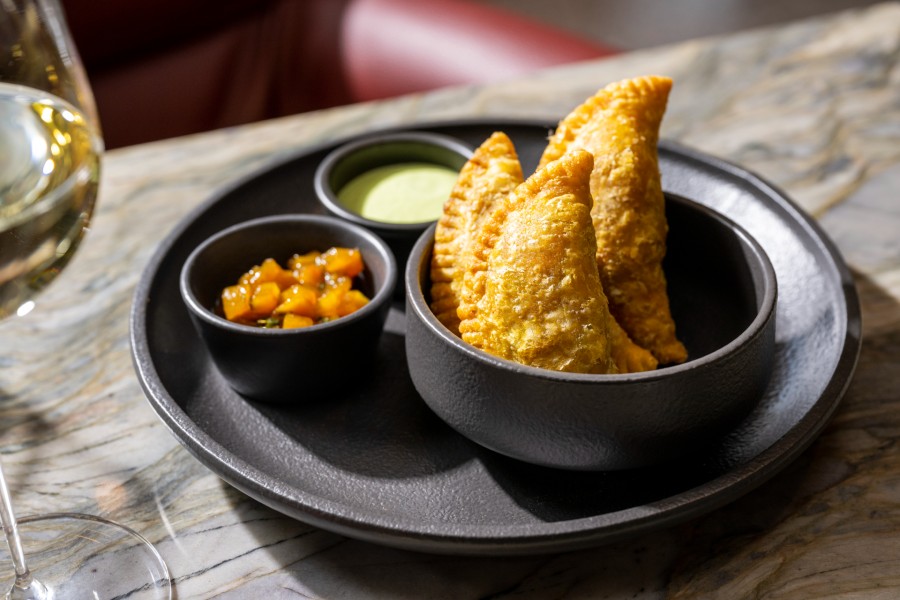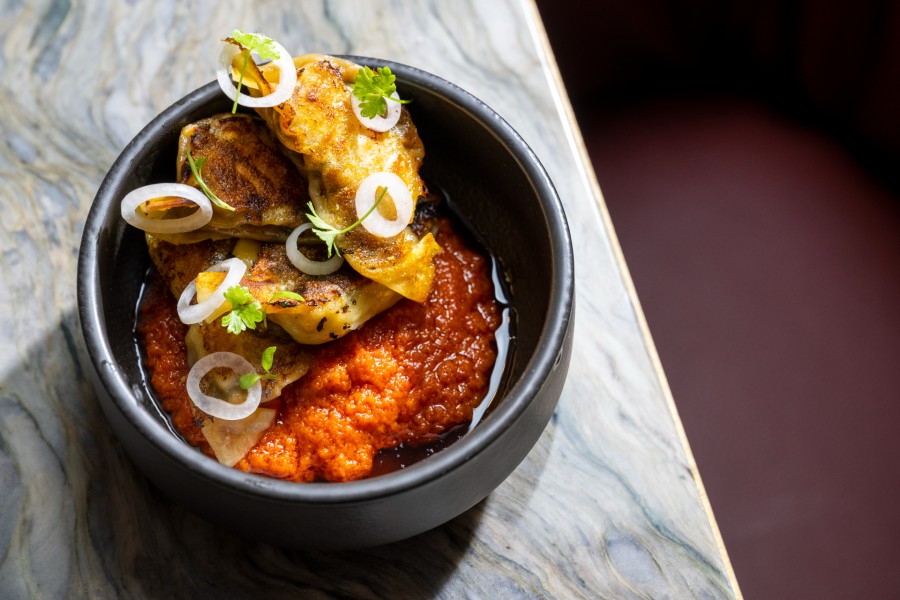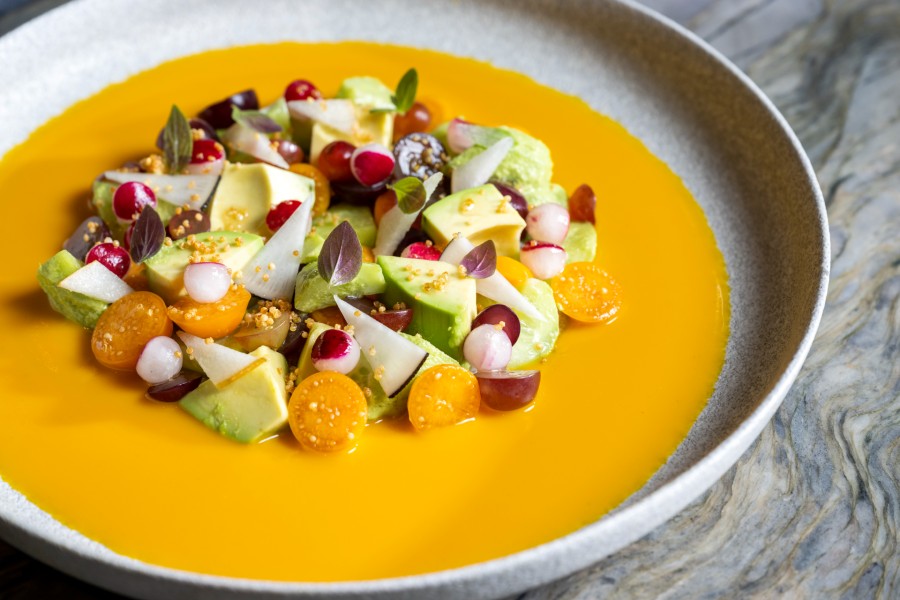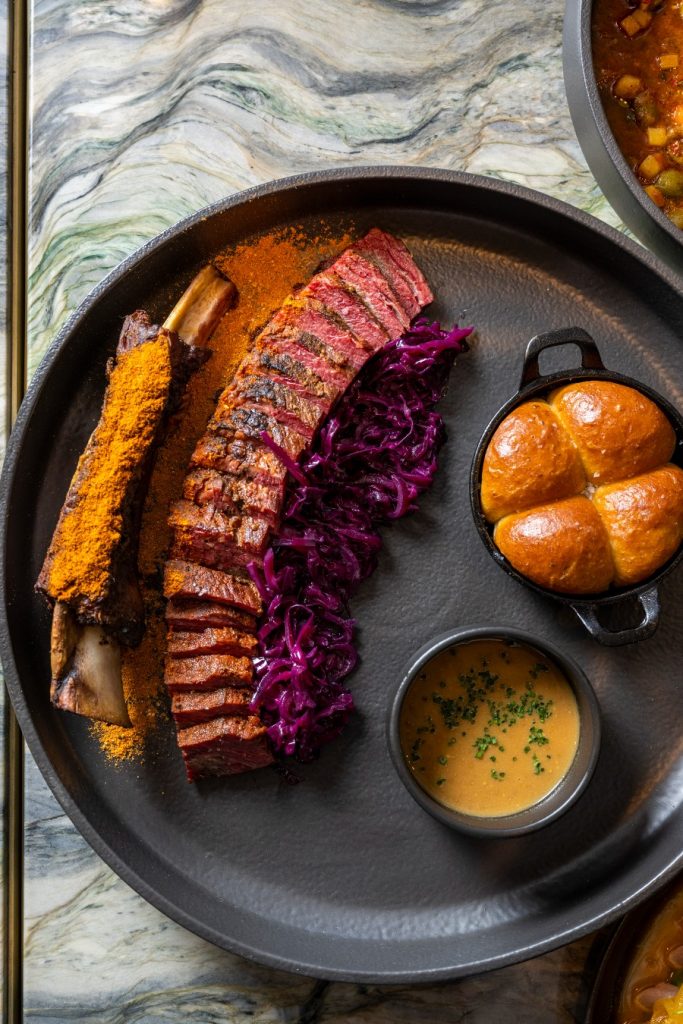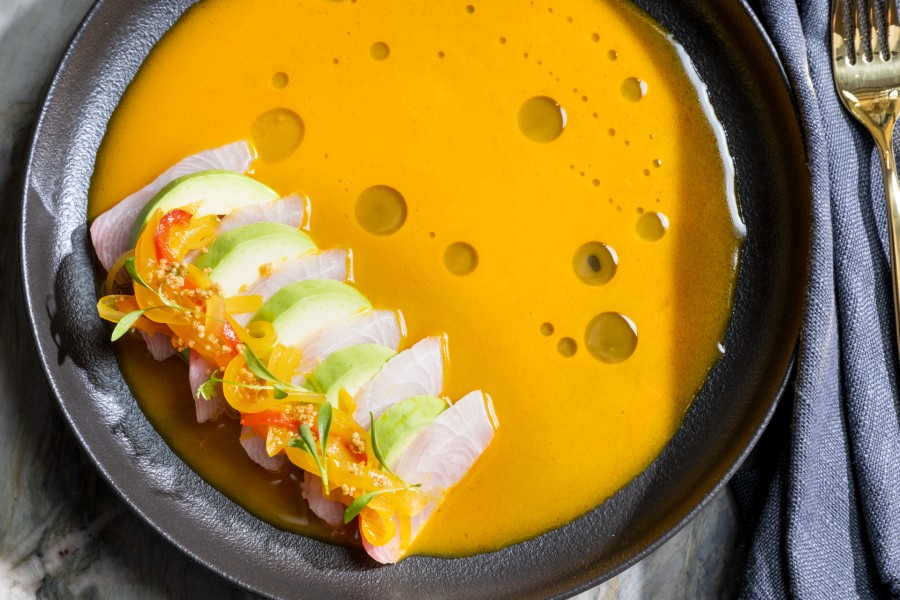 Tatiana is located inside the newly reimagined David Geffen Hall at 10 Lincoln Center Plaza. The restaurant is currently opening for dinner only, welcoming guests from 5 p.m. to 9 p.m. on Tuesdays and Wednesdays, and 5 p.m. to 10 p.m. on Thursdays through Saturdays.
For reservations, please call 212-875-5222, or visit https://www.tatiananyc.com. Follow the restaurant on Instagram at https://www.instagram.com/tatianabychefkwame.  
Drink responsively, and tell them Harlem World Magazine sent you.
Photo credit: 1) Portrait Chef Kwame in Lady and Butler Designed Uniforms. 2) Interiors Designed by Modellus Novus_Photo by Adrian Gaut_Courtesy of Lincoln Center and Modellus Novus. 3) Braised Oxtails PC Evan Sung. 4) Egusi Dumplings PC Evan Sung. 5) Pastrami Suya PC Evan Sung. 6) Kampachi Escovitch PC Evan Sung. 7) 8) Kampachi Escovitch PC Evan Sung. 9) Crunch Punch PC Evan Sung.
---