---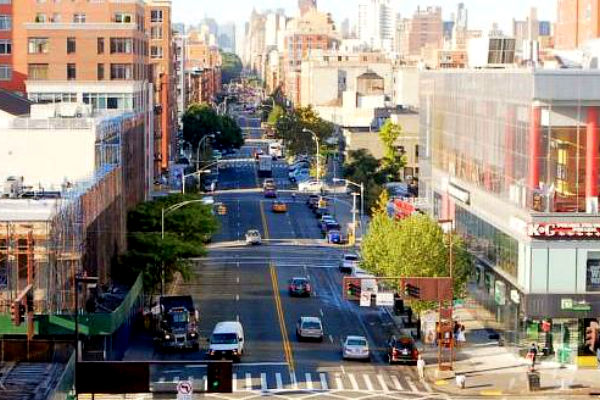 State Senator Julia Salazar and a coalition of city, state and federal lawmakers released an open letter to Governor Andrew Cuomo today calling on him to withdraw his proposed funding cuts.
Part of the Governor's cuts includes Medicaid Redesign Team's proposal to cut Medicaid funding, a proposal that would make New York state ineligible for a large portion of federal coronavirus relief aid from the recently passed Families First Coronavirus Response Act (HR6201). Instead, these lawmakers urged Governor Cuomo: "The only hope that remains for New York to raise desperately needed revenue is to implement reasonable new revenue proposals in the enacted budget." The full letter is below.
State Senator Salazar said: "This is a critical moment for us to come together as legislators and fulfill our responsibility to speak up for New York's most vulnerable. Our safety net hospitals urgently require more resources, not Medicaid cuts. It's imperative that we require the wealthiest people in our state to pay their fair share of taxes in order to fight this historic pandemic."
Representative Alexandria Ocasio-Cortez said: "Medicaid cuts are not what New Yorkers need in the middle of a public health crisis. The state needs to prioritize legislation that will implement new revenue proposals in the enacted budget. There is no doubt that aid from the federal government alone will not lift us out of this deficit."
Representative Nydia Velasquez said: "Any budget decisions in Albany must be cognizant of how they could limit federal assistance to New York for fighting COVID-19. I'm hopeful the state government can work together constructively on solutions that ensure New York can access the maximum resources recently appropriated by Congress."
State Senator Gustavo Rivera, Chair of the State Senate Committee on Health, said: "As we face a global pandemic, the last thing we should be doing is slashing our Medicaid Program. The proposed cuts will be devastating to our already strained health care system and will put in jeopardy New York's ability to receive aid from the federal government," said State Senator Gustavo Rivera, Chair of the Senate Health Committee. "The only responsible course of action to address our budget shortfall is to increase taxes to New York millionaires and billionaires as a way to generate more revenue. Cutting our Medicaid program at this point in time will only put the health of New Yorkers at risk."
State Senator Alessandra Biaggi said: "It is unfathomable to cut billions of dollars in Medicaid funding during the greatest health emergency of our lifetime. If passed, it will go down as one of the most negligent decisions in our state's history. Our hospitals urgently need as many resources as possible for the foreseeable future to treat New Yorkers and save their lives. It is immoral and irresponsible to balance the budget on the backs of our most vulnerable communities. The only way out of this crisis is by increasing taxes on our wealthiest residents, to ensure New York raises the revenue we need to fight this pandemic together."
Here's the letter sent to Governor Andrew Cuomo: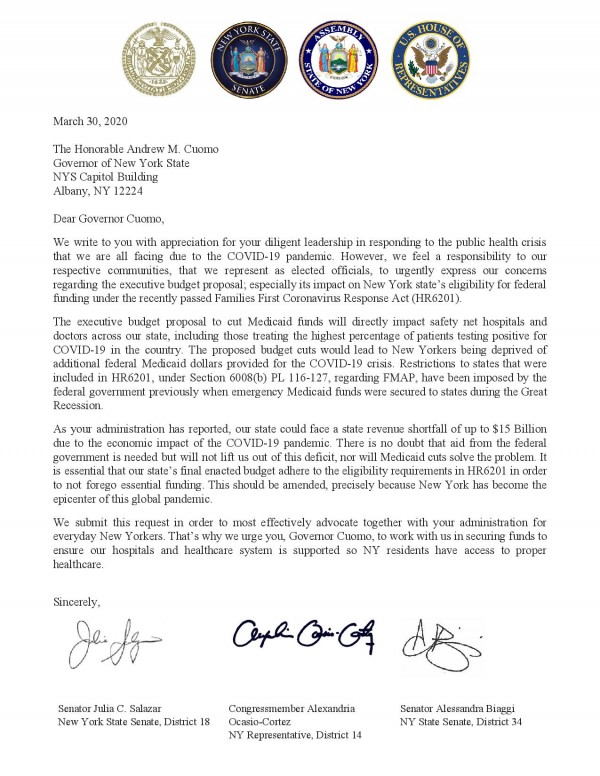 Here's a link to other Governor Andrew Cuomo posts.
---