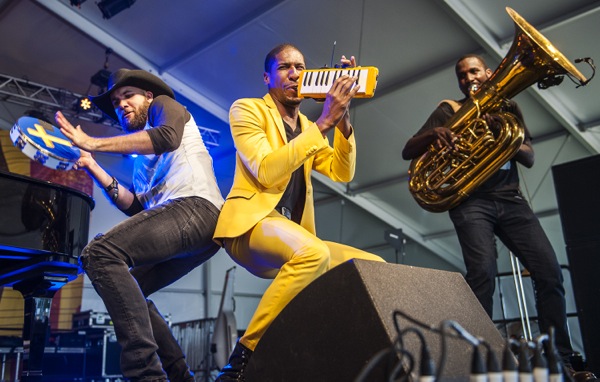 Jon Batiste, National Jazz Museum in Harlem's Artistic Director at Large brings his legendary energy and great music to the intimate and historic Alhambra Ballroom in Harlem on October 28 at 8pm to benefit the National Jazz Museum in Harlem.
After over 15 year at the location on East 126th Street, The National Jazz Museum in Harlem moves to a new home in the heart of Harlem's flourishing cultural and culinary district on 58 West 129th street off of Lenox Avenue.
New Orleans-born pianist/band leader Jon Batiste returns to Harlem to play an exclusive concert benefiting the National Jazz Museum in Harlem, to be held at The Alhambra Ballroom, on Thursday October 28th, at 8 PM. The National Jazz Museum in Harlem, in its 15th year, continues to offer educational programs, exhibits, and community events to an international audience. 2015 has been a year of great achievements for the museum, with a record-setting gala concert in the spring, a move to a new location later this year that will greatly increase its visibility, new exhibits and an ever-growing list of partnerships.
Entertainment will be provided by pianist, bandleader, composer, and educator Jonathan Batiste, who begins his role as bandleader for the CBS nighttime talk show The Late Show with Stephen Colbert on September 8th. Batiste has been leading events of every type for the National Jazz Museum in Harlem for several years; the association began during his days at The Juilliard School, and he is now the museum's Artistic Director at Large. A native of Kenner, Louisiana, Batiste grew up in a musical family and first performed with his relatives in the Batiste Brothers Band. Educated at the New Orleans Center for Creative Arts, Batiste graduated (along with classmate Trombone Shorty) in 2004. A year later he released his debut album, 2005's Times in New Orleans, featuring drummer Jason Marsalis, saxophonist Donald Harrison, Jr., and trumpeter Christian Scott. After high school, Batiste studied at the Juilliard School in New York City. It was during this time that Batiste began performing around the city with his trio, and eventually expanded the group into his now-famous Stay Human ensemble, which were featured at many National Jazz Museum in Harlem events. Batiste and Stay Human began performing impromptu outdoor concerts and quickly garnered acclaim for their lively mix of jazz, gospel, pop, and R&B. Stay Human released their debut EP in 2011, followed up by the full-length album Social Music in 2013. Also in 2013, Batiste joined Red Hot Chili Peppers drummer Chad Smith and bassist/producer Bill Laswell to record the soundtrack to a forthcoming film. While the movie never materialized, the soundtrack the trio recorded was released in 2014 as The Process.
For more information on the upcoming move and our programs and events, please visit www.jmih.org or call 212-348-8300.
Related Articles