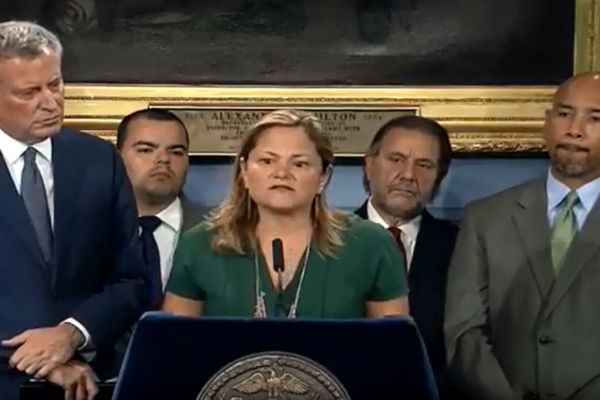 Joint press conference with Harlem city council speaker Melissa Mark-Viverito and Mayor Bill de Blasio, and many other electeds on Hurricane Maria:
"It's just hard to stand here, I am being honest. I have been very emotional in the last couple of days. There is a lot of work here. The federal government has a responsibility to get aid and to get support to Puerto Rico. Challenge of relief efforts is an island, we cannot drive trucks there with whatever products we are able to get donated, the products that we have that will be gotten at these locations throughout the New York City, and there are other efforts, we have to figure out ways to get that there, we are going to need the support of the corporate sector, the private sector, the JetBlue's and Delta's that do connect with our island. We need them to step up to the plate so that we can get products to Puerto Rico. This is a long-term effort, this is really something that I don't really fully comprehend, the challenges and how long-term this is, to have 100% of the island without electricity, to not be able to connect and hear from our loved ones. When you think of the hospitals and the nursing homes and the people that need our medical equipment that need access to batteries or to electricity. I don't want to think of the direct consequences that lie ahead, but that's how serious it is. So the government needs to step up and we need to make sure that we get the support. I know the Mayor mentioned the Mayor's fund, but also I just want to say in terms of the Hispanic Federation that people can actually text to 41444 in order to make a donation to the Hispanic Federation, and you type the message "unidos" and you can get a donation to them. That is the most immediate way or visiting hispanicfederation.org."
Get more Harlem city council speaker Melissa Mark-Viverito information click here
Related articles
Related Articles
---
VIDEO
---
"We re-imagine, recreate, and redeem cultural omissions and misrepresentations of Blackness, for the culture. ...." This post is made in partnership with British Pathé.