---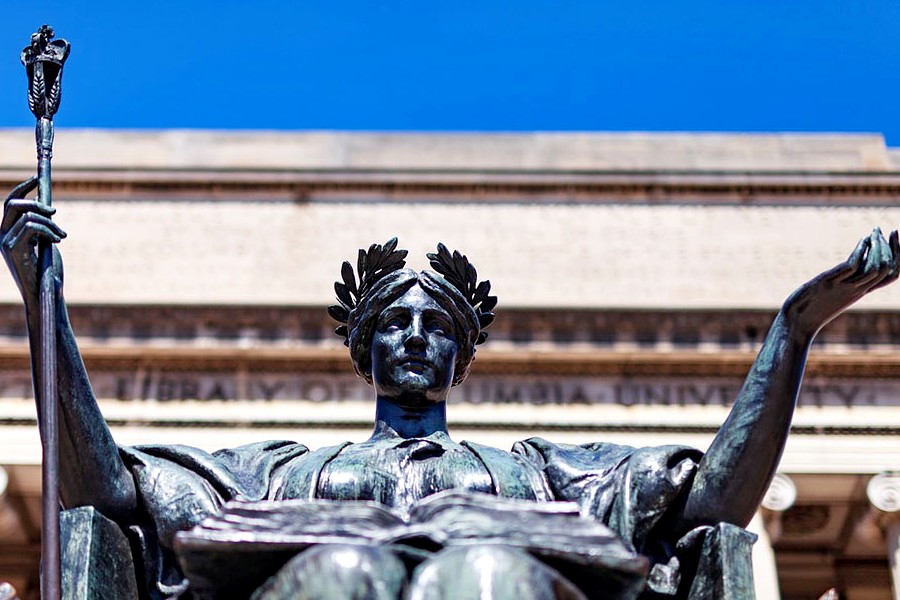 The virtual mini-lecture series this Fall 2023 is hosted by some of our world-renowned faculty members at Harlem's Columbia University.
Check out their events below, and sign up. Experience what a class at the world's most international public policy school is like. All events feature a lecture plus live Q&A, so make sure you have audio capabilities set up.
Here's the agenda for the next two months until the end of the year:
War in Ukraine with Professor Stephen Biddle
November 16th at 10 am EST | Sign Up HERE
Stephen Biddle is a Professor of International and Public Affairs at Columbia University, a member of the Arnold A. Saltzman Institute of War and Peace Studies, and Adjunct Senior Fellow for Defense Policy at the Council on Foreign Relations. 
---
Understanding Cyber Conflict
November 28th at 10 am EST | Sign Up HERE
Erica Dreyfus Lonergan is an Assistant Professor in the School of International and Public Affairs at Columbia University. Previously, Erica held several positions at the United States Military Academy at West Point. These include serving as an Assistant Professor in the Departments of Social Science and Electrical Engineering and Computer Science; a fellow at the Army Cyber Institute; and the Executive Director of the Rupert H. Johnson Grand Strategy Program. She has also held positions as a senior fellow at the Carnegie Endowment for International Peace and the Atlantic Council.
---
Social Entrepreneurship, Innovation, Social Innovation and How Interdisciplinary Teams Can Solve Problems
December 7th at 11 am EST | Sign Up HERE
Professor Sarah Holloway runs the Leadership, Innovation, and Design specialization at SIPA and has spent 25 years in the public an non-profit sectors. Sarah has worked at the intersection of education, equity and technology (edtech) for 30 years and is the co-founder of MOUSE.org, Computer Science for All (CSforAll), and The Wellness Classroom. Sarah sits on the Board of CSforALL, n-Powered, Five One Labs, Eat Offbeat, BenefitKitchen, Open StartUp, Gotham Gives and Columbia Entrepreneurship, Innovation, and Design.  
---
Economic Policy Change in the Federal Government
December 13th at 10 am EST | Sign Up HERE
Alexander Hertel-Fernandez is a political scientist who studies the political economy of the United States, with an emphasis on the politics of organized interests and public policy. In recent work, Hertel-Fernandez has examined the strategies that businesses have developed to lobby across the states, the ways that wealthy individuals are intervening in politics and their effect on the U.S. political terrain, and the politics of social programs, including unemployment insurance and Medicaid.
---
In-Person Class Visits
November 9th, 2023, at 1 pm EST: Special Virtual Event with Hillary Clinton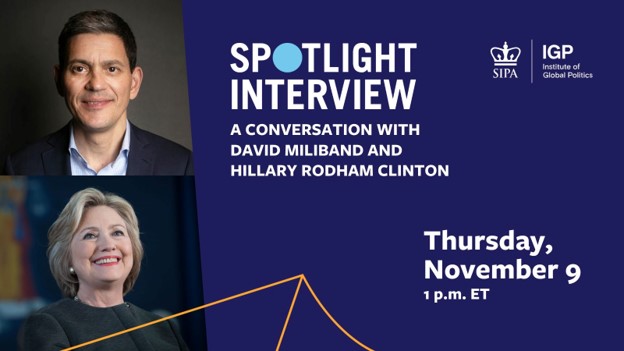 David Miliband, President and CEO of the International Rescue Committee and Inaugural IGP Carnegie Distinguished Fellow, and Hillary Rodham Clinton, 67th Secretary of State and IGP Faculty Advisory Board Chair, will discuss the role of humanitarian assistance in responding to these crises and the reforms needed in the sector to enable greater impact. Register Now
School of International and Public Affairs, Columbia University, 514 West 113th Street, Harlem, NY 10025, columbia.edu.
---