---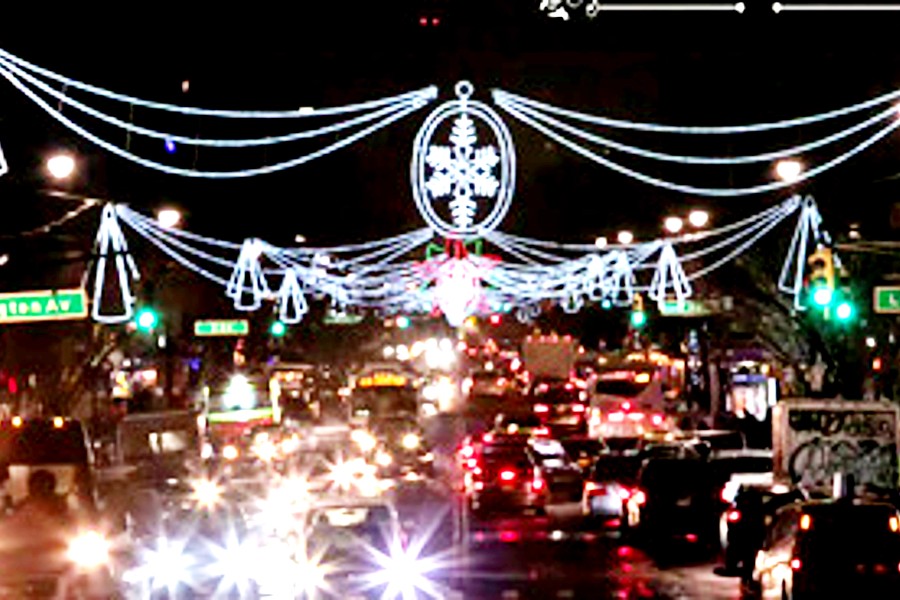 Over the past few years, East Harlem has remained vibrant and resilient despite challenges that have wreaked emotional and financial havoc in our community.
This holiday season, Union Settlement will celebrate this resiliency and the rich culture that thrives in East Harlem.
For the first time, Union Settlement has convened a group of anchor institutions, elected officials, and local committees to collaborate and cross-promote the many festive activities happening in East Harlem, and reinforce a deeper economic development impact. 
The kick-off event will launch on Friday, December 2nd, 2022, at 10 am ET, at La Marqueta, 1590 Park Avenue, New York, NY, with a digital map highlighting seasonal activities.
Including the Harlem Night Market, trolley rides, Three Kings parades, Parrandas, Coquito markets, an ice skating rink, gingerbread houses, Deputy Speaker Diana Ayala, Former NYC Council Speaker Melissa Mark-Viverito, Uptown Grand Central, El Museo Del Barrio, Museum of the City of New York, Community Board 11, Hope Community, La Marqueta Association, Holiday Tree Lighting Committee, Art Park Committee and much more!
Scan the code: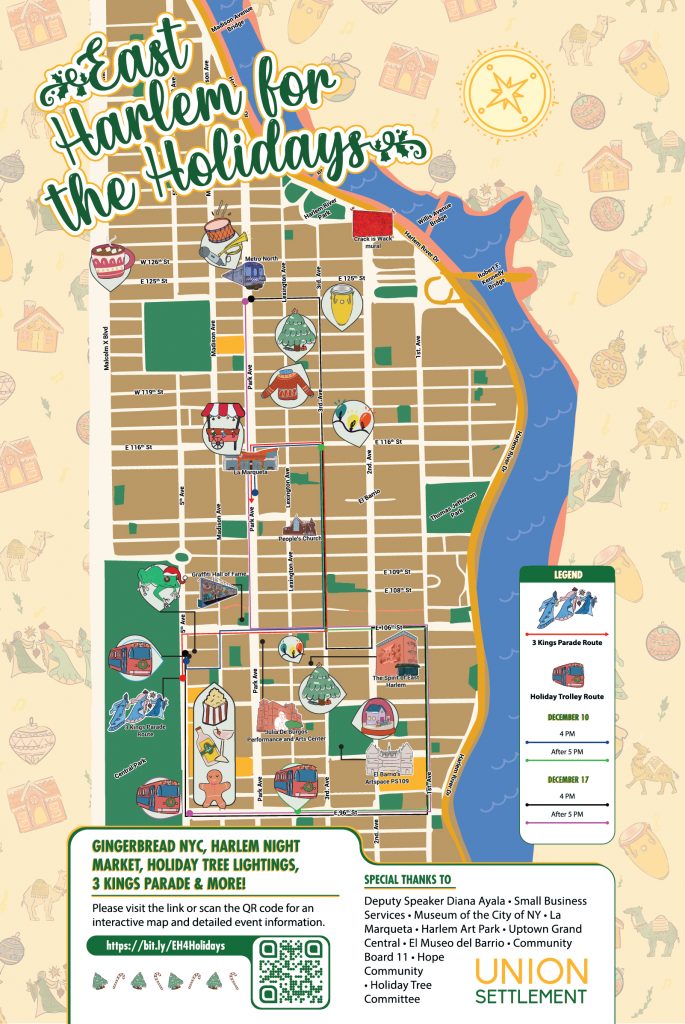 Union Settlement
Union Settlement creates opportunity in East Harlem by offering comprehensive programs that help underserved residents improve their skills and build better lives for themselves and their families. Established in 1895, Union Settlement provides services across nearly thirty East Harlem sites, serving more than 10,000 residents each year. Visit www.unionsettlement.org to learn more about our early childhood education programs, afterschool and summer youth services, college preparation, job readiness, adult education classes, mental health counseling, economic development, senior centers, Meals on Wheels and more.
Uptown Grand Central
Uptown Grand Central is a 501c3 nonprofit that works to support, strengthen and showcase all that is "grand" about our neighborhood, from small businesses to culture to greening to art. Our goal is to transform the East 125th Street corridor by putting advocacy into action.
El Museo Del Barrio
The mission of El Museo del Barrio is to present and preserve the art and culture of Puerto Ricans and all Latin Americans in the United States. Through its extensive collections, varied exhibitions and publications, bilingual public programs, educational activities, festivals and special events, El Museo educates its diverse public in the richness of Caribbean and Latin American arts and cultural history. By introducing young people to this cultural heritage, El Museo is creating the next generation of museum-goers, while satisfying the growing interest in the Caribbean and Latin American art of a broad national and international audience.
Museum of the City of New York
The Museum of the City of New York fosters an understanding of the distinctive nature of urban life in the world's most influential metropolis. It engages visitors by celebrating, documenting, and interpreting the city's past, present, and future.
Community Board 11
East Harlem is a dynamic and proud community that possesses a deeply rich, mosaic culture and history. From our cultural institutions to our many parks, you will find murals and memories honoring those whose very shoulders we stand on – a community where we know and care for our neighbors. Yet, we are also a neighborhood where some basic family and individual needs remain unmet. Community Board 11 continually works to ensure the residents have access to quality education, living-wage employment, affordable housing and much more.
Hope Community
Hope Community rebuilds the physical infrastructure of East Harlem by creating attractive, high-quality affordable rental and owner-occupied housing. Hope strives to transform East Harlem's social fabric by contributing in the growth and success of local businesses and supporting community programs that assist residents to enhance their lives and incomes.
La Marqueta Association
La Marqueta's story goes back to 1936 when the City opened the Park Avenue Retail Market to bring East Harlem's pushcart vendors under one roof. As the neighborhood transformed from Italian Harlem into Spanish Harlem after World War II, the Park Avenue Retail Market became "La Marqueta," specializing in Latin American and Caribbean goods for the residents of East Harlem, Central Harlem, and the South Bronx.
Holiday Tree Lighting Committee
The East Harlem Holiday Tree Committee comprises local activists, and representatives of nonprofit organizations, including our fiscal sponsor, a representative of our local City Council member, and a representative of Franklin Plaza.
Harlem Art Park
Harlem Art Park is a green space supporting a wide array of creative programming and art works that inspire a celebration of community.
Photo credit: Source.
---