---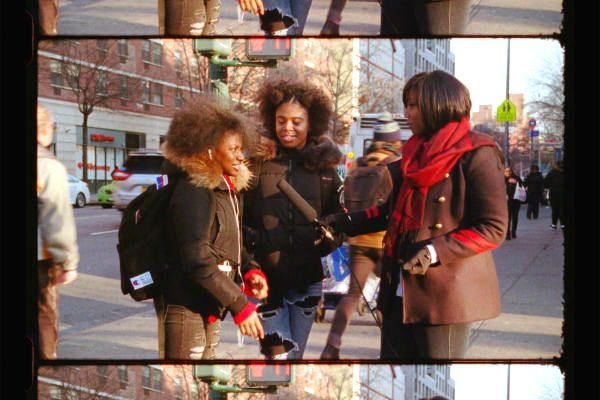 The Reel Sisters of the Diaspora Film Festival & Lecture Series — the first Academy Qualifying Film Festival devoted to women filmmakers.
The series will present an exciting three-week season of films dedicated to love and activism. Starting with the official virtual kick-off on Saturday, October 24th, 2020, and ending on through November 17, 2020, film lovers will enjoy live lecture series talks, workshops, and a fun closing night Filmmakers Awards celebration featuring DJ Thelma Ramsey!
"COVID-19 shouldn't take away our sense of community and connectedness with each other. Reel Sisters celebrates the power of love and activism to create change through the art of storytelling. I had to dig deep in my soul this year amid the pandemic, racial turmoil and corrosive politics to find my Black girl magic but I knew it was there. This season we're proud to showcase over 90 films by women of color that celebrate the power of resilience and provide a safe space for healing our world," says Carolyn A. Butts, Reel Sisters Founder.
For schedule and tickets, visit reelsisters.org or call 212-865-2982.
On Saturday, October 24, 2020, 1:15 pm, Reel Sisters Revolutionary Weekend begins with a selection of family-friendly films including Dolly, directed by Tosin Lepe, a short on a young girl who celebrates Black beauty with her white babysitter; Afro, directed by Jenn Shaw, a teen who stands up against classmates challenging her racial identity; and The Train to Qinling, an animated film directed by Shir Baron on a middle-Eastern traveler who gets lost on a train with a lovable panda. Parents can skip the Saturday afternoon cartoons and enjoy six short films in the section titled Own Your Legacy.
At 3 pm, join Reel Sisters' first live lecture series panel on three powerful short films challenging racial stereotypes and perceptions that too often result in Black and Brown people being murdered. Our storytellers will address the issues in their films and participate in a conversation on moving our nation towards healing and justice for all communities.
Moikgantsi Kgama, founder of Sol Cinema Cafe and ImageNation, will moderate the panel. Our guests are Rob Underhill and Maxine Elio, the directors/writers of Aghast, a short on a mother who stands her ground; Yasmin Neal, producer/director/writer of Target Practice, an ode to young Black boys growing up in America set to Billie Holiday's Strange Fruit; and Booker T. Mattison, the producer/director of Ungubani (Who Are you?), tells the story of compassion when a young Black man puts his life at risk to save a white woman in distress. The directors will talk about what inspired their films and focus on the themes of healing and overcoming common perceptions. Please watch Aghast, Target Practice and Ungubani (Who Are You?) online in advance of the talk.
In addition to an awesome season of films, Reel Sisters has several workshops for filmmakers wishing to develop their craft and network with industry professionals. On Sunday, October 25, 2020, 4 pm, Reel Sisters and Stephens College MFA in TV & Screenwriting will host a special screening and script analysis of Joe & The Shawl written and directed by Nicole Ballivian, a Sundance Screenwriter Fellow, and co-written by Deonna Kelli Sayed. Enjoy an inside look at Ms. Ballivian's choices in developing authentic characters and gaining insight on her overall vision for the film.
Dealing with perceptions, the short portrays Joe Potay, an adorable tow truck driver who flirts with Kelli, a fellow North Carolinian, when he meets her as he changes her dead car battery. Their interaction changes once her religious practice is revealed.
The event is free and sponsored by Stephens College MFA in TV and Screenwriting. Register: Joe & The Shawl.
Reel Sisters is proud to welcome WarnerMedia to our family as a sponsor for our 2020 season.
"We are honored to be associated with a media brand responsible for holding space for such quality HBO shows as Lovecraft Country, Insecure, Random Acts of Flyness and Watchmen! Black women and women of color creators have led HBO in gaining 30 Emmys in 2020." Carolyn adds.
Reel Sisters Festival Highlights
October 24, 2020, at 4:30 || A Fundraiser for Little Sallie Walker & Virtual Playdate
Poet/Actress/Storyteller Gha'il Rhodes Benjamin will join Marta Effinger-Crichlow for the LITTLE SALLIE WALKER Play Date Experience©.
Reel Sisters cordially invites you to a fundraiser to support Little Sallie Walker (LSW) directed by Marta Effinger-Crichlow. The film documents four Black women from across the generations recounting memories of pleasure, refuge, and power in childhood play. Pattycake, dress up, double dutch, doll-making, jacks, and hide-and-seek have offered sanctuary from discrimination, violence, and poverty. See a short work-in-progress clip and participate in a fun play session with members in your household and online! Donation: $25. All proceeds support the film.
October 29, 2020, 6:30 pm EST| LIVE Lecture Series – Defining Beauty
Join Reel Sisters for a talk with the crew of Miss Curvy and I Am More Than My Hair
Director and Producer: Ghada Eldemellawy, 24:27 min. doc.
When Uganda announces its first-ever beauty pageant for plus-size women, a schoolteacher and single mother Namukasa Mariam seizes the opportunity. Hoping to gain strength by confronting past traumas and her abusive ex-husband, she soon finds herself surrounded by national controversy, fierce rivalry, and extravagant characters.
Director: Alyscia Cunningham Producer: Alyscia Cunningham, 29:04 min., doc.
From the time we are young, girls are pressured into a set belief of beauty standards. Hair is certainly high on the list and is often labeled as our "crown and glory." Where does this notion fit for females with alopecia (the partial or complete absence of hair from areas of the body where it normally grows)?
Nov. 7, 5:30 pm EST | Family Ties
Six shorts celebrating the challenges and strength of family bonds.
A Trip with Mom (Reel Sisters Oscar Nominated Short), Writer: Sophie SHUI Director:Sophie SHUI, Producer: TING, CHI-FANG, 25:00 min., narrative
In order to take care of his old mother (played by Liou, Yiin-Shang), who has lost her intelligence and is disabled, Xia Changming (played by Yi-Wen CHEN) remains unemployed at home. The family of four has been relying on his wife Xiaoling (played by CHIN, TZU-YEN), an insurance salesperson, for many years.
November 14, 2020, 6 pm EST | LIVE Director's Talk with Susani Mahadura
Kelet, Writer: Susani Mahadura Director and Producer: Barbara Lybeck, 65 min., doc.
Kelet, a young Somali trans woman, has left her family in Manchester and returned to her childhood home Finland, wherewith the support of her friends in the Ballroom community, she is following her dream of becoming a model. Kelet is a documentary about pursuing your dreams and the importance of family and community.
November 17, 2020, 7 pm EST | Reel Sisters Filmmakers Awards Celebration
Join Reel Sisters for a virtual awards ceremony in honor of our award-winning filmmakers. Enjoy an evening of virtual performances including a jam session with DJ Thelma Ramsey! Tickets: $20.
Reel Sisters three week festival season will please independent film lovers and filmmakers seeking to connect with industry professionals!
Reel Sisters Film Festival offers affordable ticket prices. A one-day pass is $20 and a section pass is $12. Awards ceremony tickets are $20 ($15 for 2+ tickets). Students, seniors and group discounts are available.
Reel Sisters All Access Passes includes:
Access to 90+ films by women of color from across the world
Opportunities to network with filmmakers and professionals in the film industry
Access to panels, workshops, special screenings & filmmakers awards
Filmmakers Awards Celebration & Afterparty
To view the schedule and purchase tickets at the website www.reelsisters.org.
Founded in 1997 by African Voices magazine and LIU Brooklyn Campus, Reel Sisters is among the first film festivals dedicated to supporting women of color filmmakers. Known for celebrating both veterans and rising stars alike, Reel Sisters has honored everyone from Radio One founder Cathy Hugues to HBO's Insecure writer and director Issa Rae. Reel Sisters is supported, in part, by Council members Farah Louis (35 C.D.) and Laurie Cumbo (45 C.D.), WarnerMedia, Humanities New York, New York State Council on the Arts and Brooklyn Arts Council.
---