---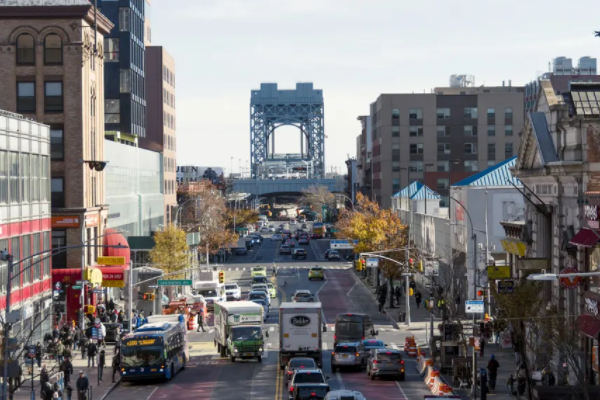 Join us for our first Membership Meeting of the year. Get local updates from the board and special guests.
Learn about how to get involved on Wednesday, February 23rd, 2022 at 6 pm EST.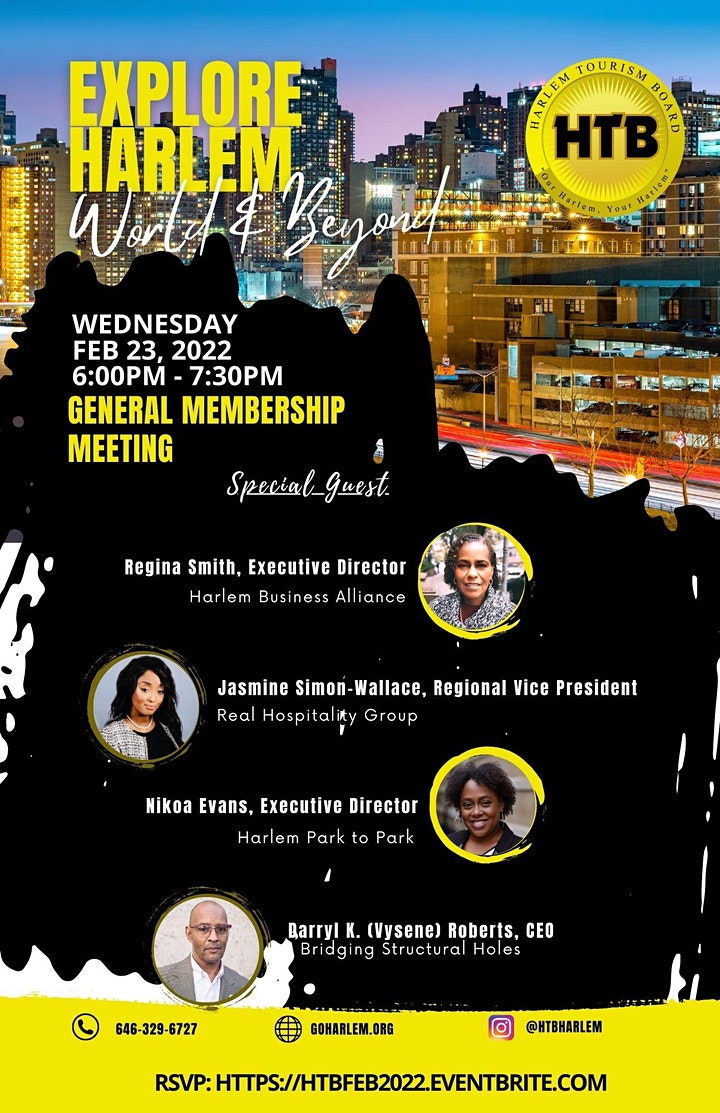 Special Guest:
Regina Smith, Executive Director – Harlem Business Alliance
As Harlem Business Alliance Executive Director, Regina Smith continuously advocates for Harlem's small businesses and seeks to provide entrepreneurs with cutting-edge instruction and one-on-one technical assistance from subject matter experts.
Jasmine Simon-Wallace, Regional Vice President – Real Hospitality Group
Jasmine Simon-Washington brings extensive experience and passion for the hospitality industry to successfully lead sales for various hotels operating under notable brands such as Marriott, Hilton, IHG, and Independent lifestyle hotels. Jasmine will update us on the Marriott Renaissance Hotel and apartment development above The Victoria Theatre on 125th Street, Harlem.
Nikoa Evans, Executive Director – Harlem Park to Park
Nikoa Evans is a trusted strategic advisor with over thirty years of experience in marketing, brand positioning, and economic development in diverse communities. Her consultancy has advised national brands, retail developers, entrepreneurs and economic development corporations on market entry strategy, community/consumer engagement, marketing, business development, and commercial revitalization strategies in emerging U.S. markets.
Darryl K. (Vysene) Roberts, CEO – Bridging Structural Holes
Darryl leads a New York-based nonprofit that develops programs, strategies, and initiatives that connect people with life-changing narratives. Currently, in 1st stage development of the "Harlem Renaissance Classic" (HRC) The initiative will involve Education, Sports, Innovation, Culture, and Music.
The Harlem Tourism Board (HTB) launched its "Our Harlem, Your Harlem" campaign in 2013 to promote the uptown community as one of New York City's "must-see" tourism destinations. Our goal is to make tourism a centerpiece of Harlem's economic development efforts and will feature the neighborhood's cultural, arts, entertainment, dining, and shopping attractions.
The major objective of the Harlem Tourism Board is to create partnerships with tourism-related businesses in Harlem and members of the New York City tourism industry to develop a mutually beneficial economic growth engine for one of the most famous urban communities in the world.
Come learn about our upcoming projects and ways you can participate at our 2022 Winter Membership Meeting.
"Our Harlem, Your Harlem."
---