---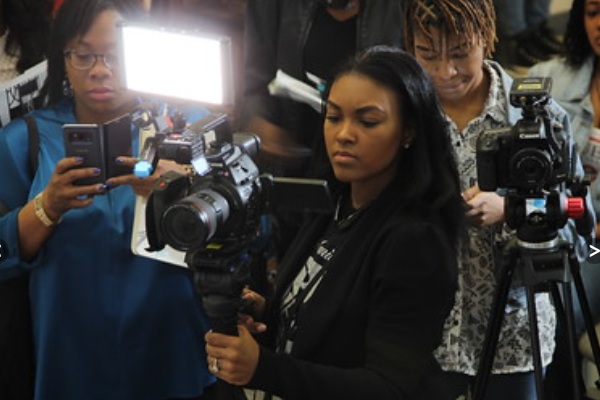 Black Women Film Network (BWFN), celebrating 25 years of preserving the voices of Black women in film and television.
BWFN will host its annual BWFN Summit on Saturday, March 5, 2022, from 12:00 PM to 6:00 PM EST.
For the second consecutive year, the BWFN Summit will be hosted on the Cvent Attendee Hub, and will take place as a free virtual experience during Women's History Month.
The half-day event will feature panels, masterclasses and fireside chats by industry experts. Registration is now open at blackwomenfilm.org.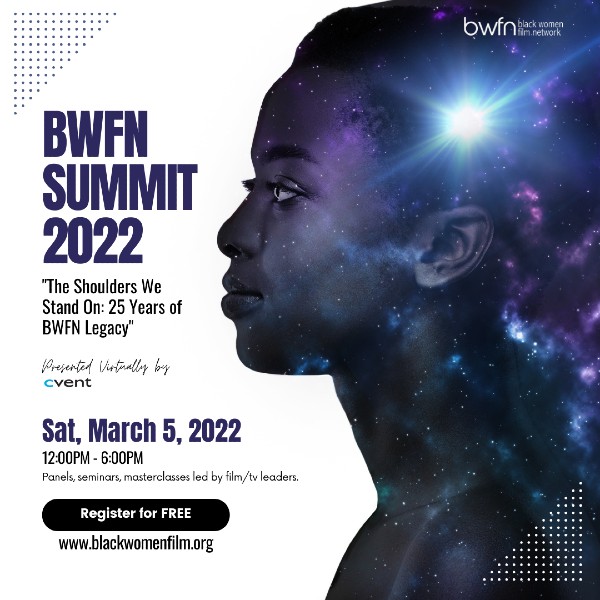 The theme this year is "The Shoulders We Stand On: Celebrating 25 Years of BWFN Legacy." With nearly 40 speakers representing top brands such as iHeartMedia, WME, ALLBLK, Netflix, Lifetime, Impact Partners and more, the BWFN Summit is continuing a decades-long tradition of elevating Black women in the arts and entertainment through education, resources and networking.
The 2022 BWFN Summit also welcomes the return of the BWFN Book Festival, a curated roundtable of accomplished authors dedicated to uplifting and preserving Black culture through storytelling and information.
Finally, BWFN will present its long-running Scholarship Program with several $1,000 awards going to college students pursuing careers in film and television.
"Twenty-five years ago, my Georgia State University film teacher told me the world needed to hear stories told by Black women," says Sheryl Gripper, who founded BWFN in 1997 in Atlanta. "He asked what I was going to do about it. With the help of a visionary group of women, I formed the Black Women Film Network. That vision continues today with the leadership of our 25th Anniversary Board Chair Saptosa Foster."
"I truly believe there's no better time to be a Black woman in film and television than today," says BWFN Board Chair Saptosa Foster. "More than ever, Black women are leading, producing and directing the stories we've been wanting to see for decades. This is the vision our founder Sheryl Gripper imagined 25 years ago. And while we haven't yet fully realized that vision, providing experiences like the BWFN Summit gives us hope that one day Black women will not have to struggle to find their rightful place in film and tv."
To register for FREE to attend the BWFN Summit, visit blackwomenfilm.org.
Follow us on Instagram (@blackwomenfilm) or Facebook (BlackWomenFilmNetwork) for upcoming announcements on honorees, speakers and more.
Black Women Film Network
Established in 1997, the Black Women Film Network (BWFN) was founded to prepare black women to enter the film and television industries. The organization seeks to preserve the voice of these women through film and educational programs that empower and inform.
A 501(c)3 non-profit, BWFN provides student scholarships, hosts screenings and workshops, and honors individuals who have excelled in this difficult industry. Visit BWFN online at blackwomenfilm.org. Follow us on Instagram and Facebook.
Cvent
Cvent Holding Corp. (Nasdaq: CVT), is a leading meetings, events, and hospitality technology provider with more than 4,000 employees and nearly 21,000 customers worldwide.
Founded in 1999, the company delivers a comprehensive event marketing and management platform and offers a global marketplace where event professionals collaborate with venues to create engaging, impactful experiences.
Cvent is headquartered in Tysons, Virginia, just outside of Washington D.C., and has additional offices around the world to support its growing global customer base.
The comprehensive Cvent event marketing and management platform offers software solutions to event organizers and marketers for online event registration, venue selection, event marketing and management, virtual and onsite solutions, and attendee engagement.
Cvent's suite of products automate and simplify the entire event management process and maximize the impact of in-person, virtual, and hybrid events. Hotels and venues use Cvent's supplier and venue solutions to win more group and corporate travel business through Cvent's sourcing platforms.
Cvent solutions optimize the entire event management value chain and have enabled clients around the world to manage millions of meetings and events.
For more information, please visit Cvent.com, or connect witEdit with Visual Composerh us on Facebook, Twitter or LinkedIn.
Photo credit: 1-2) BWFN.
---