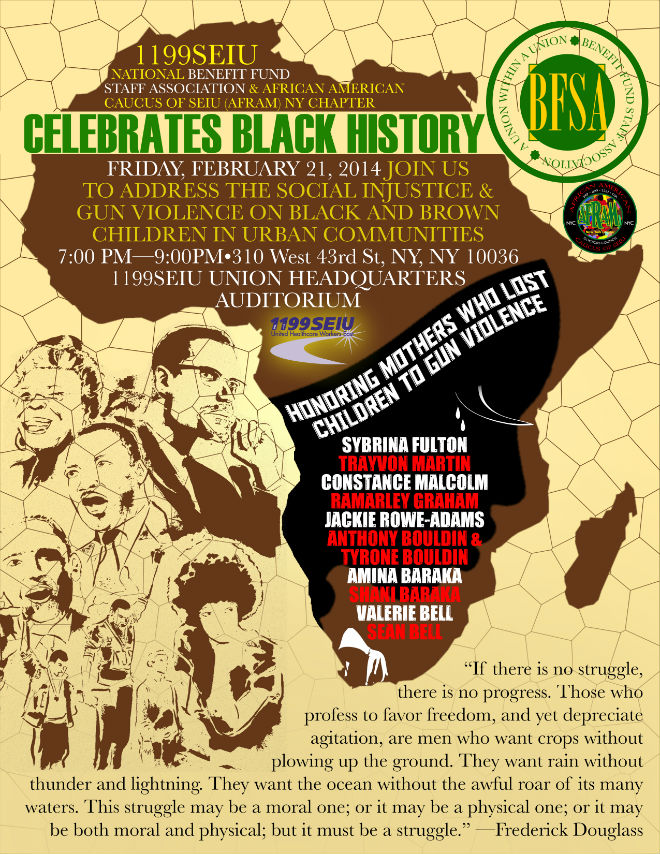 Join the 1199SEIU Benefit Fund Staff Association, and president Malkia King, and the African American Caucus of SEIU (AFRAM NY Chapter) in honor of Black History Month and Mother's Who Lost Children To Gun Violence with: Sybrina Fulton / Trayvon Martin, Constance Malcolm / Ramarley Graham, Harlem's Jackie Rowe- Adams / Anthony Bouldon and Tyrone Bouldon, Amina Baraka / Shani Baraka, Valerie Bell / Sean Bell, Central Park 5: Invite you to our
Black History Month Program
"Social Injustice and Gun Violence on Black and Brown Children in Urban Communities"
Honoring Mothers Who HaveLost Children to Gun Violence
Friday February 21, 2014, 7:00pm-9:00pm
---
Become a Harlem insider - Sign-Up for our Newsletter!
---
At 1199SEIU Union Headquarter Auditorium, 310 West 43rd Street, New York City.
Click back soon for more updates.
Related articles
Related Articles
---
VIDEO
---
"Dr. Harry Delany is a renowned Harlem born and raised surgeon, the son of the great jurist and civil rights leader, Hubert Delany...." This monthly post is made in partnership with Harlem Cultural Archives.