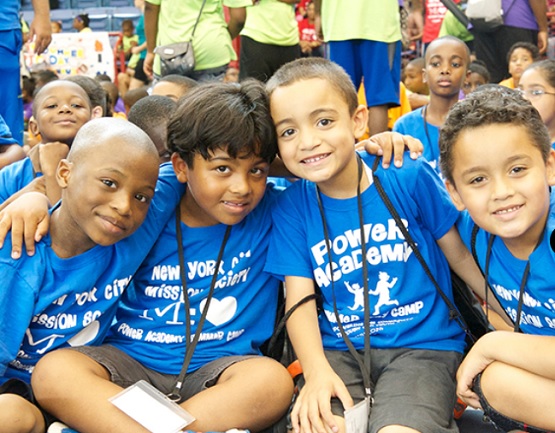 The New York City Mission Society will hold its annual Champions for Children Gala on Tuesday, April 24, 2018 to support educational programs and supportive services that help youth and families in New York City's underserved communities break the cycle of poverty and achieve success.
The Gala will be held at the Mandarin Oriental at 80 Columbus Circle in Manhattan, with cocktails at 6:30 PM followed by an 8:00 dinner. This year's Gala will feature music, dance, and a ceremony with awards being presented to:
Cathy Hughes, Founder and Chairperson, Urban One, Inc. (which includes TV One and Radio One)
Mannie Jackson, 2017 Naismith Basketball Hall of Famer and President, Mannie Jackson for the Humanities Foundation
LTC Francis W. Kairson, Jr., Ret., Director Emeritus, NYC Mission Society
BNY Mellon
International Flavors & Fragrances
WABC News Anchor Bill Ritter, a longtime supporter of the Mission Society, will emcee the event, C. Hugh Hildesley, Vice Chairman of Sotheby's, will serve as auctioneer, and Alex Donner and his Orchestra and students from Mission' Society's free afterschool GRIOT music program, will perform. The Gift Bag Sponsor is Molton Brown.
To purchase tickets to the event and learn about sponsorship opportunities, visit: here
This year's Gala Co-Chairs are: Katrina & Don Peebles, Leah & Stanley H. Rumbough, and Jean & Martin Shafiroff. Gala Champions are: International Flavors & Fragrances; Katrina & Don Peebles; Leah & Stanley Rumbough; and Jean & Martin Shafiroff. Visionaries are: BNY Mellon; Fiona & Stanley Druckenmiller; and, Yemi & Patrick Vatel. Advocates are: Kramer Levin Naftalis & Frankel LLP' MacFarlane Partners; and, Stifel Financial Corporation.
Each year, New York City Mission Society serve more than 10,000 children and families throughout New York City with our programs, supportive services, and community events. http://www.nycmissions ociety.org.
Photo credit: via source.
Related Articles
---
VIDEO
---
"We re-imagine, recreate, and redeem cultural omissions and misrepresentations of Blackness, for the culture. ...." This post is made in partnership with British Pathé.