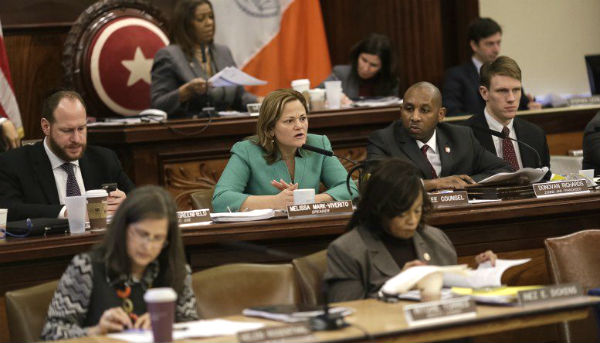 On Monday, March 28th at 2 pm in City Hall Council Chambers, the New York City Council Committee on Immigration will be having its first-ever budget hearing. The Committee, with the facilitation of the Speaker's Office Finance Team, will be conducting a comprehensive and holistic analysis of all City budget activity involving immigrant services, with relevant agencies, service providers, and community-based organizations all present in one room. Among those agencies who will present testimony are the Mayor's Office of Immigrant Affairs, the Human Resources Administration, the Department of Youth and Community Development, and City University of New York. This hearing aims to present the successes of immigrant programs in the City, while also highlighting the needs that have gone unaddressed over a period of years.   
In the past, budgetary discussions about City immigrant services occurred among several large agencies and within a few different Council committees, leading to conversations that were fragmented, marginal, and limited. This historic decision to grant the Committee its own budget hearing will foster a more cohesive conversation about immigrant services and needs and, most importantly, will help develop better budgetary oversight of vital immigrant resources.
Immigrants make up 37 percent of the City population, with the largest numbers coming from Latin America and Asia. The contributions of immigrants to this City are undeniable, showing a clear impact on all aspects of City life, including the economy, workforce, and cultural capital.
Council Member Menchaca, the Chair of the Committee on Immigration said, "This hearing is only the beginning of what I consider to be a real effort to integrate immigrants in all aspects of our City, including the process of creating a budget that carefully and intentionally addresses the very real needs of immigrants in our community. I am proud of all the work that has gone into making this hearing a reality and, in contrast to the anti-immigrant rhetoric that we are witnessing at the national level, I look at this as a stepping stone towards creating a New York City that is more welcoming of immigrants than ever before."
Related Articles
---
VIDEO
---
"Dr. Harry Delany is a renowned Harlem born and raised surgeon, the son of the great jurist and civil rights leader, Hubert Delany...." This monthly post is made in partnership with Harlem Cultural Archives.