---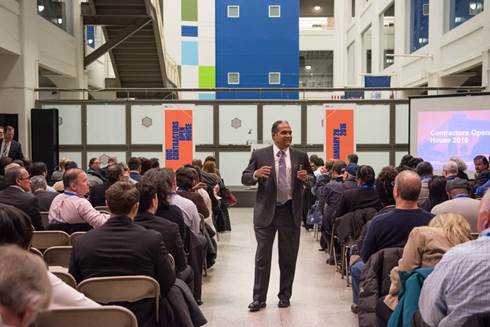 The New York City Department of Design and Construction continues its effort to increase business opportunities for minority- and women-owned business enterprises (MWBE's) this week as it hosts its third annual conference on contract opportunities for MWBE architecture, engineering, and construction firms.
The conference is designed to help MWBEs better understand the City's capital construction procurement process, to provide MWBEs with a preview of upcoming DDC infrastructure and public buildings projects they may be interested in working on, and provide the opportunity to network with 70 government entities and private organizations who are interested in working with them.
The event is the morning of Tuesday, September 13, at DDC headquarters at 30-30 Thomson Avenue in Long Island City, Queens.
"DDC is committed to partnering with MWBEs in public construction and we are proud to assist them in navigating the City's contracting process," said DDC Commissioner Feniosky Peña-Mora. "DDC awarded over $242 million in contracts to MWBEs during Fiscal Year 2015, and we anticipate that figure will rise once Fiscal Year 2016 is calculated. Firms should take full advan­tage of this opportunity to learn how to work with us, and how to earn City contracting opportunities."
Small business owners will have the opportunity meet with representatives from DDC, construction contractors, architectural and engineering firms, construction management firms and other New York City government agencies. Jonnel Doris, Senior Advisor to Mayor Bill de Blasio for MWBE, and Councilmember Julissa Ferreras-Copeland, Chairwoman for City Council's Committee on Finance, will serve as keynote speakers for the event.
"The M/WBE community is a key strategic partner with the Department of Design and Construction and the City in ensuring we uphold the Mayor's commitment to equity and opportunity," said DDC's Chief Diversity and Industry Relations Officer, Maggie Austin. The goal of this conference is to provide the opportunity for MWBE's to engage with government organizations and private firms who are committed to working with them."
In fiscal year 2015, New York City awarded a total of $1.6 billion in contracts to MWBEs, $396 million of which was in prime contracts and $75.2 million in subcontract awards. New York City has a goal to award over $16 billion to MWBEs over the next ten years; DDC will continue to play a significant role in helping the city meet that goal by ensuring procurement opportunities exist for MWBEs.
DDC's Office of Diversity and Industry Relations offers a range of programs to expand MWBE participation including monthly business development workshops, open houses and a construction mentorship program. These programs introduce MWBEs to the agency's processes and ensure participants are aware of all available procurement opportunities. Next year, DDC will continue to heighten the development of innovative best practices that foster diversity and advance procurement opportunities for MWBEs. For more information about the Office of Diversity and Industry Relations offerings for MWBEs, visit nyc.gov/ddc/odir
For more information, please visit nyc.gov/DDC
Photo credit: DDC Commissioner Feniosky Peña-Mora presenting at the 2016 Contractor's Open House; opportunities for business with the DDC and its contractors will be presented at the conference on contract opportunities on September 13, 2016.
---