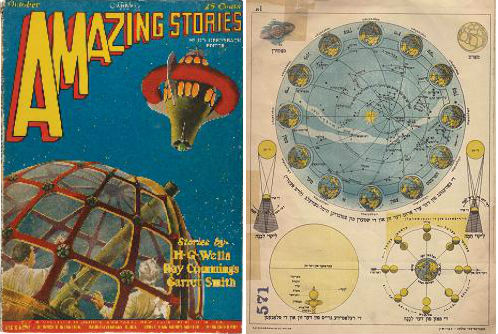 Going boldly where no Jewish museums have gone before, the Center for Jewish History and the YIVO Institute for Jewish Research are pleased to announce the launch of their joint exhibition, "Jews in Space: Members of the Tribe in Orbit." Featuring a stellar array of rare artifacts, from 18th-century Hebrew astronomy texts to a collection of Judaica that went into orbit on the space shuttle, the exhibit explores the age-old Jewish quest to understand the heavens. Designed to appeal to the general public and scholars alike, the exhibit has inspired a wide variety of public programs starting with an opening night of curator tours, kosher space treats, and a cosmic cocktail reception. The celestial celebration continues throughout the spring with family and sensory-friendly programming, a starry night for singles, and an evening with NASA's first American Jewish male astronaut, Dr. Jeffrey Hoffman along with Dr. Valerie Neal, Curator and Chair of the Space History Department at the Smithsonian Institution.
"Just as Jewish history spans a huge span of time, so too does it range across a vast expanse of space," said Professor David N. Myers, President and CEO of the Center for Jewish History. "And it turns out that Jews have been preoccupied with space for thousands of years. This wonderful new show, co-sponsored by the Center and YIVO, brings alive the Jewish preoccupation with space–from elaborate rabbinic texts about the heavens to an astronaut's effort to live a Jewish life while in outer space. The show demonstrates how universal, literally, the Jewish historical experience is–and thus should be of interest to everyone."
Thanks to the Hebrew lunar calendar, astronomy has figured prominently in Jewish traditional life. Rabbis and scholars from the ancient and medieval periods looked to the night skies to set the Jewish calendar and wrote extensively on medicine and other sciences, as well. The modern period not only saw Jews active in the field of astronomy, but also in the creation of modern science fiction and groundbreaking entertainment, including the television show, Star Trek and beloved movies like Spaceballs by Mel Brooks. The field of space exploration also has seen Jewish participation and more than a dozen Jewish astronauts have orbited the earth.
"Jewish culture of Eastern Europe and Russia produced some of the most dynamic and future-oriented thinkers, writers, artists, and musicians in the world. From rare rabbinical works on astronomy and Yiddish science fiction to the other worlds of Jewish folklore and stars of the Yiddish stage, YIVO's archives contain the universe of this great flowering of Jewish civilization," said Dr. Jonathan Brent, Executive Director and CEO of the YIVO Institute for Jewish Research.
Spanning several hundred years, "Jews in Space: Members of the Tribe in Orbit" features material from YIVO's and the Partners' collections that includes:
Rare 18th- and 19th-century rabbinic tomes on astronomy in Hebrew and German
Judaica taken into space aboard the space shuttle by astronaut Dr. Jeffrey Hoffman
Yiddish, English, Polish, and Russian works of science fiction
Rare science fiction periodicals
Other ephemera from literature and popular culture
In addition to the opening on February 26th, the Center for Jewish History and YIVO will also host a variety of public programs including family programming, a sensory-friendly family program, a singles event, and Jews in Orbit: an evening with Jeffrey Hoffman (NASA's first American Jewish male astronaut) and Dr. Valerie Neal (Chair of the Space History Department, Smithsonian National Air and Space Museum).
The Center for Jewish History at www.cjh.org/jewsinspace/
The YIVO Archives at www.yivo.org
Photo credit: 1) Amazing Stories, Vol. 1, No. 7, October 1926, Courtesy of Center for Jewish History and YIVO Institute for Jewish Research. 2) Schematic of the earth's orbit around the sun. From Onshoyungs-geografye – in farbindung miṭ naṭur-ṿisnshafṭ, Vilna, 1922. Courtesy of Center for Jewish History and YIVO Institute for Jewish Research.
No related posts found...
VIDEO
---
Harlem Cultural Archives is a donor and foundation-supported Historical Society, Its mission is to create, maintain and grow a remotely accessible, online, interactive repository of audio-visual materials documenting Harlem's remarkable and varied multicultural legacies, including its storied past as well as its continuing contributions to the City and State of New York, the nation, and the world.
Support Harlem Cultural Archives
and
click here to get more Harlem History
, Thank you.