---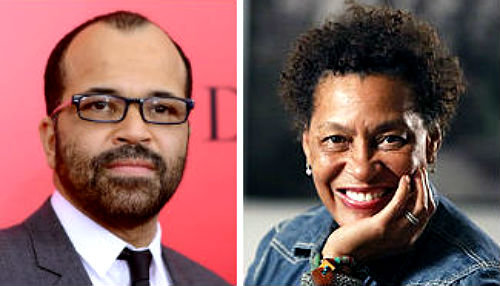 Celebrities and other luminaries will converge on Gotham Hall in Manhattan as award-winning actor Jeffrey Wright and acclaimed artist Carrie Mae Weems are honored by The Brotherhood/Sister Sol (Bro/Sis), a nationally recognized, Harlem-based nonprofit and youth development organization, as it heads into its 22nd year transforming young lives. Other notables attending the organization's 13th annual VOICES benefit include actors Rose Byrne, Bobby Cannavale and Michael K. Williams, the Honorable David N. Dinkins, 106th mayor of New York, the Honorable Cyrus Vance, New York County district attorney, film and television producers Terence and Rachel Winter, New York Times columnist Charles Blow and DJ Beverly Bond, founder and executive director of Black Girls Rock! The event, which takes place on Thursday, May 11, 2017, at Gotham Hall in Manhattan, is expected to draw 500 supporters.
Founded in 1995 by New York City natives who were then Brown University seniors, Khary Lazarre-White and Jason Warwin, The Brotherhood/Sister Sol helps provide children, teens and young adults with the skills and confidence they need to take their rightful place in society. Headquartered in a Harlem brownstone, its comprehensive approach has been transforming the lives of New York City's youth. Bro/Sis provides training on its successful model to organizations across the nation, while being active on issues of social justice and policy. The nonprofit has embarked on a $15 million capital campaign to expand its reach and in November 2017 plans to break ground on a new six-story state-of-the-art home, with training facilities, a technology center and an arts/performance space.
Weems, considered one of the most influential contemporary American artists, has launched investigations of family relationships, cultural identity, sexism, class, political systems and the consequences of power—in photographs, text, fabric, audio, digital images, installation, and video. She has received numerous awards, grants and fellowships including the prestigious Prix de Rome the National Endowment of the Arts, the MacArthur "Genius" grant and , the W.E.B. Du Bois Medal from Harvard University.
Wright, a Tony, Emmy, AFI and Golden Globe Award-winning actor, has enjoyed an illustrious career that has spanned the worlds of theater, film and television. His many credits include "Basquiat," "Angels in America," "Topdog/Underdog" and he has appeared in "The Hunger Games" film series. Wright currently stars as Bernard Lowe in the HBO series "Westworld." The co-founder of the Ebola Survival Fund, he is also on the advisory board of the United Nations Democracy Fund (UNDEF) and was named a "Peace by Piece" Ambassador by the government of Sierra Leone.
"The Brotherhood/Sister Sol is an organization that is dedicated to helping young people understand the political realities of our age and to helping them become social change makers, said Bro/Sis Executive Director Khary Lazarre-White. "We believe this work is done via education, organizing and the arts—and we are so pleased to be honoring two artists whose work and life missions are so intertwined with social commentary, equity and struggling with the important and necessary issues of our time."
Weems and Wright join a who's who of honorees and supporters of VOICES, including artists and entertainment figures such as Harry Belafonte, Kerry Washington, Rosario Dawson, Tracee Ellis Ross, George C. Wolfe, Michael Ealy, Esperanza Spalding, Boris Kodjoe, Norm Lewis and Lynn Nottage; journalists Soledad O'Brien, T. J. Holmes and Tamron Hall; and prominent legal and business leaders including Theodore Wells, Elaine R. Jones, Michele Roberts and Sherrilyn Ifill.
VOICES 2017 is chaired by Bro/Sis board co-chairs Rahsan-Rahsan Lindsay and Clara Markowicz. Fundraising chairs for the event are Michael J. O'Brien, Michelle Ores and Charles N. Schorin and fundraising vice chair is Tiffany R. Warren. The event is made possible by generous support of the Omnicom Group; the Dr. David M. Milch Foundation/Ars Veritas; BlackRock; Latham & Watkins; Clara Markowitz; Charles N. Schorin and Michelle Ores; Rabbi Rachel Cowan; BBDO Worldwide; Carrington Charitable Foundation; Davis & Gilbert LLP; Fragomen, Del Rey, Bernsen & Loewy; HBO; Marcy and Bennett Grau; Rahsan-Rahsan and Letena Lindsay; Ravi Mallik; Lisa Oppenheim Schultz and Robert Schultz; TBWA Worldwide; and Willkie Farr & Gallagher, LLP.
The evening includes a cocktail reception and silent auction at 6:30 p.m., followed by an awards dinner at 8 p.m. Entertainment will be provided by Bro/Sis alumni The Peace Poets, a Bronx-based collective of artists who celebrate, examine and advocate for life through music and poetry. Gotham Hall is at 1356 Broadway, New York, NY 10018 (at 36th Street). Tickets are $500 and $1,000 and can be purchased by visiting https://brotherhood-sistersol.org or brosisvoices@eventassociatesinc.com.
Related Articles
---