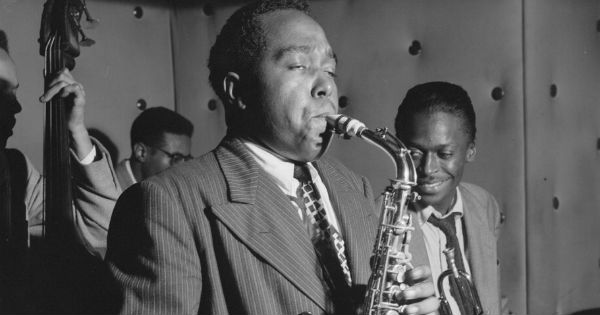 Jazz Standard, one of the nation's premier jazz clubs, offers another im­pressive month of music with jazz legends and rising stars throughout September. Appearing September 1–4 is drum­mer and composer Antonio Sanchez & Migration followed by pianist Aaron Goldberg performing September 8–11 with bassist Matt Penman and (in a landmark NYC appearance) drummer Leon Parker. On September 20–21, an out­standing cast of players including Vijay Iyer, Marty Erlich, Frank Kimbrough, and Mark Helias celebrate the legacy of the late great pianist/composer Andrew Hill, and closing out the week we welcome back guitar master Russell Malone. SaxophonistSteve Wilson makes a welcome return to our stage from September 29–October 2) with the powerhouse unit he callsWilsonian's Grain. Jazz Standard's "Mingus Mon­day" resi­dency contin­ues this month with performances by the GRAMMY Award–winning Mingus Big Band on 9/12, 9/19, and 9/26.
Be­low is a com­plete sched­ule of September per­form­ances at Jazz Standard, along with infor­ma­tion on the musicians.
9/1 – 9/4 Antonio Sanchez & Migration
Antonio Sanchez – drums
Seamus Blake – saxophones
John Escreet – piano
Matt Brewer – bass
Thana Alexa – vocals
Four–time GRAMMY Award winner Antonio Sanchez has been hailed by critics and fellow musicians as one of the most talented drummers, bandleaders and composers of his generation. After moving to New York in 1999 after graduating from Berklee College of Music and the New England Conservatory, he per­formed and recorded with such jazz leaders as Chick Corea, Michael Brecker, Gary Burton and Toots Thielmans. As a sideman Sanchez has been featured on over a hundred albums – including eight releases with guitarist Pat Metheny, three of which have won GRAMMY Awards. As a leader, he's released four critically acclaimed albums; The Meridian Suite (Cam Jazz, 2015) recorded with his band Migration, brilliantly integrated composed and improvised music in a single album–length work. But Antonio Sanchez is best–known as the composer of original music for the 2014 film Birdman, directed by Alejandro Gonzales Iñárritu.Birdman won four Academy Awards and earned Sanchez a GRAMMY Award for Best Original Score, among other citations. 
Music Charge: $30
9/5 Jazz Standard Closed For Labor Day.
9/6 – 9/7
TBA
9/8 – 9/11 Aaron Goldberg Trio
Aaron Goldberg – piano
Matt Penman – bass
Leon Parker – drums
Hailed by Down Beat magazine for his "quick–witted harmonic reflexes, fluid command of line and cut– to–the–chase sense of narrative logic," Aaron Goldberg has made his name as one of jazz's most compel­ling pianists, both as a bandleader and frequent collaborator with Joshua Redman, Wynton Marsalis, Kurt Rosenwinkel, Guillermo Klein and many more. A founding member of Betty Carter's famed and indis­pensable Jazz Ahead program, Aaron continued his ascent performing in bands led by Al Foster, Freddie Hubbard, Nicholas Payton, Stefon Harris, and Mark Turner among others. By the late 1990s, he was gar­nering wider attention, and an incessant touring schedule found him both inspired by music from around the world yet appreciative of the Zen creativity that only jazz demands. As a leader, the pianist has released five albums including his latest The Now (Sunnyside, 2015). This much–anticipated engagement also serves as a homecoming for the great drummer Leon Parker, making his first major NYC club appearance since his move to France nearly 15 years ago – make your reservations now!
Music Charge: $30
9/12 Mingus Big Band
The Mingus Big Band "is a wonder and an anomaly," wrote Victor Schermer at AllAbout­Jazz.com. "The band has taken a musical legacy and transformed it into a creative force that generates a contemporary originality and vitality all its own. They are an important part of the current jazz scene and a constant re­minder that jazz—big band jazz, at that—is not merely entertainment but a powerful art form and means of expression."
Music Charge: $25
9/13 Roxy Coss CD RELEASE
Roxy Coss – tenor & soprano saxophones
Jeremy Pelt – special guest trumpet
Alex Wintz – guitar
Chris Pattishall – piano
Rick Rosato – bass
Jimmy Macbride – drums
Winner of a 2016 ASCAP Herb Alpert Young Jazz Composer Award and a "Rising Star" in three consecutive Down Beatcritics' polls, saxophonist Roxy Coss has used her academic and sideman credentials as a springboard to an auspicious career as a bandleader, composer, and recording artist. Fresh from performing with her group at the prestigious 2016 Newport Jazz Festival, Roxy has also performed at clubs and theaters across the U.S., – as a leader, with the Mingus Big Band, and with the Diva Jazz Orchestra, and in the groups of Jeremy Pelt, who joins her onstage for this engagement. "As a player, on tenor and soprano saxophones, she possesses a poise and maturity beyond her years," wrote Josef Woodward in his Down Beat review of her latest album Restless Idealism, which she releases tonight at Jazz Standard. "She's also a composer of diverse instincts and a strong bandleader."
Music Charge: $25
9/14 Charenee Wade: The Gil Scott-Heron Project
Charenee Wade – vocals
Nikara Warren – vibraphone
Bruce Williams – alto saxophone
Oscar Perez – piano
TBA – bass
Darrell Green – drums
Beginning with his 1970 debut LP Small Talk at 125th and Lenox, the music of Gil Scott–Heron (1949–2011) blended elements of soul, jazz, blues, and funk, years before hip–hop came into existence. On her
2015 CD Offering: The Music of Gil Scott–Heron & Brian Jackson (Motéma Music), singer/composer Charenee Wade paid tribute to this revolutionary artist, accompanied by such luminaries as Christian McBride, Malcolm Jamal Warner, Lakecia Benjamin, Stefon Harris, and Marcus Miller. Ms. Wade has performed at top clubs and major festivals across the country; in addition, she serves on the faculty of the Aaron Copland School of Music at the City College of New York. "Charenee Wade," wrote John Fordham in The Guardian (7.2.2015), "…has made herself the first woman to devote an entire album to the work of Gil Scott–Heron – and turned this tough call into a triumph of emotional empathy, intelligence and assured technique."
Music Charge: $25
9/15 – 9/18 Etienne Charles
Composer, arranger, recording artist, educator: Etienne Charles is a man of many talents and among the most exciting young jazz artists on the scene today. His work was recently recognized in the form of a Guggenheim Fellowship, one of the most prestigious awards a musician can achieve.  Jazz Standard is pleased to present this charismatic performer in three distinctly different but equally entertaining nights of creative music.
Music Charge: $30
9/15 San Jose Suite
Etienne Charles' San Jose Suite explores stories, rituals, native chants, rhythms, and other cultural elements that shaped the cities of San Jose, CA; San Jose, Costa Rica; and the artist's native St. Joseph, Trinidad. Through each movement of this hour–long piece, Charles paints musical portraits of cultural and historical icons and milestone events in the histories of these disparate locales.
9/16 – 9/17 Creole Soul
Charles' latest album Creole Soul is a captivating journey of new jazz expression featuring sounds from the French, Spanish, and English–speaking Caribbean. Whatever the melodic or rhythmic structure, the trumpeter "hones a velvet, supple tone that's as melodically captivating as it is rhythmically agile…There's always a gracefulness to Charles' playing that is immediately pleasing." (Down Beat)
9/18 Etienne Charles Big Band
Etienne Charles' years of sideman experience – with musicians ranging from Roberta Flack and Rene Marie to David Rudder and Wynton Marsalis – have prepared him for the considerable challenges of arranging and leading a big band.
9/19 Mingus Big Band
"A knockout band, full of players who combine ensemble spirit and instrumental mastery with the quirky roughness and individualistic timbres needed for Mingus' turbulent scores. It is thrilling to hear such big music in a small room: the audience immerses itself in this complex, highly emotional music to a degree that is impossible in a concert hall or festival stadium." (John L. Walters, The Guardian)
Music Charge: $25
9/20 – 9/21 The Andrew Hill Legacy Project
This special two–night engagement celebrates the life and music of Andrew Hill (1931–2007) during a year that would have been the pianist/composer's 85th birthday (Born June 30, 1931), with music by a host of Hill disciples and former sidemen. "While many of his contemporaries were totally jettisoning the rhythmic and harmonic tech­niques of bop and hard bop, Hill worked to extend their possibilities; his was a revolution from within…As a pianist, Hill had a flowing melodicism and an elastic sense of time. Like his composing, Hill's playing had an ever–present air of spontaneity and was almost completely devoid of cliché." (AllMusic)
Music Charge: $30
9/20 Andrew Hill's Smoke Stack
Vijay Iyer – piano
John Hebert  – bass
Mark Helias – bass
Eric McPherson – drums
The award–winning pianist Vijay Iyer leads a two–bass quartet in a performance of songs from Andrew Hill's Blue Note album Smoke Stack, which was a major influence on Iyer himself. "A dense, cerebral set of adventurous post–bop…Comprised entirely of original Hill compositions, Smoke Stack is in the middle ground be­tween hard bop and free jazz." (Stephen Thomas Erlewine, AllMusic)
9/21 The Music of Andrew Hill
Frank Kimbrough – piano
Ron Horton – trumpet
J.D. Parran – woodwinds
Marty Erlich – woodwinds
Mark Helias – bass
Nasheet Waits – drums
Frank Kimbrough, on piano, will be joined by former Andrew Hill sideman/reeds master Marty Erlich as well as bassist Mark Helias to range freely over the artist's wonderfully imaginative songbook –and more recent works (including award-winning albums Dusk and Time Lines) from the latter half of his career. The music of Andrew Hill "is an eloquent example of how jazz can combine traditional and original elements, notation and pure improvisation, playing both outside and inside strict time and harmony." (The New York Times)
9/22 – 9/25 Russell Malone Quartet
Russell Malone – guitar
Rick Germanson – piano
Luke Sellick – bass
Willie Jones III – drums [except 9/24]
Anwar Marshal – drums [9/24 only]
Jazz guitar legend Russell Malone was 25 and not yet a legend in 1988 when organist Jimmy Smith recruited him as a sideman. He went on to play in the bands of Harry Connick, Jr. and Diana Krall, contributing to four GRAMMY–nominated albums by Krall. He made his debut as a leader in 1992 with a self–titled album for Columbia. The guitarist recorded well–received albums for Columbia (Black Butterfly), Impulse! (Sweet Georgia Peach), Verve (Heartstrings), and Blue Note, which documented his longtime relationship with bass legend Ron Carter in the Golden Striker Trio. "One of the best loved jazz guitarists by both fans and critics. His sound is full and rich; his fingers fleet, the ideas springing from his head to his hands with speed and dexterity." (All About Jazz)
Music Charge: $30
9/26 Mingus Big Band
"One of those relatively few jazz figures who has inexorably accumulated a wholly singular body of work – like Duke and Monk and Miles and Trane…All of Mingus' music is a symphony fused from the parts of his life, like a book." – Nat Hentoff, from his liner notes to The Art of Charles Mingus: The Atlantic Years (Atlantic SD 2–302).
Music Charge: $25
9/27 – 9/28 Sullivan Fortner
On 9/27
Sullivan Fortner – piano
Ameen Saleem – bass
Jeremy "Bean" Clemons – drums
On 9/28
Sullivan Fortner – piano
Ray Drummond – bass
Billy Hart – drums
At the ripe old age of 30, native New Orleanian Sullivan Joseph Fortner Jr. already is an accomplished accompanist, bandleader, and composer carving his own distinctive path in 21st century jazz. The former church pianist studied with Jason Moran at the Manhattan School of Music, and then went on to tour with the groups of Stefon Harris, Christian Scott, and Roy Hargrove. As a sideman, he appears on albums by Theo Croker (Fundamentals, 2007), Etienne Charles (Kaiso, 2011), Donald Harrison (Quantum Leaps, 2010), among others. His first release as a leader, Aria, was issued on Impulse! Records in 2015 and prompted The New York Times' Nate Chinen to write: "His fundamentals as a player could hardly be stronger, and his instincts as a composer and bandleader are almost startlingly mature." This week at Jazz Standard, Sullivan Fortner will perform 9/27 with his working trio (who happen to be Roy Hargrove's rhythm section of choice), including bassist Ameen Saleem and drummer Jeremy "Bean" Clemons; and on 9/28 with the veteran rhythm section of Ray Drummond (bass) and Billy Hart (drums). 
 Music Charge: $25
9/29 – 10/2 Steve Wilson and Wilsonian's Grain
Steve Wilson – alto saxophone
Orrin Evans – piano
Nate Smith – drums
Any performance by the great Steve Wilson offers "selflessness, a fresh and well–made take on the tradi­tion, and the ability to reference a broad spectrum of strategies and styles without falling prey to pastiche or sacrificing an original voice." (Detroit Free Press) The saxophonist, composer and bandleader has been a regular and welcome presence on our stage for years, with his own projects, and in the bands of Maria Schneider, Ryan Truesdell, The Mingus Big Band, and more. This appearance will feature him at the helm of a nonpareil quartet including pianist Orrin Evans, bassist Ugonna Okegwo, and drummer Nate Smith – and they're guaranteed to make it an unforgettable evening. Steve Wilson, wrote Ben Ratliff in The New York Times, is "among the best New York jazz has to offer."
Related Articles
VIDEO
---
Harlem Cultural Archives is a donor and foundation-supported Historical Society, Its mission is to create, maintain and grow a remotely accessible, online, interactive repository of audio-visual materials documenting Harlem's remarkable and varied multicultural legacies, including its storied past as well as its continuing contributions to the City and State of New York, the nation, and the world.
Support Harlem Cultural Archives
and
click here to get more Harlem History
, Thank you.