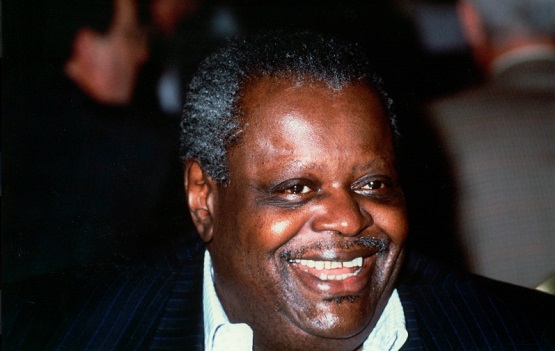 George Wein, jazz producer, promoter and pianist, Founder of the Newport Jazz and Folk Festivals and CEO of Newport Festivals Foundation, has donated The Jazz and Blues ArtBox to the Schomburg Center for Research in Black Culture at the New York Public Library (NYPL).
The Jazz and Blues ArtBox offers a front-row seat to see and hear jazz masters such as Dizzy Gillespie, Sonny Rollins, Marian McPartland, Stéphane Grapelli, Sarah Vaughan, Dr. John, and Fats Domino at the peak of their careers. Wynton Marsalis, Marcus Roberts, Christian McBride, Joshua Redman, Diana Krall, Bill Charlap, Dee Dee Bridgewater, C.J. Chenier, and Shemekia Copeland, are also showcased in the earlier years of their careers.
The limited edition Jazz and Blues Art Box was designed by USM, the Swiss furniture manufacturer renowned for its modular furniture and designs. Legendary graphic artist Roger Pfund decorated the cabinet's exterior, paying tribute to the lives and performances of jazz greats housed inside, solidifying it as both a historical artifact and work of art. Only 5,000 units of The Jazz and Blues ArtBox have been made.
Offering researchers and jazz lovers unparalleled access into one of the most comprehensive visual records documenting the jazz era, The Jazz and Blues ArtBox includes:
230 DVDs of video recordings spanning nearly two decades of the legendary International Jazz Festival Bern in Switzerland
More than 400 hours of live performances from jazz and blues greats between the years 1983 and 2002
96 exclusive and candid interviews with featured jazz and blues artists, filmed as part of the original Swiss Television broadcasts of the Bern Festival
20 year books (one for each year in the collection) with photos, set lists, and line-ups for each concert
​"It is important for a collection like The Jazz & Blues ArtBox to be available to the general public, and the Schomburg Center is a wonderful institution to present it," said George Wein. "It was recorded in Switzerland by my friend and jazz aficionado Hans Zurbruegg and is an amazing record of American jazz, which can influence the spread of our unique culture around the world. The ArtBox is a treasure of great music and the Schomburg should encourage any visitors to take the time to listen and watch these magnificent performances. It is also my hope that others will make the purchase and donate to libraries across the US."
"The Jazz and Blues ArtBox is a significant addition to our jazz holdings at the Schomburg, which include the Sonny Rollins, Ron Carter, Billy Taylor and the Duke Ellington Society collections as well as the interview and outtakes from films such as Jazz on a Summer's Day, A Great Day in Harlem and Mary Lou Williams: Music on My Mind," said Shola Lynch, Curator of the Schomburg Center's Moving Image and Recorded Sound Division. "With performances from 1983 to 2002, what better way to represent the fact that this art form – so unique and vital to African American history and culture, and foundational to American music and culture – is still alive. This collection brings the Schomburg's jazz archive into a contemporary period, representing a recent passing of the guard from our greying legends to the up-and-comers. Best of all, the price of admission to this concert is free, with your library card."
The Jazz and Blues ArtBox will be housed in the Schomburg Center's Moving Image and Recorded Sound Division, and is freely accessible by appointment to researchers and library patrons with an NYPL Library Card.
More information about Schomburg's collections and programs can be found at www.schomburgcenter.org.
The New York Public Library serves more than 18 million patrons who come through its doors annually and millions more around the globe who use its resources at www.nypl.org.
Photo credit: The Jazz and Blues Art Box/Newport Festivals Foundation
Related Articles