---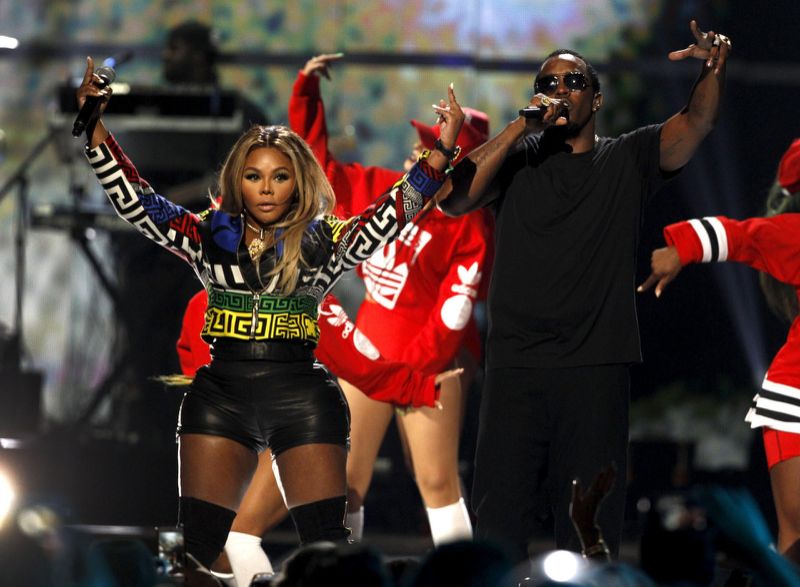 With Jennifer Lopez and Puff Daddy both on the bill for the iHeartRadio Music Festival's second night, fans were hoping that the two exes might reunite onstage at Las Vegas's MGM Grand Arena this Saturday.
Well, that didn't happen. But that's OK. Puffy reunited with just about everyone else. And in many ways, sweet nostalgia still totally ruled the night.
"I want to give you your money's worth. You paid a lot for these tickets," Puffy declared Saturday, and then he made good on his promise, putting on all-star revue that was well worth the price of iHeart admission alone. First, he brought out his fellow Bad Boy for life, Ma$e, for "Feels So Good":
Then he upped the cameo ante with Busta Rhymes, who came out for "Pass the Courvoisier Pt. 2" and "Put Your Hands Where My Eyes Could See":
Then, if that wasn't enough that Puffy had his Bad Boy Records protége Machine Gun Kelly rap on "It's All About the Benjamins"… but soon it was all about the Queen Bee, when the one and only Lil' Kim took the stage. Kim's cameo was brief, but it was definitely the most memorable and unexpected of the night.
Machine Gun Kelly wasn't the only new, young act who joined forces with Puffy at iHeart. Songstress Tori Kelly, who'd slayed her own solo set at the iHeartRadio Daytime Village earlier that afternoon, took on the Skylar Grey vocals for the Diddy – Dirty Money song "Coming Home," and her performance was so powerful, it literally knocked Puff Daddy off his feet.
As for J.Lo, she didn't exactly showcase a set of Tori Kelly-esque pipes. But what she lacked in vocal power she more than made up for with her phenomenal dancing (seriously, Fox should have hired her to judge So You Think You Can Dance instead of American Idol), giving spectators a taste of her upcoming Las Vegas residency at Planet Hollywood, which she announced will start Jan. 20 and be called "All I Have."
Check out the entire story here.
Related Articles
---