---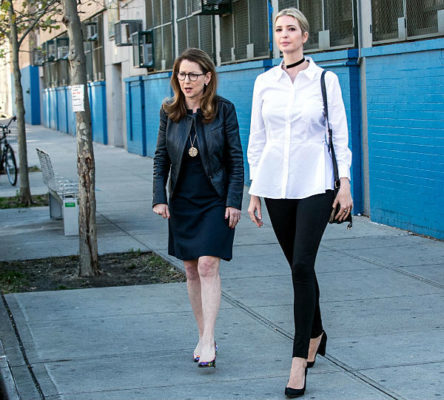 Ivanka Trump shocked school staffers on a visit to Success Academy Harlem 1 in Harlem Friday morning.
Ivanka's father, President-elect Donald Trump, has been courting Success Academy founder Eva Moskowitz for the post of U.S. Education Secretary.
School staffers, who learned of Trump's visit last night, said security was at the building Friday morning preparing for her arrival reported source.
"Ivanka's in the building," said Mindy Rosier, a teacher at a district-run school that shares the building with Success Academy. "Everyone knows it. They were preparing all morning."
Eva Moskowitz won't become Education Secretary under Trump Secondary school students holds signs in front of the Supreme Court in Washington, DC, on November 15, 2016 as they protest the election of US President-elect Donald Trump.
Moskowitz, a Democrat, visited with Trump's transition team on Wednesday, sparking speculation that she might be taking the job.
But the charter school boss told reporters Thursday she wouldn't be leaving Success Academy.
A rep for Moskowitz didn't reply to a request for comment on Trump's visit.
Staffers at the school were curious as to why the President-elect's daughter was there.
"It's like, what's the angle?" said Rosier, who teaches at the District 75 school for kids with special needs that's also located in the W. 188th St. building. "If Moskowitz turned Trump down, why is Ivanka here?"
City Education Department officials didn't respond to a request for comment on Trump's visit to the building, which is owned by the city.
---