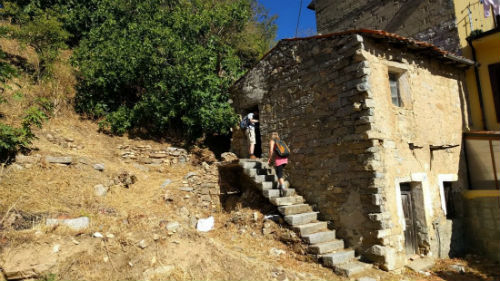 Last year, we reported on an Italian city who was Giving Away Free Castles. Now, CN Traveler reports that maybe you've fantasized about living out your days in a Mediterranean villa. You might have even gone so far as to check listings before the reality of your bank account forced you to give up on the dream.Well, despair no longer. One town on the Italian island of Sardinia is offering the real estate deal of a lifetime, as long as you're willing to stick around for the long haul. In Ollolai, one of several hundred historic homes could be yours for just $1.25 (€1). Yes, really. Mayor Efisio Arbau successfully petitioned local residents to turn over their abandoned homes to the town, which then put them on the market for the attention-grabbing low price.
The aggressive real estate blitz is an effort to prevent a town known for its successful resistance to the Roman Empire from fading into obscurity. The village's population has shrunk from 2,250 to 1,300 over the years, and the migration of its younger people to larger cities has led to a declining birthrate. "My crusade is to rescue our unique traditions from falling into oblivion," Arbau told CNN. "We've always been tough people and won't allow our town to die."
Those expecting to find their slice of paradise among Ollolai's fresh air and mural-lined piazzas should know that there's a catch. Many of its unoccupied homes are in a state of disrepair. Any buyer will have to commit to extensive refurbishments projected to cost between $25,000 and $37,500 (€20,000 and €30,000) in order to return these ancestral dwellings, built largely out of gray granite, to their former glory. Several have already made the $1.25 down payment, however, and the town's received over 100 purchase requests from all over the world, including Russia and Australia. Vito Casula, a retired builder who recently renovated his new home with more sustainable materials, describes Ollalai's appeal perfectly: "This quiet town is frozen in time. It offers a peaceful, healthy life; the fresh air, zero smog, and great views have a healing power."
When put that way, even 30,000 euros sounds like a steal. And, of course, the chance to help preserve the history of a proud town and its traditional way of life is priceless.
Related Articles