---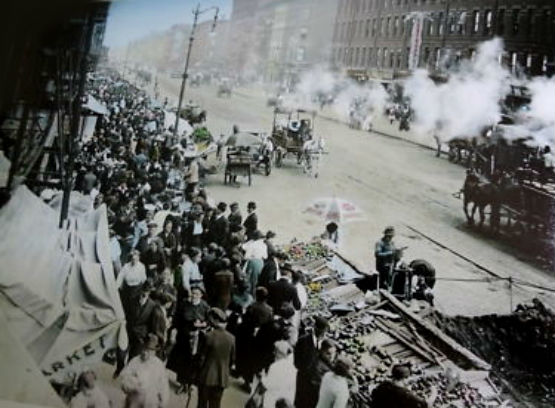 A slightly hand-colored photographs documents a very, very, very busy 1st Avenue and 114th Street, in the Italian part on East Harlem, New York, 1910.
It's the Italian market place at the turn of the 20th century with a mass of people lining the unseen side walks, horse draw carriages bringing food and taking food away, construction work and workers, steam engines or vendor cart cookers lining the streets.
Southern Italians and Sicilians, with a moderate number of Northern Italians, soon predominated, especially in the area east of Lexington Avenue between 96th and 116th Streets and east of Madison Avenue between 116th and 125th Streets, with each street featuring people from different regions of Italy. The neighborhood became known as "Italian Harlem", the Italian American hub of Manhattan; it was the first part of Manhattan to be referred to as "Little Italy". The first Italians arrived in East Harlem in 1878, from Polla in the province of Salerno, and settled in the vicinity of 115th Street.(source).
Related Articles
---